We're just 10 days away from the NBA Trade Deadline, which means there's plenty of rumors to sift through as teams look to either bolster themselves for a playoff run or punt on a lost season. With that in mind, here are all the latest news and rumors from around the league:
Magic to move Harris?
Orlando Magic forward Tobias Harris flirted with several teams, most notably the New York Knicks, in free agency this past offseason before re-signing with the Magic with a four-year, $64 million deal. However, ESPN's Marc Stein reports that Orlando is open to the possiblity of dealing the talented young player.
Orlando isn't outright shopping Tobias Harris, but word is the Magic aren't discouraging offers for him either. There's a growing sense among rival executives that Orlando, now 3-15 in 2016, is open to proposals of any kind to get a bit more seasoned.
The 23-year-old Harris is averaging 13.7 points and 7.0 rebounds per game so far this season.
Will the Pistons trade Brandon Jennings?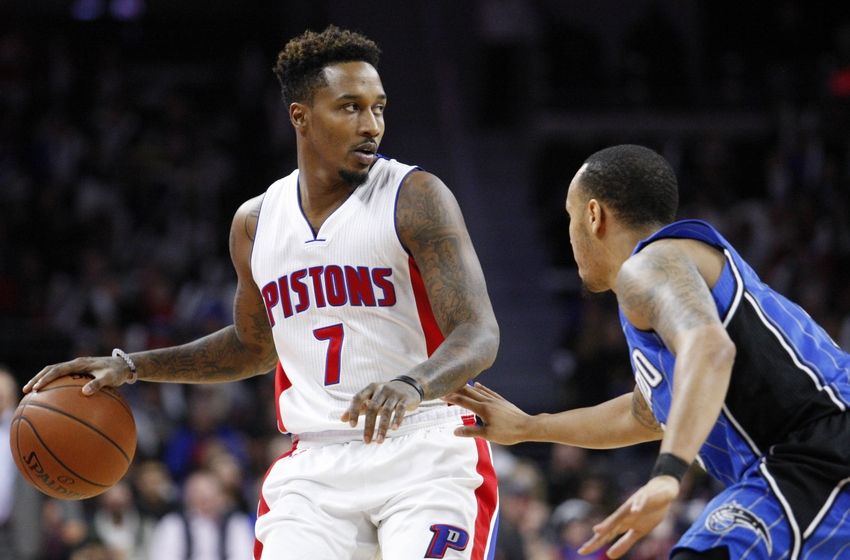 Detroit Pistons point guard Brandon Jennings has been the subject of trade rumors ever since the Pistons signed Reggie Jackson to a five-year, $80 million deal this offseason, and now that he's been playing well after having surgery to repair his torn Achilles this offseason, his name has come up again. Via the Boston Globe:
Another player who could be dealt is Detroit guard Brandon Jennings, who has shown he is healthy after Achilles' surgery and perhaps ready for a starting role. That won't happen with the Pistons as Reggie Jackson is locked in as the starting point guard. Jennings has an expiring $8.3 million contract, the final year of a three-year deal he signed with the Bucks.
Jennings is averaging 6.7 points and 3.2 rebounds in 17.5 minutes per game off the bench so far this season.
Bucks open to trading Greg Monroe
Greg Monroe was one of the biggest free agents available this summer, and the Milwaukee Bucks scored big when they signed him to a three-year, $50 million deal. However, Milwaukee is already looking to shop him after just half a season with the team, reports Gery Woelfel of the Racine Journal Times.
Clearly, the pieces to the Bucks' puzzle aren't fitting. Several league officials said they would be surprised if the Bucks didn't make a major trade.
"From what I'm hearing is they (the Bucks) are willing to trade anybody not named Parker, Antetokounmpo or Middleton,'' an NBA executive said. "I even heard they'd listen (to offers) for Parker and Middleton, but it would have to be some crazy offer. They want to do something; they know they have to do something. That group they have isn't working.''
Milwaukee is just 20-32 this year and are seven games out of a playoff spot. Monroe is averaging 16.6 points and 9.7 rebounds per game so far this season.
Celtics put David Lee on trade block
The Boston Celtics acquired forward David Lee this offseason with the hope of him providing a contributing veteran presence to their young roster, but that hasn't been the case. He hasn't been able to find any time on the court, and Boston is prepared to move on at the deadline.
Some trade buzz: BOS intends to move David Lee by Feb. 18 deadline, or buy him out. Lee is out of rotation and wants a role somewhere.

— Howard Beck (@HowardBeck) February 3, 2016
Lee is averaging 7.1 points and 4.3 rebounds in 15.7 minutes per game so far this season.
Back to the NBA Newsfeed
Related Topics: Pistons News, Brandon Jennings, Magic News, Celtics News, David Lee, Bucks News, Greg Monroe, NBA News, Tobias Harris, Reggie Jackson