We're a week from the NBA Trade Deadline on Feb. 18 at 3:00 pm ET, which means there's plenty of rumors to sift through as teams look to either bolster themselves for a playoff run or punt on a lost season. With that in mind, here are all the latest news and rumors from around the league:
Rockets are actively shopping Dwight Howard
According to the Vertical's Adrian Wojnarowski, the Houston Rockets have starting calling teams to gauge their interest in center Dwight Howard.
Howard was rumored to be extremely unhappy in Houston and was tired of playing second-fiddle to James Harden, but any rumors of him being traded were quashed by members of the front office.
However, Howard has reportedly told the Rockets that he will opt-out of his contract this summer and won't re-sign with the team, leaving Houston scrambling this week to try to find a possible destination for him - or lose him for nothing in free agency.
The Miami Heat, Chicago Bulls, and Boston Celtics have all expressed interest in acquiring Howard at some point this season.
Nets interested in Paul Millsap, Jeff Teague
The Brooklyn Nets may be out of the playoff race, but that doesn't mean they aren't looking to make moves at the deadline to help them for next season. According to ESPN Radio's Alan Hahn, Brooklyn is targeting Atlanta Hawks point guard Jeff Teague and forward Paul Millsap. Atlanta has made most of their core available to trade as they start a rebuild, but it remains to be seen if they have any interest in anything the Nets can offer them.
Joe Johnson hoping for trade from Brooklyn
One option for a trade to work is for Atlanta to get Joe Johnson's expriring contract as he has told that Nets that he would like to be traded. According to Basketball Insiders, the 34-year-old Johnson is "as miserable as he's ever been" in Brooklyn.
Timberwolves to trade Ricky Rubio?
The Minnesota Timberwolves are one of the most promising young teams in the league, but could starting point guard Ricky Rubio be on his way out? ESPN's Brian Windhorst reports that several teams have called about Rubio's availablility, yet the Wolves "don't really want to do that." However, Minnesota general manager Milt Newton said they haven't received any offers for Rubio - but they will listen if they do.
"To this point, no one has called us about Ricky," he said, according to Darren Wolfson. "Whatever is out there is not accurate. Will someone call? I don't know, but if that happens, it behooves the organization that I listen."
Cavs among teams interested in Ben McLemore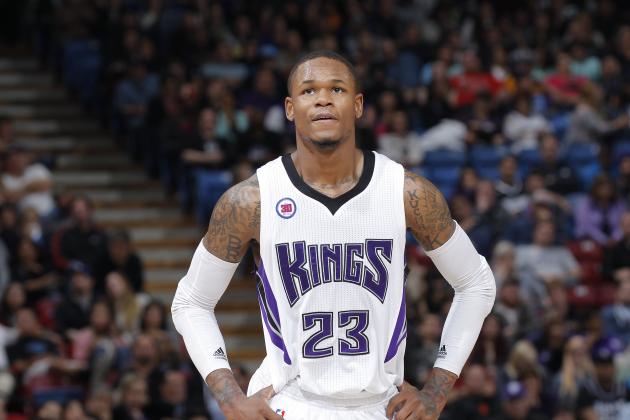 The Cleveland Cavaliers have been actively trying to find more depth on the wing as they head towards the playoffs, and that search has led them to Sacramento Kings guard Ben McLemore, according to Cleveland.com's Chris Haynes.
The Cavaliers, among with a handful of other Eastern Conference teams, have strong interest in trading for Sacramento Kings guard Ben McLemore, league sources told cleveland.com.
McLemore, 23, has been underutilized with head coach George Karl at the helm, but he's shooting a career-high 37 percent from long distance. The Kings have declined overtures for their young 3-point marksman. But with the direction and state of the organization, external pressure could come into play when it comes to potentially moving talent.
McLemore is averaging 7.7 points and 2.1 rebounds per game so far this season.
Back to the NBA Newsfeed
Related Topics: Nets News, Ben McLemore, Hawks News, Joe Johnson, Kings News, Timberwolves News, Jeff Teague, Ricky Rubio, Paul Millsap, Dwight Howard, Cavs News, NBA News, Rockets News