We're just hours away from the NBA Trade Deadline at 3:00 pm ET today, and like normal, there are a flurry of trades of rumors coming down to the wire. Here are all the biggest trade rumors and done deals that you need to know:
No movement in potential Dwight Howard deal
According to The Vertical's Adrian Wojnarowski, Houston has not found a workable match in trade talks surrounding Dwight Howard with the minutes ticking down until the deadline:
Still time until 3 PM ET deadline, but Houston has no significant traction on a trade for Dwight Howard, league sources tell @TheVertical

— Adrian Wojnarowski (@WojVerticalNBA) February 18, 2016
Knicks making final push for Ricky Rubio
New York hasn't been shy about their desire to upgrade their point guard position, and their main target has been Minnesota's Ricky Rubio. They're working to get a deal done before the deadline, but the Timberwolves don't seem to like what the Knicks can offer, reports ESPNNewYork's Ian Begley.
Knicks recently expressed interest in Ricky Rubio, source confirms, but it's unlikely anything happens. NY Post earlier reported the talks.

— Ian Begley (@IanBegley) February 18, 2016
Jeff Teague won't be traded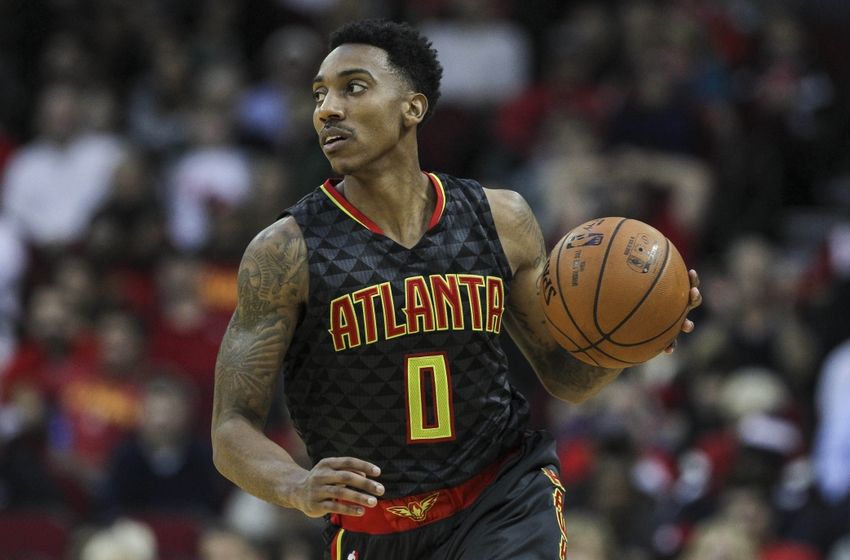 The Atlanta Hawks have been surprisingly shopping starting point guard Jeff Teague for the past few weeks, drawing interest from several teams, but Wojnarowski is reporting that the Hawks have officially taken him off the trade block.
Sources: Atlanta has shut down talks on guard Jeff Teague with several suitors -- including Utah and New York.

— Adrian Wojnarowski (@WojVerticalNBA) February 18, 2016
Thaddeus Young on the move? Several teams have called the Brooklyn Nets about forward Thaddeus Young, who the team has placed on the trade block. The Toronto Raptors are the team that has expressed the most interest in Young, but the Boston Celtics are also working to get a deal done to land him.
Thunder acquire Nuggets PG Randy Foye
The Oklahoma City Thunder has been pursuing a trade for point guard Randy Foye for the past few days, and have finally reached a deal to acquire the veteran, according to CBS Sports' Ken Berger:
The Thunder send D.J. Augustin, Steve Novak and two second-round picks to Denver for Randy Foye, league source says.

— Ken Berger (@KBergCBS) February 18, 2016
The Thunder have been looking to upgrade their backup point guard position with another reliable veteran since they have not been satisfied with D.J. Augustin's production this season. He is shooting just 38 percent from the floor, and is averaging a turnover per game.
Foye is expected to see an increased role down the stretch for the Thunder as they want to rely less on rookie Cameron Payne, while also serving as a two-way threat they can play alongside Russell Westbrook.
Cavs acquire Channing Frye in three-team trade with Magic, Blazers
The Cleveland Cavaliers have been one of the more active teams in the league surrounding the trade deadline, hoping to unload someone from their crowded big man rotation while adding more shooting. The Cavs have done just that, acquiring stretch four Channing Frye from the Orlando Magic while sending center Anderson Varejao to the Portland Trail Blazers in the three-team trade, according to USA Today's Sam Amick.
Channing Frye will be sent to the Cavs from Orlando, I'm told. Anderson Varejao will wind up in Portland. More to come.

— Sam Amick (@sam_amick) February 18, 2016
Portland receives a conditional first-round pick from the Cavs as well as Varajeo, who they are expected to waive once the deal is finalized.
Orlando also receives a second-round pick from the Cavs in the deal, along with a player to be named later that will come from the Blazers.
Rockets trade Donatas Motiejunas, Marcus Thornton to Pistons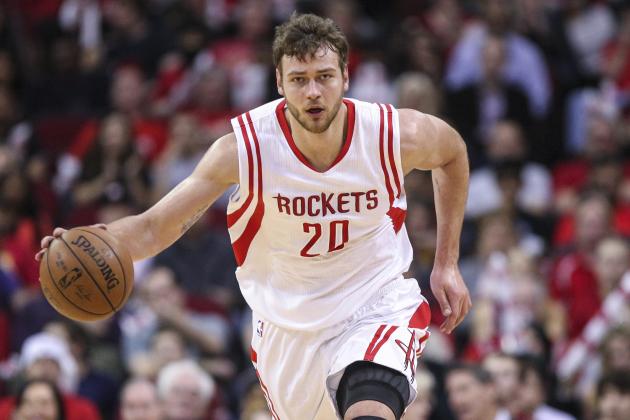 The Houston Rockets and Detroit Pistons came to an accord with just hours to go until Thursday's NBA Trade Deadline, with Houston sending Donatas Motiejunas and Marcus Thornton to Detroit. Via Adrian Wojnarowski of The Vertical:
Houston has traded Donatas Motiejunas and Marcus Thornton to the Detroit Pistons, league sources tell @TheVertical

— Adrian Wojnarowski (@WojVerticalNBA) February 18, 2016
In return, the Rockets will receive big man Joel Anthony and a protected first-round pick in the 2016 NBA Draft:
In deal, Detroit will send Joel Anthony and a protected 2016 first-round pick to the Rockets, league sources tell @TheVertical

— Adrian Wojnarowski (@WojVerticalNBA) February 18, 2016
Motiejunas has been dealing with injury issues, but will provide Detroit with a valuable rotation stretch-four. Thornton is an effective offensive force when able to slash towards the rim with regularity. As for Joel Anthony, he may be a quick waiver casualty for Houston. If not, he'll serve as an end-of-the-rotation big if Dwight Howard is not traded.
Back to the NBA Newsfeed
Related Topics: Channing Frye, Marcus Thornton, Magic News, NBA News, Randy Foye, NBA Trade Rumors, Donatus Motiejunas, Timberwolves News, Knicks News, Anderson Varejao, Ricky Rubio, Trail Blazers News, NBA Trade Deadline, Nets News, Cavs News, Dwight Howard, Thunder News, Rockets News, Thaddeus Young, Nuggets News