We're just a few weeks away from the NBA Trade Deadline, which means there's plenty of rumors to sift through as teams look to either bolster themselves for a playoff run or punt on a lost season. With that in mind, here are all the latest news and rumors from around the league:
Hawks taking calls about Al Horford Atlanta Hawks center Al Horford has been one of the team's best and most reliable players throughout his nine-year career, all of which he has spent with the Hawks. However, with him hitting the free agency market this offseason, Atlanta is listening to trade offers for the former All-Star, reports Yahoo! Sports' Marc J. Spears.
"The Hawks can put together a strong offer from a financial and familiarity standpoint, but are expected to listen to teams that inquire about Horford because they don't want to risk losing him for nothing, league sources said. The NBA trade deadline is Feb. 18. Horford is expected to explore free agency this summer, but his mind remains on Atlanta."
The Hawks have been surprising active ahead of the deadline as they've been shopping starting point guard Jeff Teague as well, who was also an All-Star last season.
Lakers to trade for Hassan Whiteside?
The Los Angeles Lakers are desperately looking to find young stars they can build their franchise around, and one player they've targeted in particular is Miami Heat center Hassan Whiteside. The 26-year-old big man is due for a huge pay day as a free agent this offseason, and since the Heat likely won't be able to afford to keep him, Whiteside is expected to end up elsewhere next season. However, that has made Whiteside a top offseason target for several teams, and according to ESPN's Kevin Pelton, Los Angeles is hoping to get an early jump by trading for him:
"The Lakers' biggest long-term need is for a center who can protect the rim and function as a roll man with rookie point guard D'Angelo Russell. With DeMarcus Cousins assuredly out of the picture with the Sacramento Kings fighting for a playoff spot, just months after the Lakers reportedly pursued Cousins, that could make Whiteside an obvious target in free agency this summer. Because the Lakers would have to use cap space to sign Whiteside to a max-type contract whether he is on their roster or not, trading players or picks for him would only make sense to prevent the Miami Heat from trading him elsewhere at the deadline."
LA would likely have to give up draft picks to make a deal work considering their lack of assets. Miami would be interested in their first-round pick this year, which currently has the second-best odds of winning the NBA Draft Lottery, but the Lakers don't want to part with that pick. 
Could the Lakers fire Byron Scott before the end of the season?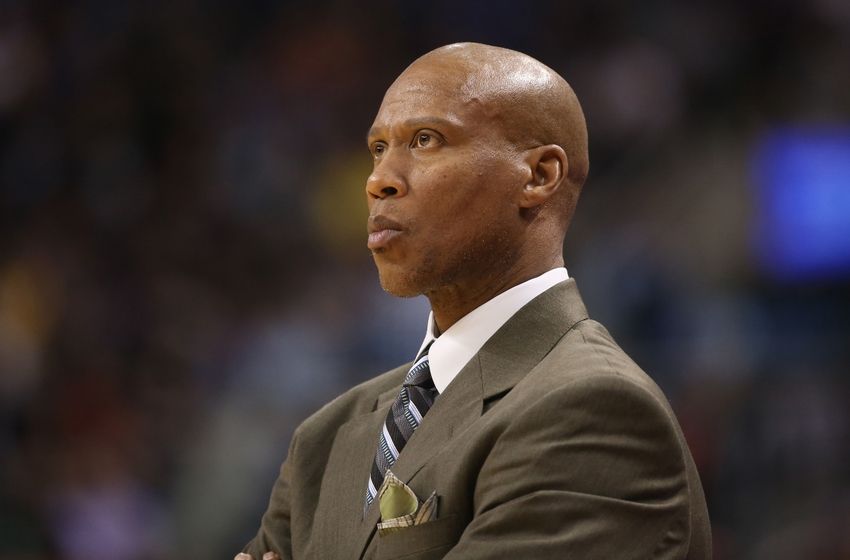 Los Angeles is one loss away from setting the franchise record for most consecutive losses (11), and with their dismal 9-41 record, many are starting to wonder how much longer they'll keep head coach Byron Scott. He is expected to coach through at least the end of the season, but Mike Bresnahan of the Los Angeles Times wonders if the Lakers could move on from Scott before then.
"It swerves the conversation toward Scott in the second season of his four-year, $17-million deal. Only one more year is guaranteed, and the Lakers have shown no fear in this department. Mike Brown was fired with $10 million and almost three years left on his contract; Mike D'Antoni was given more than half of the $4 million he was owed after resigning in 2014 with one more year on his deal.
"Will Scott be back? People close to the organization think this season's final 2½ months are a trial of sorts. It would help Scott's chances if the young players showed growth and the games were more competitive. There has to be hope, not despair."
NBA to take time deciding Blake Griffin's punishment
Los Angeles Clippers forward Blake Griffin is out for at least the next month after breaking his hand during a fight with a member of the team's equipment staff, and Griffin is expected to receive discipline from the league for his role in the incident. However, the league doesn't appear to have a timetable for making the decision.
Clippers are hoping to hear about Blake Griffin's punishment soon but a decision may not be imminent, per league source. NBA takes its time.

— Ben Bolch (@latbbolch) February 2, 2016
Back to the NBA Newsfeed
Related Topics: Blake Griffin, Clippers News, Hawks News, Byron Scott, Al Horford, Lakers News, NBA News, Heat News, Hassan Whiteside