Golden State Warriors point guard Stephen Curry appears to be running away with the MVP award at this point as he leads the league in scoring while carrying Golden State to a 24-1 record, but here are several other players who are ready to challenge him if he ever starts to falter. Here are the top five players in the NBA MVP race: Durant has returned to his dominant ways this season, showing no ill effects from the various foot injuries that limited him to just 27 games last year. KD was forced to miss six games with an injury and the Thunder went 3-3 in the that time, but they're 15-5 with him on the floor. He's playing more efficiently than he ever has before (30.13 PER) while still putting up amazing numbers (27.5 ppg, 7.9 rpg, 4.2 apg).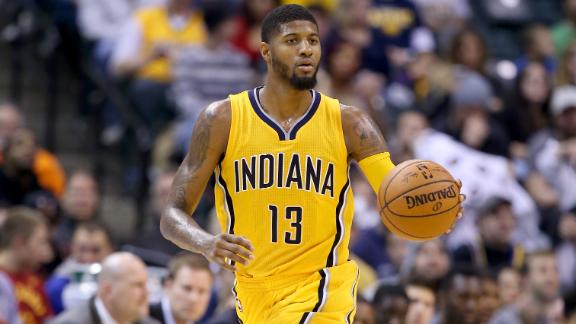 Just 16 months removed from suffering a horrifying leg injury, George is playing the best basketball of his career. Not only has George led the Pacers to a surprising 14-9 mark this year (after an 0-3 start), he's shown a great all-around game, putting up 26.5 points, 7.8 rebounds, and 4.1 assists per game while playing his usual lockdown defense.
The reigning Defensive Player of the Year has drasticall improved offensively (21.5 ppg), but his defensive is every bit as good as it's always been. On top of averaging 1.8 steals and 1.2 blocks per game, Leonard has the ability to completely shut down the opposing team's best player, and has continued to do so this year. Finally is now a true superstar and is challenging LeBron James as the best all-around player in the league.
LeBron has put up a good stat line to this point, averaging 26.3 points, 7.6 rebounds, and 6.3 assists per game this year while carrying an undermanned Cavs team to the best record in the Eastern Conference. He's no longer the unquestioned best player in the world, but he's still in the conversation - and putting up eye-popping numbers every single night.
Curry is so obvioulsy playing on another level at this point that it's going to take a serious cold stretch for him to take a step back in this race. He is averaging 32.3 points, 6.0 assists, and 5.3 rebounds per game so far this season while shooting an incredible 51.7 percent from the field and 45.8 percent from three-point range. He puts up ridiculous highlights every single night and dominates every single game he plays in from the point guard position. Quite simply, Curry is the best player in the world right now - and it's not even close.
Back to the NBA Newsfeed
Related Topics: Spurs News, Kevin Durant, Stephen Curry, Paul George, Kawhi Leonard, Lebron James, Cavs News, Warriors News, Thunder News, NBA News, Pacers News