The NBA season is churning right along as we hit the quarter-point of the season, and we're finally starting to see some separation between teams, along with MVP candidates. A number of players who are usually in the mix - including reigning MVP Russell Westbrook and Stephen Curry - don't crack the top five while a pair of other players (including a young star) make the list for the first time this week. With that in mind, here are the top five MVP contenders so far this season:
5) Giannis Antetokounmpo, SF, Milwaukee Bucks
Stats: 29.5 ppg, 10.5 rpg, 3.7 apg, 30.26 PER
The Greek Freak has slowed down since his insanely hot start to the season, and with Milwaukee just 9-9 so far this season, he's only on the fringes of the MVP race. However, he's still putting up crazy numbers and leads the Bucks in points, rebounds, and blocks.
4) Joel Embiid, PF/C, Philadelphia 76ers
Stats: 22.8 ppg, 11.2 rpg, 1.6 bpg, 23.74 PER
Ben Simmons is a virtual lock to win Rookie of the Year this season, but it's Joel Embiid that has entered the MVP conversation due to Philadelphia's 11-8 start. He needs to stay healthy, obviously, but he does things on the court that no one else in the world can do. In fact, the 46-15-7-7 game he had against the Lakers two weeks ago was the first time anyone in NBA history had scored at least 46 points and grabbed 15 rebounds while dishing out seven assists and blocking seven shots. He also has a double-double in each of the last four games.
3) LeBron James, SF, Cleveland Cavaliers
Stats: 28.6 ppg, 8.1 rpg, 8.5 apg, 30.77 PER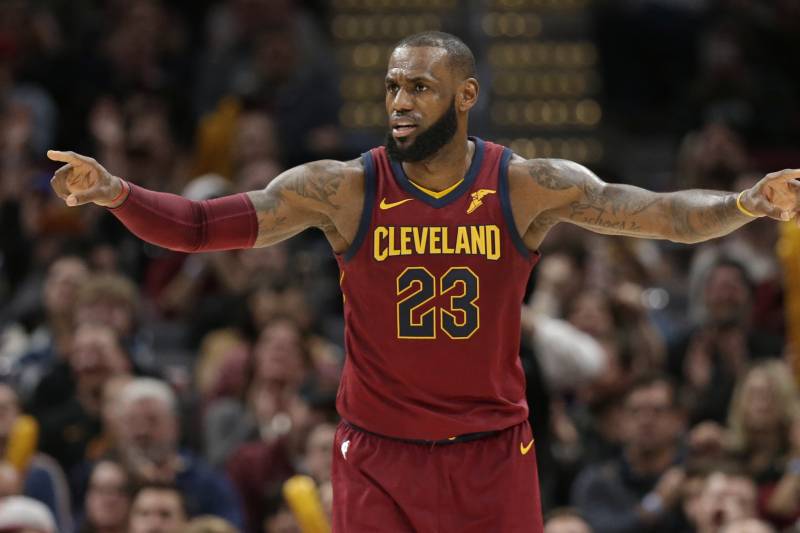 The King continues to show he's the best player in the world and isn't ready to relinquish that throne yet. He already has two triple-doubles this season and has almost singlehandedly turned Cleveland's season around with their current eight-game win streak. James is - once again - doing everything to make the Cavs one of the best teams in the East.
2) Kyrie Irving, PG, Boston Celtics
Stats: 22.8 ppg, 5.3 apg, 3.2 rpg, 24.86 PER
Irving's numbers won't wow you, but leading Boston on that 16-game win streak and league-best 18-4 record certainly garners MVP consideration. He has rallied this team despite numerous injuries and has them playing as well as anyone while taking over as the unquestioned leader. Irving could slide down this list if Boston starts losing, but for now, he's in the No. 2 spot.
1) James Harden, SG/PG, Houston Rockets
Stats: 31.7 ppg, 9.8 apg, 5.1 rpg, 30.61 PER
This looks like the year Harden finally gets over the hump and wins his first MVP award. Houston has gotten off to a 16-4 start despite not having Chris Paul for a long stretch, and they were able to maintain a high level of success because of Harden. He is doing it all again this year - leading the league in points AND assists - and the Rockets are looking like a legit title threat because of it.
Check out our NBA page for all the latest NBA news & rumors!
Back to the NBA Newsfeed
Related Topics: Lebron James, James Harden, NBA News, Giannis Antetokounmpo, Joel Embiid, Kyrie Irving