We're fast approaching the quarter point of the new NBA season, and we're finally starting to see some separation between teams, along with MVP candidates. A number of players who are usually in the mix - including reigning MVP Russell Westbrook, LeBron James, and Stephen Curry - don't crack the top five right now for a variety of reasons but could crack this list in coming weeks. With that in mind, here are the top five MVP contenders so far this season:
5) Kristaps Porzingis, PF, New York Knicks
Stats: 29.5 ppg, 7.3 rpg, 2.2 bpg, 28.9 PER
The Knicks have actually improved since trading Carmelo Anthony to the Oklahoma City Thunder, largely due to just how well Kristaps Porzingis has thrived as New York's go-to option. They're over .500 (7-6) and Porzingis ranks third in the league in points per game and fourth in blocks per game. He has scored at least 30 points in eight of New York's 13 games so far, showcasing his wide array of skill.
4) Kevin Durant, SF, Golden State Warriors
Stats: 24.8 ppg, 7.5 rpg, 5.2 apg, 25.59 PER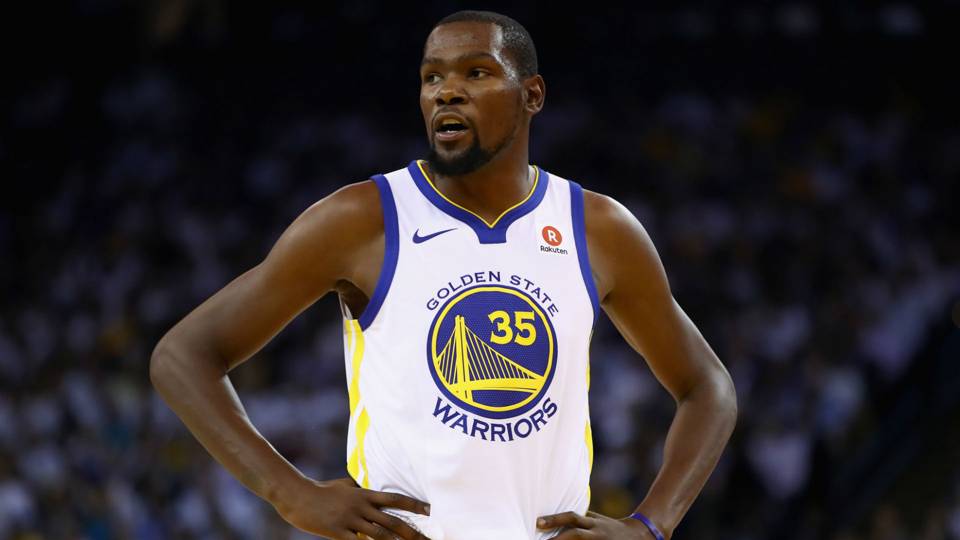 Durant's candidacy, like Curry's, is hurt because they play with so many other stars. Golden State's win streak means one of them deserves a spot on this list, and it's hard not to notice what Durant is doing. He's putting up his usual offensive numbers, but his 2.2 blocks per game currently rank third in the league.
3) Giannis Antetokounmpo, SF, Milwaukee Bucks
Stats: 31.3 ppg, 10.3 rpg, 4.8 apg, 32.29 PER
To me, there's a clear cut-off with the top three guys on this list, who have cemented themselves as serious candidates.
It was virtually impossible for Giannis to continue the torrid pace he was on at the start of the season, but he's still putting up eye-popping numbers. His stock has also been hurt due to Milwaukee's 7-6 record, but if they get back to winning and the Greek Freak continues to put up these numbers, he'll remain firmly in the mix. 
2) Kyrie Irving, PG, Boston Celtics
Stats: 20.6 ppg, 5.2 apg, 3.1 rpg, 22.82 PER
Irving's numbers won't wow you, but leading Boston on a 13-game win streak and league-best 13-2 record certainly garners MVP consideration. He has rallied this team despite numerous injuries and has them playing as well as anyone while taking over as the unquestioned leader. Irving could slide down this list if Boston starts losing, but for now, he's in the No. 2 spot.
1) James Harden, SG/PG, Houston Rockets
Stats: 30.7 ppg, 10.3 apg, 4.9 rpg, 29.29 PER
This looks like the year Harden finally gets over the hump and wins his first MVP award. Houston has gotten off to an 11-4 start without Chris Paul largely thanks to the play of Harden. His playmaking skills have once again been on full display as he ranks fourth in the league in assists along with being second in points. Harden is doing it all again this year and the Rockets are looking like a legit title threat because of it.
Check out our NBA page for all the latest NBA news & rumors!
Back to the NBA Newsfeed
Related Topics: Kristaps Porzingis, Kevin Durant, NBA MVP, James Harden, NBA News, Giannis Antetokounmpo, Kyrie Irving