The NBA season is churning right along as we approach the new year, and as such, only a handful of players are legitimate MVP contenders. Reigning MVP Russell Westbrook and Stephen Curry could still get into the mix in the coming weeks and months, but right now, OKC's struggles and Curry's injury is keeping them from making this list. With that in mind, here are the top five MVP contenders so far this season:
5) Kyrie Irving, PG, Boston Celtics
Stats: 24.7 ppg, 4.9 apg, 3.0 rpg, 25.75 PER
Irving's numbers won't wow you and his MVP buzz continues to slow as Boston comes back down to Earth after their win streak, but leading the Celtics to the best record in the East (27-10) certainly garners MVP consideration. He has rallied this team despite numerous injuries by taking over as the unquestioned leader and has flourished in the role - which is why he left Cleveland.
4) Giannis Antetokounmpo, SF, Milwaukee Bucks
Stats: 29.5 ppg, 10.4 rpg, 4.6 apg, 30.73 PER
Antetokounmpo continues to post crazy stat lines on a nightly basis and has one of the best all-around games in the league. He's gotten himself to the point where he'll be in the MVP conversation all season long no matter what - but he really needs the Bucks to go on a tear at some point for him to move to a place where he's seriously challenging James Harden at the top.
3) Kevin Durant, SF, Golden State Warriors
Stats: 26.2 ppg, 7.2 rpg, 5.1 apg, 2.3 bpg, 24.89 PER
Durant has taken over this Golden State team in Curry's absence, leading the Warriors to 12 wins in their last 13 games. Curry's injury has really boosted Durant's MVP case because he has been given the freedom to take his play to that next level, but it's clear Golden State still needs Curry to be the team we expect them to be.
2) LeBron James, SF, Cleveland Cavaliers
Stats: 28.1 ppg, 8.1 rpg, 9.1 apg, 30.68 PER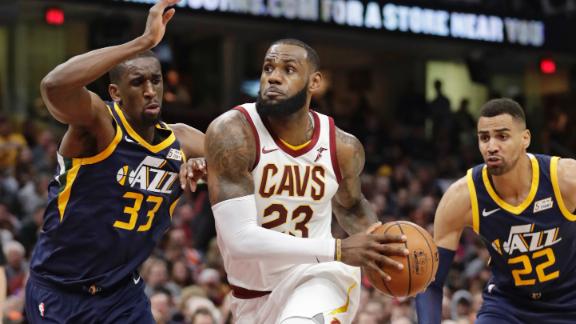 Cleveland's rise from 5-7 to 24-10 can be traced back to one man - LeBron James. He is having one of the best seasons of his entire career at age 32 and is on pace to set a career-high in assists for a second straight season. James has also recorded four triple-doubles in the last eight games, solidifying himself as James Harden's biggest challenger.
1) James Harden, SG/PG, Houston Rockets
Stats: 32.4 ppg, 9.2 apg, 5.2 rpg, 31.06 PER
You know it is only a matter of time before Harden wins the MVP for the first time, and it's looking like this is that year. The Rockets no longer have the best record in the NBA, but that is not Harden's fault - he put up 51 points in back-to-back losses this week. He leads the league in scoring and ranks second in assists - and has kept the Rockets winning despite a few injuries to Chris Paul. It's his award to lose.
Check out our NBA page for all the latest NBA news & rumors!
Back to the NBA Newsfeed
Related Topics: Kevin Durant, NBA MVP Power Rankings, Lebron James, James Harden, NBA News, Giannis Antetokounmpo, Kyrie Irving