Two of yesterday's ten slated games were delayed due to weather conditions on the East Coast, but we still got some marquee matchups -- including an impressive 96-83 road win for the Chicago Bulls over the Eastern Conference-leading Cleveland Cavs, spoiling the head coaching debut for Cleveland's Tyronn Lue.
We have just four games to look forward to on Sunday with the sporting landscape dominated by the NFC & AFC Championship Games, but that doesn't mean there aren't some interesting storylines to follow.
On Tap: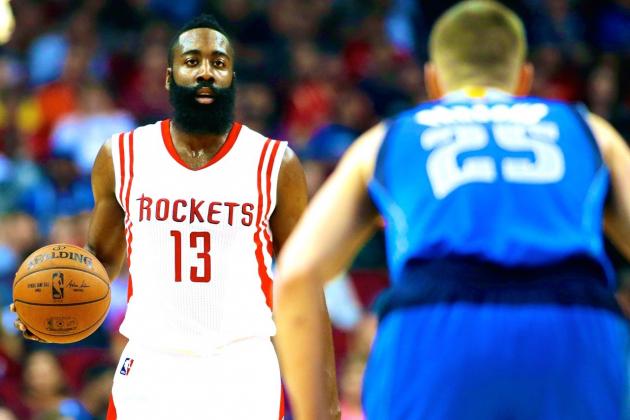 Dallas Mavericks (25-20) @ Houston Rockets (23-22) -- 3:30pm EST
These Texas rivals have split their first two games of the 2015-16 season, and it'll be up to Dallas to get better on the boards to take a 2-1 lead in the series -- Dallas is being outrebounded by 6.1 boards per game during a 3-4 stretch.
Los Angeles Clippers (28-15) @ Toronto Raptors (28-15) -- 6:00pm EST
The unquestioned marquee showdown on Sunday. The Clippers have won 12 of 14, but they're running up against a scalding hot Raptors squad that's looking for its eighth straight win.
Boston Celtics (23-21) @ Philadelphia 76ers (6-38) -- 7:00pm EST
Postponed by 24 hours due to the winter storm cycle in the Northeast, this game is big for Philly. A win would give them their first winning streak of the season.
Oklahoma City Thunder (33-12) @ Brooklyn Nets (11-33) -- 7:30pm EST
The game is expected to go on as planned despite winter storm warnings, and that's likely to be bad news for the Nets. Oklahoma City is streaking, having won seven straight. Brooklyn? They've lost five in a row and looked awful in the process.
News & Notes:
Denver Nuggets big man Kenneth Faried believes his groin injury is serious.
Cavs coach Tyronn Lue wants his team to push the pace, but he believes it could be a problem due to a lack of conditioning.
Originally scheduled for 3:30pm EST, Thunder @ Nets was pushed back four hours by the league to 7:30pm EST due to weather concerns.
Kobe Bryant ripped into his Los Angeles Lakers teammates after the team's sixth consecutive loss, 121-103 in Portland on Saturday night.
Back to the NBA Newsfeed
Related Topics: James Harden, Kenneth Faried, Kobe Bryant