There were eight NBA games on the schedule last night, headlined by the Oklahoma City Thunder holding on to beat the New York Knicks 128-122 in overtime and the Los Angeles Clippers narrowly beating the Indiana Pacers 91-89.
The schedule holds strong with eight more games tonight, so let's get to previewing all of the action ahead. 
Phoenix Suns (14-32) @ Cleveland Cavaliers (31-12) - 7:00 pm ET
The Cavs are looking to pick up their second straight win under new head coach Tyronn Lue against a Phoenix team that has lost 11 in a row on the road.
Denver Nuggets (17-28) @ Boston Celtics (25-21) - 7:30 pm ET
Denver is just 3-16 at the TD Garden since it opened in 1995, and Boston is looking to pick up their fourth straight in on the season in this one.
Philadelphia 76ers (7-39) @ Detroit Pistons (24-21) - 7:30 pm ET
Detroit is trying to re-gain momentum after losing two of their last three games, while the Sixers are playing much better of late, winning three of their last five games - including a 10-point in over the Suns yesterday.
Los Angeles Clippers (29-16) @ Atlanta Hawks (27-19) - 8:00 pm ET
The Clippers wrap up a five-game road trip today against a Hawks team that has lost two of their last three games.
Oklahoma City Thunder (34-13) @ Minnesota Timberwolves (14-32) - 8:00 pm ET
OKC is coming off a hard-fought win over the Knicks last night and are looking to extend their nine-game winning streak against the Timberwolves, including 23 of their last 26 meetings. Minnesota has lost three of their last four games.
Houston Rockets (25-22) @ San Antonio Spurs (38-7) - 8:00 pm ET, ESPN
San Antonio is looking to rebound from their 30-point loss to the Warriors tonight against a Rockets team that is riding a three-game win streak.
Charlotte Hornets (22-23) @ Utah Jazz (19-25) - 9:00 pm ET
Charlotte is looking for their fourth-straight win and can hit the .500 mark for the first time Jan. 4 against a Jazz team that has lost five of their last seven games.
Dallas Mavericks (26-21) @ Golden State Warriors (41-4) - 10:30 pm ET, ESPN
The Mavs beat Golden State in their previous matchup last night but the Warriors are rolling, coming off that dominant win of the Spurs. Golden State is also looking to extend their 39-game home winning streak.
Read more NBA news and rumors in the Chat Sports iPhone and Android apps.
Here are the latest news and rumors around the league: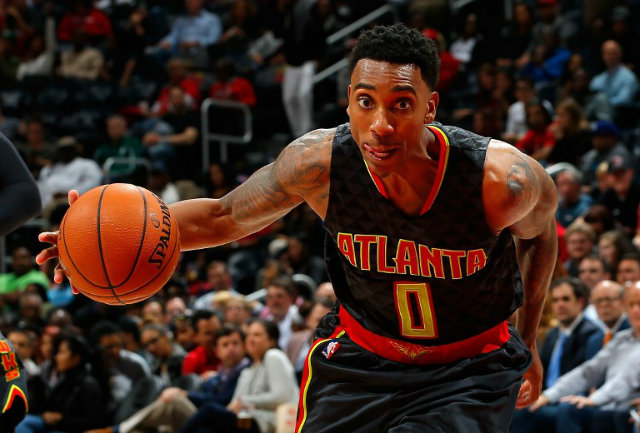 Miami Heat minority owner says LeBron James wanted Erik Spoelstra fired.
Clippers forward Blake Griffin suffered a broken hand after hitting an equipment staff member "multiple times." He is out 4-6 weeks.
Spurs forward Tim Duncan will not play tonight against the Rockets. It will be the second straight game he has missed with right knee soreness.
Los Angeles Lakers head coach Byron Scott benched point guard D'Angelo Russell for "trying to take over."
The Knicks are reportedly trying to acquire point guard Jeff Teague from the Atlanta Hawks.
4 NBA stars who could be traded before the deadline.
Back to the NBA Newsfeed
Related Topics: Clippers News, Knicks News, Hornets News, Lakers News, Warriors News, Cavs News, Pistons News, Blake Griffin, Timberwolves News, Mavs News, D'Angelo Russell, Nuggets News, Pacers News, Jazz News, Celtics News, Erik Spoelstra, Suns News, Lebron James, NBA News, Tim Duncan, Spurs News, Jeff Teague, Blackhawks News, Byron Scott, 76ers News, Thunder News, Rockets News, Heat News