Only four games were on the NBA schedule last night, headlined by the Toronto Raptors blowing out the Los Angeles Clippers 112-94 and the Brooklyn Nets pulling out the 116-106 victory over the Oklahoma City Thunder.
The schedule ramps ramps back up with nine games tonight, so let's get to previewing all of the action ahead. 
Minnesota Timberwolves (14-31) @ Cleveland Cavaliers (30-12) - 7:00 pm ET, NBATV
Cleveland is looking to pick up their first win under new head coach Tyronn Lue against a Timberwolves team that has lost 11 of their last 13 games.
Boston Celtics (24-21) @ Washington Wizards (20-21) - 7:00 pm ET
Boston can sweep the season series against the Wizards with a win today, though there is a question as to how full the stands will be given the massive snowstorm that hit the D.C. area over the weekend.
Miami Heat (23-21) @ Chicago Bulls (25-18) - 8:00 pm ET
The Bulls are trying to win back-to-back games for the first time in three weeks while Miami is trying to snap a four-game losing streak.
Orlando Magic (20-22) @ Memphis Grizzlies (25-20) - 8:00 pm ET
Memphis has been red hot at home lately and are looking for their 10th win in their last 11 games at home while Orlando has lost five games in a row and nine of their last 10.
Houston Rockets (24-22) @ New Orleans Pelicans (16-27) - 8:00 pm ET
The Pelicans have won four straight games at home and won five of their last six games. Houston has split their last six games.
Atlanta Hawks (26-19) @ Denver Nuggets (17-27) - 9:00 pm ET
Atlanta is still looking to find some sort of momentum as they're 6-7 over their last 13 games, and they're taking on a Nuggets team in a similar situation as they're 5-4 in their last nine.
Detroit Pistons (23-21) @ Utah Jazz (19-24) - 9:00 pm ET
Detroit is slipping of late, losing five of their last seven games, and they're looking to right the ship against a Jazz team that is 4-4 over their last eight games.
Charlotte Hornets (21-23) @ Sacramento Kings (20-23) - 10:00 pm ET
Sacramento is looking to record their first six-game win streak in 11 years against a Hornets team that has won three of their last four games.
San Antonio Spurs (38-6) @ Golden State Warriors (40-6) - 10:30 pm ET, NBATV
The game of the NBA season to this point, the Warriors host the Spurs in their first of four games this season. San Antonio is riding a 13-game win streak into this game, while Golden State has won 38 straight games at home.
Read more NBA news and rumors in the Chat Sports iPhone and Android apps.
Here are the latest news and rumors around the league: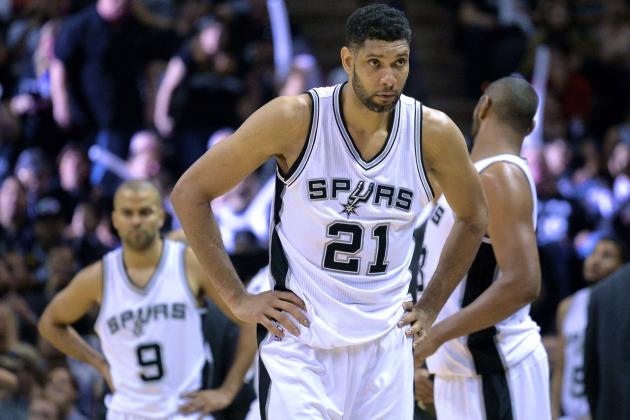 Clippers forward Blake Griffin suffered a setback in his recovery from a quad injury and won't play until LA is back from their road trip.
Spurs forward Tim Duncan will miss tonight's game with right knee soreness.
New Cavs head coach Tyronn Lue said Cleveland needs to play faster and get in better shape.
New York Knicks forward Carmelo Anthony will play Tuesday against the Thunder despite having a sore knee.
4 NBA stars who could be traded before the deadline.
Back to the NBA Newsfeed
Related Topics: Clippers News, Nets News, Grizzlies News, Knicks News, Warriors News, Hornets News, Carmelo Anthony, Cavs News, Tyronn Lue, Pistons News, Raptors News, Kings News, Timberwolves News, Bulls News, Hawks News, Nuggets News, Pelicans News, Jazz News, Wizards News, Magic News, Blake Griffin, Celtics News, NBA News, Tim Duncan, Spurs News, Thunder News, Rockets News, Heat News