The NBA schedule was fully loaded with 11 games last night, headlined by the Golden State Warriors blowing out the Chicago Bulls 125-84. The New York Knicks also pulled off a 118-111 overtime win over the Utah Jazz, while the Dallas Mavericks outlasted the Minnesota Timberwolves for the 106-94 overtime win. 
The schedule ramps dips with just five games tonight, so let's get to previewing all of the action ahead. 
Los Angeles Clippers (27-14) @ Cleveland Cavaliers (29-11) - 8:00 pm ET, TNT
The Clippers are red hot, winning 11 of their last 12 games, and they're going up against a Cavs team that has stumbled of late, losing two of their last four games.
Detroit Pistons (23-19) @ New Orleans Pelicans (14-27) - 8:00 pm ET
New Orleans is in the middle of one of their best stretches of the season, winning three of their last four games, while the Pistons are struggling to maintain many momentum, going 5-4 over their last nine games.
Memphis Grizzlies (24-19) @ Denver Nuggets (16-26) - 9:00 pm ET
Memphis has won three straight games against the Nuggets and are five games over .500 for the first time this season. However, Denver is playing better of late, winning four of their last seven games.
Atlanta Hawks (26-17) @ Sacramento Kings (18-23) - 10:00 pm ET
Atlanta has won an astonishing 15 games in a row against the Kings, but both teams come into this game riding three-game win streaks.
San Antonio Spurs (36-6) @ Phoenix Suns (13-30) - 10:30 pm ET, TNT
These two teams are headed in complete opposite directions. The Spurs are on a NBA-high 11-game win streak and have won 18 of their last 19 games, while Phoenix has lost five in a row and 14 of their last 15.
Here are the latest news and rumors around the league: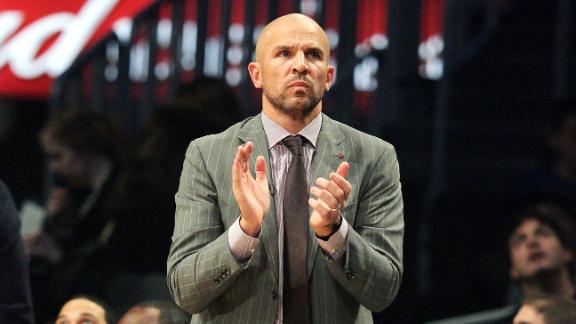 Milwaukee Bucks head coach Jason Kidd will return next week. He has missed the last 15 games after undergoing hip surgery.
The Knicks are the NBA's most valuable franchise at $3 billion.
Clippers forward Blake Griffin will not play tonight against the Cavs with a quad injury.
Spurs point guard Tony Parker will not play tonight againt the Suns due to soreness in his right hip.
4 NBA stars who could be traded before the deadline.
Back to the NBA Newsfeed
Related Topics: Pistons News, Spurs News, Clippers News, Tony Parker, Suns News, Hawks News, Cavs News, Kings News, Blake Griffin, Timberwolves News, Knicks News, Grizzlies News, Jazz News, Mavs News, Jason Kidd, Bucks News, Warriors News, Nuggets News, NBA News, Pelicans News, Bulls News