The old adage about NBA Summer League is that it doesn't tell you who can play, but rather tells you who can't. Some high draft picks are hoping that's not the case, but other rookies have already displayed a lot of promise that has fans hoping they can contribute immediately once the regular season starts. Here are three rookies that have thrived - and three that have struggled - in summer league so far:
Dominant Rookies
PF Ben Simmons, Philadelphia 76ers
It may be cheating to put the No. 1 pick on this list, but Simmons has lived up to his billing and then some so far for the Sixers. He hasn't been scoring at a high rate, but has shown an increased willingness to take jump shots - and MAKE them - which was the biggest knock on him coming out of college. It's clear that Simmons isn't using these games to impress people, instead to work on his weaknesses - and he's impressing people by doing just that.
PG Kris Dunn, Minnesota Timberwolves
Speaking of impressing people, no one has done that more in Las Vegas than Kris Dunn. The No. 5 pick has lived up to the hype as a lockdown defender, but has also flashed electric scoring ability. His 24 points per game rank third in the entire Summer League, showing the ability to get to the rack with ease while making more jumpers than expected. At this rate, he may really challenge Ricky Rubio for the starting job in Minnesota this year.
PF Thon Maker, Milwaukee Bucks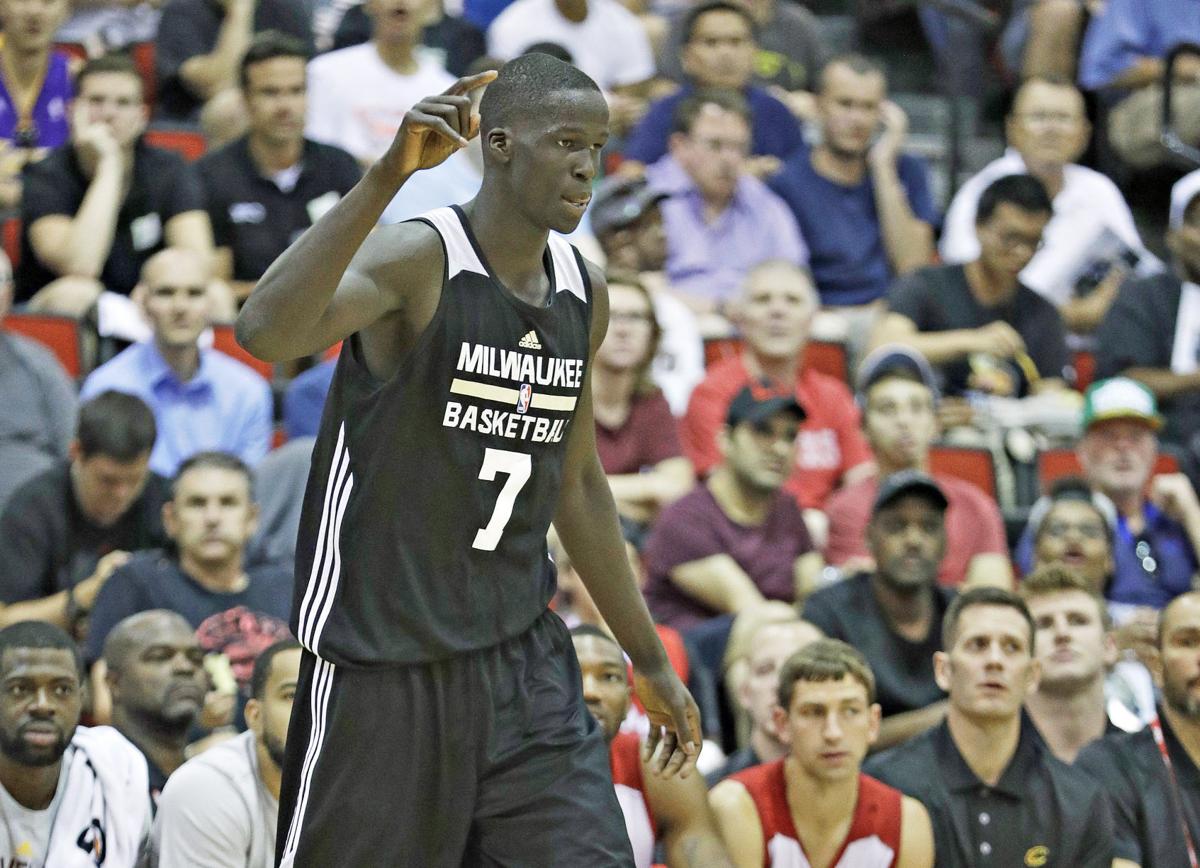 The Bucks knew the 19-year-old Maker was a raw prospect when they drafted him 10th overall, and while it's clear he still has a way to go, Maker is still playing extremely well at this level. Any questions people had about him making the jump from prep school to the NBA are now gone. The 7'1" forward leads the Vegas Summer League in rebounding (12 per game), and has flashed the long-range shooting ability that the Bucks love. He has also scored in double digits every single game. 
Disappointing Rookies
SF Jaylen Brown, Boston Celtics
Brown is nothing more than an athlete, which many thought would help him be a better fit in the NBA's more fast-paced game than he was in college. Nope.
Brown has been the kind of ball-stopper Carmelo Anthony would be proud of, and often slows the Celtics down offensively. His defense has been inconsistent - as you'd expect from a rookie - but his offense has been more atrocious than anyone projected, as he's shooting just 22 percent from the field.
A positive can be seen in his ability to get to the foul line (25 attempts in three games), but that's really all the positives you can take from his performance.
PF Dragan Bender, Phoenix Suns
It's clear that Bender is having trouble adjusting to the speed and athleticism of the NBA game. His 26.3 percent shooting is dreadful, and has been non-existent in the stretch-four role due to his 18.2 percent shooting from long range. Bender's lack of foot speed and lateral quickness has also been exposed.
This is a common problem international players have simply because it's a different style of game than what they're used to, but Bender needs to start showing something positive about his game.
SG Buddy Hield, New Orleans Pelicans
Unlike the other two players in this categories, Hield's struggles aren't necessarily a huge cause for concern - he simply just isn't making shots he normally does, which has been disappointing. He is averaging 19 points per game, but is shooting just 34.9 percent, including a lowly 26.5 percent from three-point range. For a player the Pelicans are relying on to be a knockdown shooter, they are hoping this is simply a slump and not a problem caused by facing NBA-level defenders.
Back to the NBA Newsfeed
Related Topics: Suns News, Buddy Hield, NBA Summer League, Dragan Bender, Celtics News, 76ers News, Timberwolves News, Thon Maker, Jaylen Brown, Kris Dunn, Ben Simmons, Bucks News, NBA News, Pelicans News