The 2017 NBA Draft class is being heralded as the best class of the decade with several potential superstars at the top, and there are many quality players stretching into the second round. Of course, not all of these players will be success stories (I've detailed the most overrated prospects in the class), but there will also be some players picked later in the draft that will turn into stars. Here are my three most underrated prospects in the class, including a pair of sleepers.
Malik Monk, SG/PG, Kentucky Wildcats
6'3", 197 lbs. - 19.8 ppg, 2.5 rpg, 2.3 apg
Monk isn't a traditional "sleeper" since he's a virtual lock to be a top 10 pick, but I think he's still largely underrated. Currently projected to go somewhere in the 6-11 range by most outlets, I rank Monk as the third best prospect in this class. He was the most electric and versatile scorer in the country last year, and his shooting ability is what makes him special.
Monk is excellent shooting on the move, off the dribble and doesn't have to be set to let it fly. That allows him to get shots off whenever he feels he is in rhythm, and isn't bothered when he has a hand in his face.
While his shooting is his calling card, Monk is also extremely quick, athletic and an excellent slasher. When defenders play him too close on the perimeter, he can blow past them and get to the rim. He's the rare prospect who can win both a three-point contest and a slam dunk contest - take one thing away, and he'll start exploiting the other.
There are major questions about Monk's size. He's only 6-foot-3 with a 6-foot-3 wingspan, both of which are incredibly small for a shooting guard. Some teams are hoping they can transition him to point guard, but he doesn't have the skillset to run an offense and create plays for others. The best case scenario for him would be to go to a team with a big point guard (maybe the 76ers with Ben Simmons) so he could play the two on offense and defend opposing point guards.
However, I think his scoring prowess makes up for that lack of size. Think of him as a better shooting, more team-oriented Monta Ellis, who had no problems impacting games as a 6-foot-3 shooting guard.
Justin Patton, C, Creighton Blue Jays
6'11", 229 lbs. - 12.9 ppg, 6.2 rpg, 1.4 bpg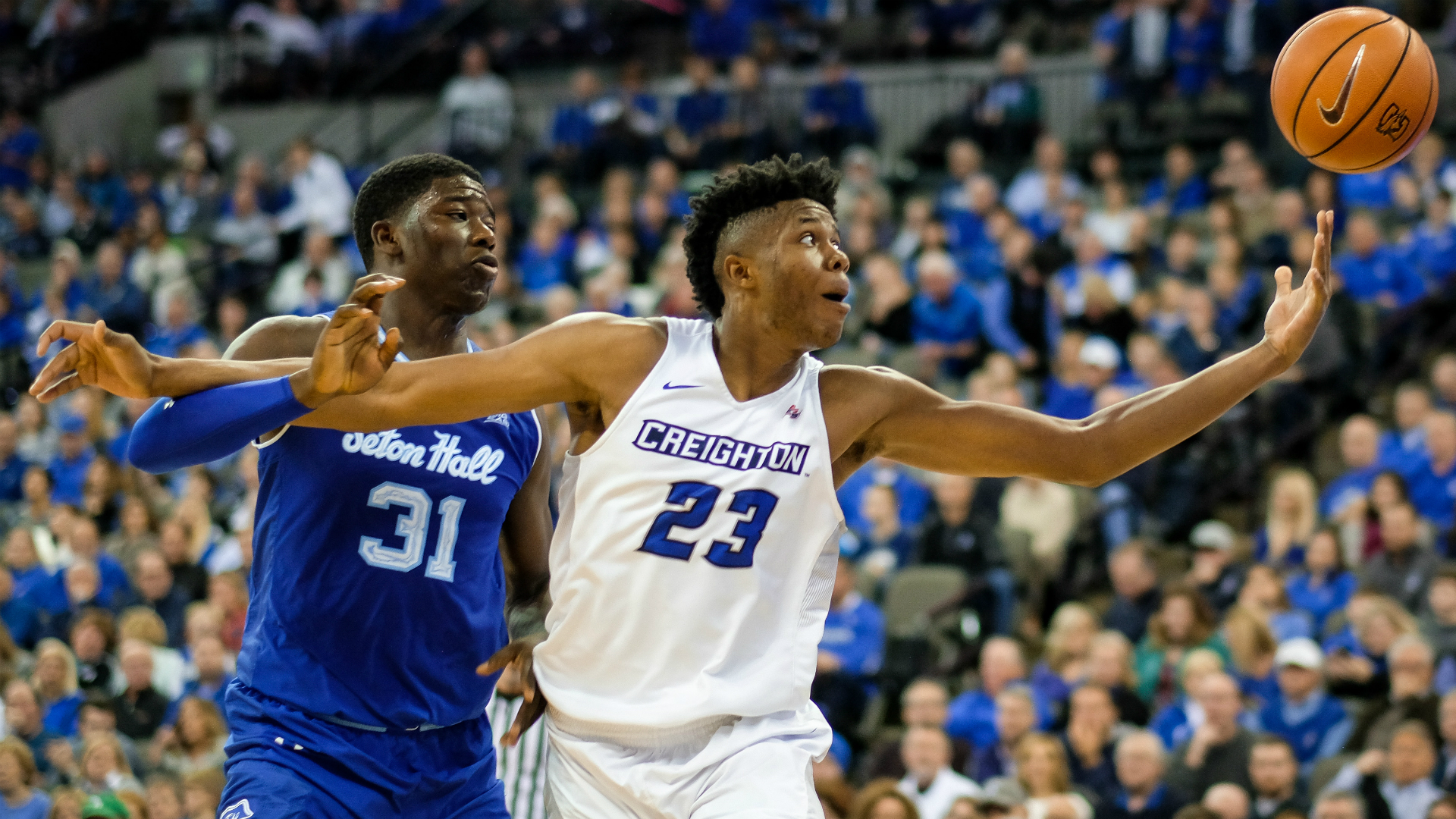 There are lot of big men projected to go in the 11-20 range in the draft, and I think Patton will end up being the best of the bunch. He showed flashes of greatness during his freshman year at Creighton with range that stretched out the three-point line, great athleticism and a growing post game. It's going to be that combination of skill and athleticism that will make him a high-quality player at the NBA level - and the perfect center for today's NBA.
There's usually not a lot you can gain from watching a player's highlight mixtape on YouTube, but Patton's is different. In virtually every clip, you can see how fluid and fast he is running up and down the court.
As the NBA looks for big men who can still be effective in a guard-oriented game, Patton has the speed and lateral agility to do that. He also has great bounce and is a tremendous alley-oop threat, which has become a valuable skill in today's NBA thanks to guys like Tyson Chandler and DeAndre Jordan.
Patton is still somewhat raw - virtually every big man in this class is - but demonstrated enough offensive polish to give scouts an idea of how immense his upside can be. He also needs to get stronger and play more with more physicality, but that will come in time as he fills out.
Frank Jackson, PG/SG, Duke Blue Devils
6'3.5", 202 lbs. - 10.9 ppg, 2.5 rpg, 1.7 apg
Jackson will go early in the second round, but he is a first round talent. He was one of the biggest winners from the combine, showing off explosive athleticism and the ability to get into the paint whenever he wanted to in the scrimmages. The wide open, faster-paced NBA game certainly fits his skills better in that regard.
At Duke, he was limited in a crowded backcourt, but as the season wore on, he became one of their most important players due to that intensity and athleticism. He's a bit Russell Westbrook-like in the way he relentlessly attacks the rim, which sometimes gets him in trouble. But couple that ability with his reliable three-point stroke (nearly 40 percent last season) and he's an extremely tough cover.
Jackson showcased all of those skills in a breakout game against Florida State, who was the second-tallest team in the country, showing how NBA size doesn't affect his game.
There are questions about his playmaking ability and if he's a true point guard (shown by his low assist total), and he's never really to be one. However, he can defend other point guard adequately, and as the league sees more combo/scoring guards running the point, that's not as big of an issue as many may think.
Of all the projected second-round picks, Jackson is the one with a best chance to become a star.
Follow our NBA news page for all the latest NBA Draft news & rumors!
Back to the NBA Newsfeed