The new NBA season is a week old today, so while it's still very, very early on in the season, all but two teams have played in at least three games, giving us multiple occasions to see these teams in action. Early-season trends don't often continue for an entire year, but it will be worth watching in the coming weeks to see if these three teams continue their hot starts. Here are the teams that have been the most impressive this season: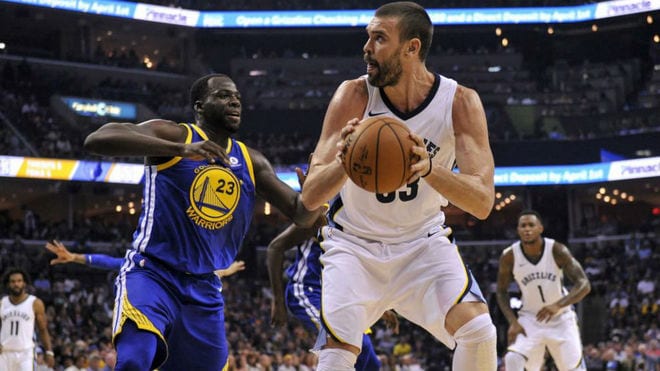 No one has gotten off to a better start to the season than the Memphis Grizzlies. They are one of four undefeated teams remaining in the league and already have wins over both the Warriors and Rockets. We thought this group was going to take a step back this year after letting Tony Allen, Zach Randolph, and Vince Carter leave, but right now, they're looking like a legitimate playoff team and have the best resume of anyone in the league. The key for them will be continuing to maintain their offensive success (15th in points per game).
THE NETS HAVE A WINNING RECORD! Brooklyn doesn't have the roster to really compete for the playoffs and only have wins over the Hawks and Magic - two terrible teams - but the fact that they have a winning record last year's disaster (especially after losing Jeremy Lin for the year in the opener) gives fans reason to feel good. D'Angelo Russell and Allen Crabbe look promising in the backcourt and the offense is clicking on all cylinders, leading the league in points per game (124.3). At worst, it looks like this team may actually be fun to watch.
NBA Fans - Download Chat Sports on iPhone today for breaking NBA news, rumors, scores and more - Chat Sports iPhone App!
Milwaukee was a team many were looking at as a breakout team in the Eastern Conference this season and they've looked the part so far, posting a 3-1 record. Those wins weren't fluky, either. They came against the Celtics, Trail Blazers, and Hornets, all of whom project to be playoff teams this year. Giannis Antetokounmpo's breakout season (36.8 ppg, 10.8 rpg, 5.3 rpg, 2.3 spg) has many thinking this group can grab a top-four seed and be a factor in the playoffs.
Check out our NBA page for all the latest NBA rumors!
Back to the NBA Newsfeed
Related Topics: Grizzlies News, NBA News, Nets News, Bucks News