In the NBA, the MVP award means more than it does in any other sport simply because of how much more of an impact a single player can make on a game and on their respective teams. This year features a heated race between Russell Westbrook and James Harden, but how do recent award winners stack up against each other? Here is Chat Sports' Power Rankings of the last 10 NBA MVPs:
10) Derrick Rose, PG, Chicago Bulls - 2010-11
Rose became the youngest player to win MVP at 22 years old. He led the Bulls to a 62-20 record and the No. 1 seed in the Eastern Conference playoffs, where they ultimately lost to the Heat in the conference finals. Rose averaged 25.0 points, 7.7 assists and 4.1 rebounds per game.
9) Kobe Bryant, SG, Los Angeles Lakers - 2007-08
Kobe's only MVP season came on the heels of some controversy, as many felt he should have won the award in the two previous years as well. Nonetheless, Bryant was dominant in 2007-08, averaging 28.3 ppg along with 6.3 rpg and 5.4 apg. He did all of this with a injury to a finger on his shooting hand, which was described as "a complete tear of the radial collateral ligament, an avulsion fracture, and a volar plate injury at the MCP joint."
8) LeBron James, SF, Miami Heat - 2011-12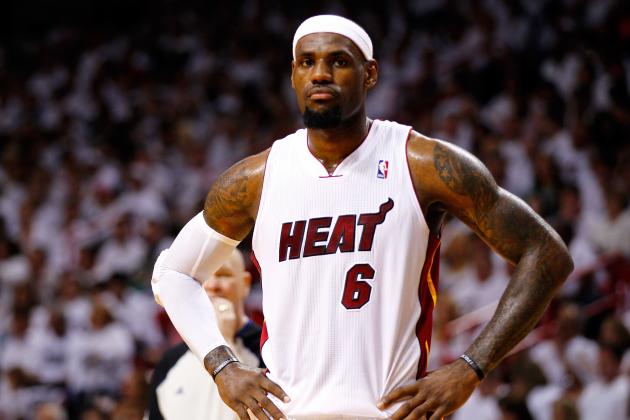 LeBron James' third MVP award and first with the Heat came in his second year in Miami. It did come in a lockout shortened season, but he still averaged 27.1 ppg, 7.9 rpg and 6.2 apg. 
7) Kevin Durant, SF, Oklahoma City Thunder - 2013-14
Durant's scoring prowess came to a head in his MVP season, when he averaged a career-high 32.0 ppg to lead the NBA in scoring for the fourth time in hi scareer. He also led OKC to a 59-23 record while showing more of an all-around game, also recording 7.4 rpg and 5.5 apg.
6) LeBron James, SF, Cleveland Cavaliers - 2009-10
The second of James' MVP trophies came right after his first, and there was never really any doubt he would win the award, averaging 29.7 ppg, 7.3 rpg and a career-high 8.6 apg. He again led the Cavs to the top seed in the East (61-21).
5) Dirk Nowitzki, PF, Dallas Mavericks - 2006-07
In Nowitzki's only MVP season, he led Dallas to a 67-win campaign and became just the fourth player in NBA history to join the 50–40–90 club. Even though the Mavs were upset by the Warriors in the first round of the playoffs, his regular season accomplishments were great. He averaged 24.6 ppg, 8.9 rpg and 3.4 apg.
4) Stephen Curry, PG, Golden State Warriors - 2014-15
Curry won his first MVP when Golden State broke through in the Western Conference, going from a middling playoff team to the best team in the NBA (67-15 record). He averaged 23.8 ppg, 4.3 rpg, and 7.7 apg that season.
3) LeBron James, SF, Cleveland Cavaliers - 2008-09
LeBron's first MVP award came when he was just 24 years old, and he averaged 28.4 ppg, 7.6 rpg and 7.2 apg while leading a very average team around him to a 66-16 record. He also accounted for an eye-popping 20.3 total win shares that season.
2) LeBron James, SF, Miami Heat - 2012-13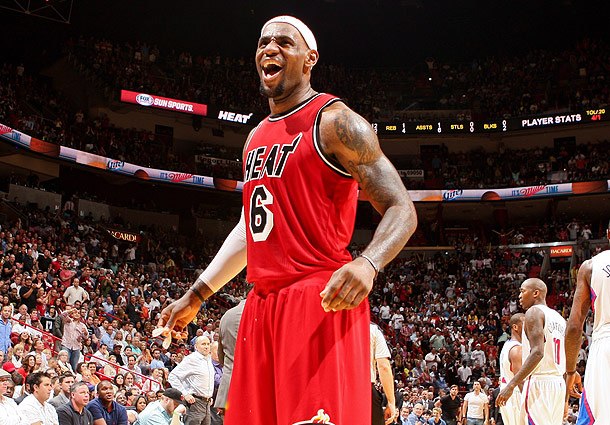 Hard to believe that this is the last time LeBron won the MVP, but it was another dominant season for the King. He averaged 26.8 ppg, 8.0 rpg, and 7.3 apg while accounting for19.3 total win shares. 
1) Stephen Curry, PG, Golden State Warriors - 2015-16
Curry's second MVP was the first and only unanimous MVP in league history, so he has to be No. 1. He certainly racked up the accolades last season, leading the Warriors to an NBA-record 73-9 mark in the regular season, averaging 30.1 ppg, 5.4 rpg and 6.7 apg, and - perhaps most impressively - became the first player in league history to shoot over 50 percent from the field, over 45 percent from three-point range and over 90 percent from the free throw line in a single season.
Back to the NBA Newsfeed
Related Topics: Cavaliers News, Kevin Durant, Stephen Curry, Kobe Bryant, Dirk Nowitzki, Derrick Rose, Lebron James, Lakers News, Warriors News, Thunder News, NBA News, Heat News, Bulls News, Mavericks News