As the NBA season approaches the final weeks of the season, only two players have cemented themselves as legitimate MVP frontrunners. The historic numbers being put up by Russell Westbrook and James Harden have created a two-man battle at the top of the MVP race, but there are a few other players who deserve to have their seasons recognized in MVP voting. Here's how Chat Sports has the MVP race shaking out with just weeks left in the regular season:
5) LeBron James, SF, Cleveland Cavaliers
LeBron is still the best player in the world, but there is a difference between being the best player in the world and being the most valuable player in the NBA. That's not to say that James has had a bad season - in fact, it's the opposite. He's averaging a career-high in both assists (8.8 per game) and rebounds (8.4 per game) along with his most points (26.0 per game) since his final season in Miami. However, Cleveland's struggles down the stretch have taken a toll on his MVP hopes.
News, scores, social - download Chat Sports for iPhone and Android today
4) Isaiah Thomas, PG, Boston Celtics
The flip side of Cleveland's struggles is Boston's success. If you called the Celtics would be tied for first place in the East this late in the season, you're lying. Thomas' play in the biggest reason why the Celtics are in this position. He ranks third in the league in scoring with 29.2 points per game despite taking just 19.6 shots per game. Only three players - Shaquille O'Neal, Karl Malone, and Adrian Dantley - have ever averaged 29 points on 20 or fewer shots. For the record, all three of those players are in the Hall of Fame.
3) Kawhi Leonard, SF, San Antonio Spurs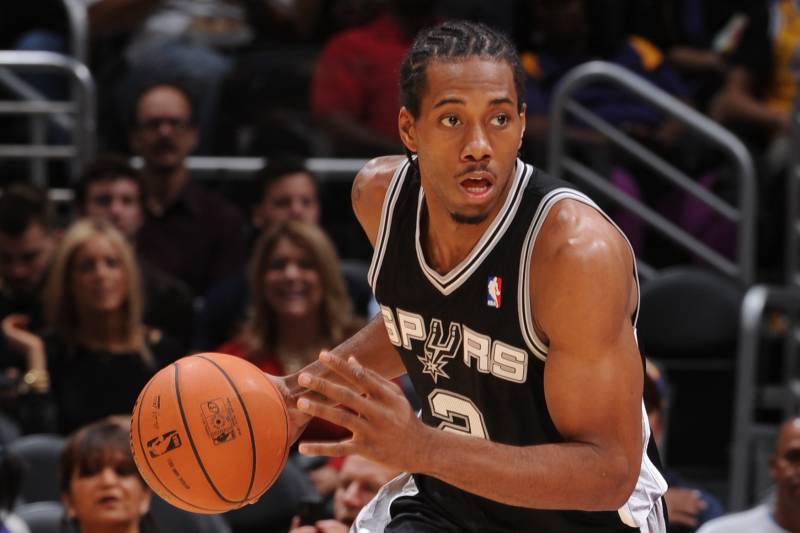 Leonard has taken his offensive game to a whole new level this year, making him now arguably the most complete player in the game. He has 25 games in which he has scored at least 30 points this year and is averaging a career-high in points (25.9 per game) and assists (3.5 per game).
News, scores, social - download Chat Sports for iPhone and Android today
1b) James Harden, PG/SG, Houston Rockets
Now we get to the real race. It feels wrong to have one of these guys as No. 2, so I'm giving Harden the 1b label for now (more on why in a second). Harden's season has been historic. Not only has he had more 40-point triple-doubles this season than anyone else in league history, but he turned a Rockets team that many thought would be a borderline playoff team into a top three seed in the West. The move to point guard has paid off for him, leading the league in assists (11.4 per game) while also averaging a career high in points (29.3 per game).
1a) Russell Westbrook, PG, Oklahoma City Thunder
As good as Harden has been, and as good as the Rockets have been, I this Westbrook has to win the award this year. He'd be just the second player in NBA history to average a triple-double for an entire season (31.8 ppg, 10.4 apg, 10.6 rpg), and that level of sustained excellence deserves to be rewarded. He also just put up the most points every in a triple-double with his 57-point, 13-rebound, 11-assist performance in a comeback win over the Magic. Remember, high-scoring triple-doubles is one of the centerpieces of Harden's MVP case.
Plus, the Thunder would definitely be a lottery team if Westbrook wasn't on the roster - or even if he wasn't playing at this high of a level. His play is the only reason why Oklahoma City is somewhat relevant in the Western Conference, and coupled with his statistics make him the winner in my mind.
Back to the NBA Newsfeed
Related Topics: Spurs News, Celtics News, Cavs News, Isaiah Thomas, Kawhi Leonard, NBA MVP, Russell Westbrook, James Harden, Thunder News, Rockets News, NBA News, Lebron James