As the NBA season hits the All-Star break, only a handful of players have cemented themselves as legitimate MVP contenders. Most of the names are familiar, but the historic numbers being put up by Russell Westbrook and James Harden have created an interesting duel between two players trying to win the award for the first time in their respective careers. Here's how the MVP race is shaping up through the first half of this season:
6) Kawhi Leonard, SF, San Antonio Spurs
Once again, the Spurs have been sneaky good this season, posting a 43-13 record. Leonard has been the driving force behind that mark, as offensive game is starting to match his defense greatness. He has 19 games in which he has scored at least 30 points this year and is averaging a career-high in points (25.9 per game) and assists (3.3 per game).
5) Isaiah Thomas, PG, Boston Celtics
Boston has surged to the No. 2 spot in the Eastern Conference, and Thomas' play can be directly attributed to that. He ranks second in the league in scoring with 29.9 points per game despite taking just 19.9 shots per game. Only three players - Shaquille O'Neal, Karl Malone, and Adrian Dantley - have ever averaged 29 on 20 or fewer shots. For the record, all three of those players are in the Hall of Fame.
4) Kevin Durant, SF, Golden State Warriors
Durant has turned Golden State into the unstoppable force we all though they would be, and he has supplanted Stephen Curry as the premier MVP candidate on the team. He has taken a step back of late as Curry re-asserts himself in Golden State's pecking order, but he is still the best player on the best team in the league.
3) LeBron James, SF, Cleveland Cavaliers
LeBron is currently averaging more minutes than he has since returning to Cleveland, and is keeping this Cavs team afloat while they deal with a huge rash of injuries. He is also averaging a career-high in assists (8.8 per game), but it's the intangible work he is doing to keep the Cavs as the top team in the East that really earns his place on this list.
1b) James Harden, PG/SG, Houston Rockets
There is a clear line between the top two players on this list and rest of the pack. Harden has thrived in the switch to point guard in Mike D'Antoni's system, and the result has been great for Houston. That surge has him as real favorite to win his first MVP award, and many think he is actually leading the race (more on that in a second). He is also averaging a career high in points (29.2 per game) while leading the league with 11.3 assists per game.
1a) Russell Westbrook, PG, Oklahoma City Thunder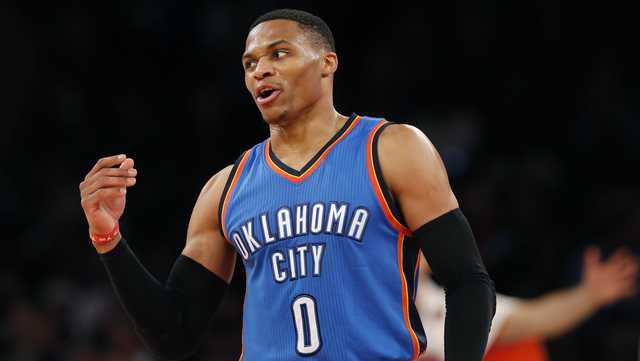 You can make a very real case with Harden because of his absurd numbers and how much better the Rockets are this year, but as long as Westbrook is accomplishing the historic feat of averaging a triple-double, it gives him the edge. He'd be just the second player in NBA history to average a triple-double for an entire season (31.3 ppg, 10.1 apg, 10.5 rpg), and that deserves to be rewarded.
Plus, the Thunder would definitely be a lottery team if Westbrook wasn't on the roster - or even if he wasn't playing at this high of a level. His play is the only reason why Oklahoma City is relevant in the Western Conference.
Back to the NBA Newsfeed
Related Topics: Spurs News, Cavaliers News, Kevin Durant, Celtics News, Isaiah Thomas, James Harden, Kawhi Leonard, Lebron James, Russell Westbrook, Warriors News, Thunder News, Rockets News, NBA News