Before LeBron James had even finished his Las Vegas meeting with Pat Riley, one reporter claimed he already knew where James was headed:
LeBron James is returning to the Cleveland Cavaliers, a source tells http://t.co/Cc9XrPZuuu. @KingJames #LeBronToClev http://t.co/yaNgQDrcff

— Chris Sheridan (@sheridanhoops) July 9, 2014
Chris Sheridan is a former ESPN and Associated Press writer who now operates his own independent site, SheridanHoops.com. Despite unanimous reports to the contrary (from everyone from Yahoo's Adrian Wojnarowski to ESPN's Brian Windhorst), Sheridan stuck to his story...but one move he made in the hours after his announcement certainly didn't help.
Sheridan decided to retweet something from ESPN's Chris Broussard, who backed up his report. There was only one problem...it wasn't the real Chris Broussard: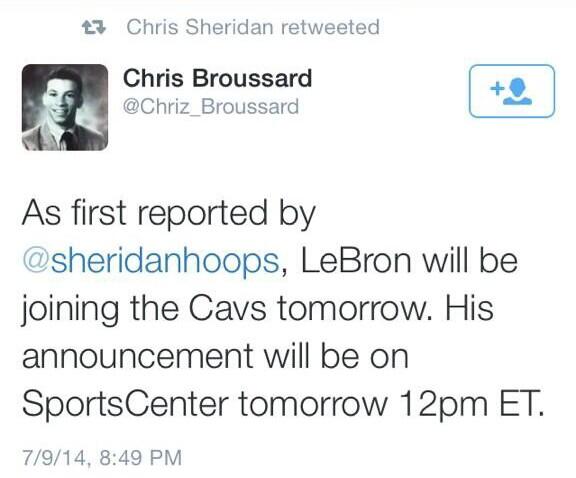 "Chriz" Broussard has a whopping 355 followers at the moment (even less at the time of the tweet), and apparently, attention to detail is not Sheridan's strong suit (he later deleted the RT, but not after dozens of screenshots had already been taken). If this is Sheridan's idea of attention to detail, forgive us if we aren't immediately convinced by his report.

Back to the NBA Newsfeed