NBA Draft season is officially upon us, which means it's a good time to look back at the draft days that completely redefined the league. Here's our list of The 5 Best Draft Classes In NBA History.
5. 1985
Impact Picks: Patrick Ewing (1), Xavier McDaniel (4), Chris Mullin (7), Detlef Schrempf (8), Charles Oakley (9), Karl Malone (13), Joe Dumars (18), Terry Porter (24)
Ewing and Malone are two of the greatest NBA players to never win a title, but they still combined for 25 All-Star nods, 2 MVPs (both for Malone) and two beyond-deserved Hall of Fame nods.
As you go further down in the draft, you find Chris Mullin who joined Ewing and Malone on the legendary Dream Team and Joe Dumars who was one of the key parts to the engine that was the Detroit Pistons' two-time champions Bad Boys squad. It may not quite live up to the draft preceding it (more on that later), but it's still an all-time great haul in hindsight.
4. 1998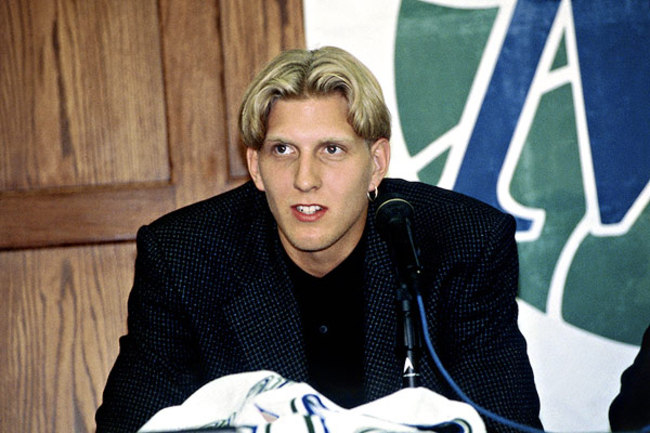 Impact Picks: Mike Bibby (2), Antawn Jamison (4), Vince Carter (5), Dirk Nowitzki (9), Paul Pierce (10), Rashard Lewis (33)
Michael Olowokandi hit the deck face first as the first overall pick for the Clippers, but this draft still has three future Hall of Famers in Carter, Nowitzki and Pierce to its credit, along with Jamison and Lewis who were both two-time All-Stars.
Both Nowitzki (2011) and Pierce (2008) were the primary driving forces of NBA championship teams and Vince Carter -- well he and his magic bag of dunks are the greatest thing that ever happened to the widespread proliferation of Internet videos in the 2000s.
3. 2003
Impact Picks: LeBron James (1), Carmelo Anthony (3), Chris Bosh (4), Dwyane Wade (5), David West (18), Boris Diaw (21), Josh Howard (30)
We left Darko Milicic (2) off this list to save Detroit Pistons fans from punching holes through their computer/phone screens. However, only 1984 can rival 2003 for sheer star power in the top five, as the James/Anthony/Bosh/Wade combination has done for the late aughts/early teens what the 1984 crop did for the late 80s and early 90s.
Leaving aside the obvious (former) Miami Big 3 undercurrent of this draft, 2003 is the premier post-millennium class, bar none.
2. 1984
Impact picks: Hakeem Olajuwon (1), Michael Jordan (3), Charles Barkley (5), Alvin Robertson (7), Otis Thorpe (9), Kevin Willis (11), John Stockton (16)
Olajuwon. Jordan. Barkley. Stockton.
The 1984 NBA Draft reads like a Mount Rushmore of basketball history, with four Hall of Famers (five if you count Oscar Schmidt who never played an NBA minute) who redefined the NBA and carried it to new heights during the basketball boom of the 1990s.
1. 1996
Impact picks: Allen Iverson (1), Marcus Camby (2), Shareef Abdur-Rahim (3), Stephon Marbury (4), Ray Allen (5), Antoine Walker (6), Kobe Bryant (13), Peja Stojakovic (14), Steve Nash (15), Jermaine O'Neal (17), Zydrunas Ilgauskas (20), Derek Fisher (24)
Five of the 1996 draft's top six picks made an All-Star team in their careers, and the sixth (Marcus Camby) was one of the most dependable journeymen in the league over his 17 NBA seasons.
That's not even scratching the surface of this blockbuster class, with Kobe Bryant and Steve Nash standing as transcendent generational talents that didn't even crack the top ten. Add in the fact that the above list shares 58 combined All-Star nods and 14 combined championship rings, and there's simply no draft in history that has the marquee power and productive longevity that 1996 has.
Back to the NBA Newsfeed