The Golden State Warriors and Cleveland Cavaliers have just one more game to decide a champion in Game 7 on Sunday with legacies on the line. Not only is Cleveland trying to end a half-century championship drought in the city and Golden State trying to win a back-to-back titles, they're both fighting for a place among the best teams in NBA history. Here's how we rank all of the championship teams in the league since 2000:
10) Miami Heat (2006)
Dwyane Wade carried this Miami Heat team featuring Shaquille O'Neal and a crew of lesser players past the favored Dallas Mavericks in the Finals.
9) Dallas Mavericks (2011) Dallas knocked off the Heat in six games in the first year of Miami's "Big 3" behind the play of Dirk Nowitzki and talented role players like Jason Kidd, Jason Terry, and Tyson Chandler.
8) Detroit Pistons (2004)
Detroit pulled off one of the greatest upsets in NBA Finals history by beating a Lakers team that featured Kobe Bryant, Shaquille O'Neal, Karl Malone, and Gary Payton in five games. We know now how dysfunctional that Lakers team
7) Boston Celtics (2008)
In the first year after Kevin Garnett and Ray Allen joined Paul Pierce in Boston, the Celtics defeated the Lakers in six games. The dominated the regular season with a 66-16 record, but ended up playing more postseason games (26) than any other team in league history because they didn't dominate the same way in the playoffs.
6) Los Angeles Lakers (2009-2010)
Kobe Bryant wanted to prove he could win a championship with Shaq, and did so in back to back years. Pau Gasol and Andrew Bynum provided the Lakers with a punch in the post, but Kobe was the biggest reason why Los Angeles beat the Magic in 2009 and the Celtics in 2010.
5) Miami Heat (2012-2013)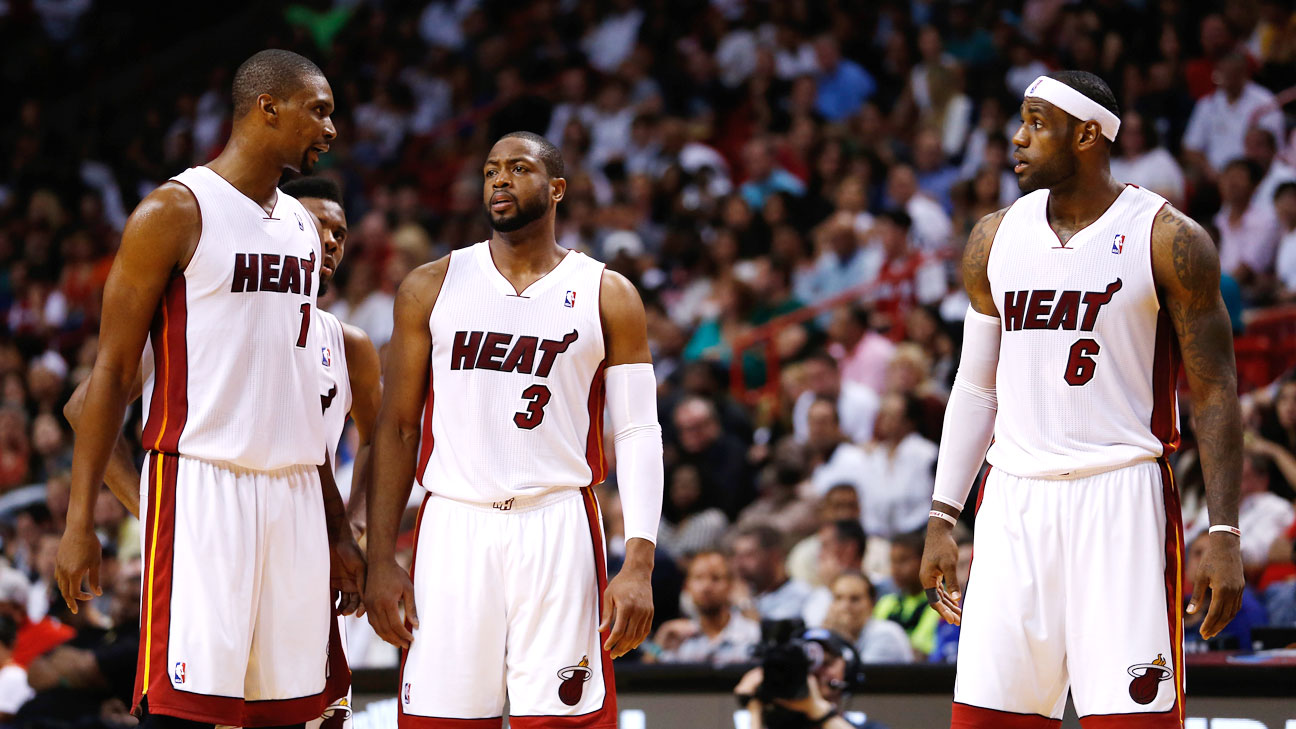 After losing to the Dallas Mavericks in 2011, LeBron James, Dwyane Wade, and Chris Bosh captured back-to-back rings with a five-game victory over a young Oklahoma City Thunder squad, and thrilling seven-game win over the San Antonio Spurs. They never had the top seed in the Eastern Conference, but they knew how to turn it on once the postseason came around.
4) San Antonio Spurs (2014)
The newest version of the Spurs, featuring Kawhi Leonard, absolutely dismantled the two-time defending champs in five games. They used ball-movement and three-point shooting to dominate an extremely competitive Western Conference and put on one of the most masterful performances in NBA Finals history.
3) Golden State Warriors (2015)
Despite winning just one title (so far), the Warriors had one of the best regular seasons in NBA history (67-15) while leading the league in both offense and defense. However, their crowing achievement is that they were the most efficient team in league history. Their final record of 83-20 has only ever been topped by two teams. Following it up with a record-breaking 73-9 season is nice, but that won't mean anything without another title.
2) San Antonio Spurs (2003, 2005, 2007)
Tim Duncan, Tony Parker, and Manu Ginobili beat the Nets, defending champion Pistons, and the LeBron-led Cavaliers to win three titles in five years. They didn't have incredibly remarkable regular seasons, but they managed to get past really good Phoenix Suns, Minnesota Timberwolves, and Los Angeles Lakers teams every single year.
1) Los Angeles Lakers (2000-2002)
Kobe Bryant and Shaquille O'Neal were the two best players in the league during this time frame, and that showed itself in the playoffs at the start of the century. They faced the top seed in the Eastern Conference for three straight years, and only lost a combined three games in the Finals.
Back to the NBA Newsfeed