Recording a triple-double in the NBA is no easy task. Only 11 players have recorded more than one triple-double this season, a testament to how hard it is to rack up at least 10 points, rebounds, assists, blocks or steals in a single game. But two players have dominated the triple-double category this season compared to the rest of the NBA. We've listed the top eight players here, although the top two have completely run away from the rest of the association. With that in mind, here are the top eight players with the most triple-doubles in the NBA this season. 
T-6. James Harden, Rockets - 3
The star of the Rockets is averaging 28.7 points, 6.3 rebounds and 7.5 assists per game. That's the second-best points and sixth-best assists figures in the Association. Despite Harden's production, the Rockets are on the outside looking in of the playoff race for now. 
T-6. LeBron James, Cavaliers - 3
King James making an appearance here shouldn't be a surprise. In fact, many might think he'd be higher. LeBron is averaging 25.2 points, 7.5 rebounds and 6.8 assists per game this year. He's top 10 in points and assists per game. 
T-6. Hassan Whiteside, Heat - 3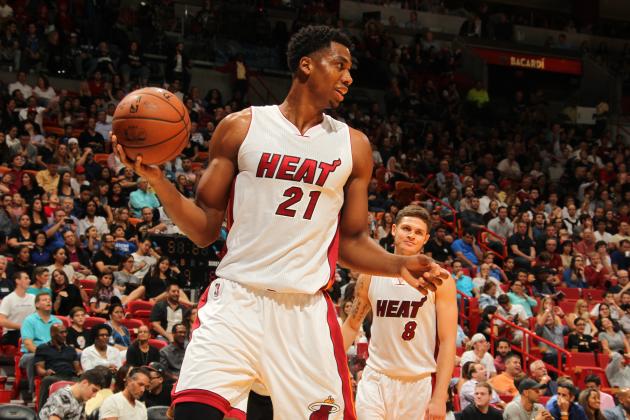 The Heat's center averages 14.1 points per game and 11.8 rebounds. Unlike the rest of the players on this list, Whiteside has earned his triple doubles with blocks, not assists. He leads the NBA with 3.75 blocks per game. 
5. John Wall, Wizards - 4
Wall has carried his team, although it seems like it won't be enough for the Wizards to make the playoffs. Wall averages 19.9 points, 4.9 rebounds and 10.2 assists per game. He's third in the NBA in assists. 
T-3. Giannis Antetokounmpo, Bucks - 5
The Greek Freak can do a little bit of everything. He averages 16.8 points, 7.5 rebounds and 4.2 assists per game. After putting up zero triple doubles previously, Antetokounmpo has put up an impressive five this season. 
T-3. Rajon Rondo, Kings - 5 Rondo is the rare player who averages almost as many assists as he does points. This year, Rondo has averaged 11.7 points, 11.6 assists and 6 rebounds per game. He leads the NBA in assists and is close to passing his career-mark of 11.7 assists per game. 
2. Draymond Green, Warriors - 13
Green is the first of two players that have racked up triple doubles at an absurd pace. Green averages 13.9 points, 9.6 rebounds and 7.5 assists per game. Stephen Curry gets plenty of love, but the Warriors need Green on their team. 
1. Russell Westbrook, Thunder - 17
UPDATE: This article has been reflected to show Westbrook's most recent triple-double. At the time of original posting, he had 16. 
Another player who might not get the same love as another superstar on their team is Westbrook. And while Kevin Durant is one of the best players in the league, so is Westbrook. He's putting up 23.7 points, 7.8 rebounds and 10.4 assists per game. He's also averaging 2.1 steals per game. While 16 is a very impressive number, it pales in comparison to Oscar Robertson's 41 in the year he averaged 30.8 points, 12.5 rebounds and 11.4 assists. 
Back to the NBA Newsfeed
Related Topics: John Wall, Rajon Rondo, Draymond Green, Lebron James, Russell Westbrook, James Harden, NBA News, Hassan Whiteside, Giannis Antetokounmpo