In a stunning development, Kyrie Irving has asked for a trade from the Cleveland Cavaliers. Irving no longer wants to play in LeBron James' shadow and wants to the be focal point of his own team. So, which teams could actually trade for Irving if the Cavs elect to grant his wish? 
More than the five teams listed will be interested in a trade for Irving. In fact, nearly every team in the NBA will have at least some level of interest. However, not every team can (or is willing to) make a legit offer to the Cavs. And unlike the Paul George trade, the Cavs do hold some leverage here. Irving is under contract until for the next two years with a player option in the third, which means whichever team that gets him doesn't have to worry about him bolting. 
Irving has already suggested four teams and all except the Minnesota Timberwolves made the list. Minnesota just signed Jeff Teague and since he isn't tradable until December, the Timberwolves don't have enough to offer with Andrew Wiggins not on the block. So, they missed the list. As did a bunch of other teams, such as the Denver Nuggets. We tried to make it so Irving could still get his wish of being "The Guy" and for the Cavs to actually get value back. Two team trades only here, since we didn't want to get too crazy. 
We fired up the Trade Machine and made a few proposals that could work out for both sides. They're in alphabetical order, not in order of best offer or likelihood. Of course, we'll probably be wrong about what the return is if Irving is dealt. After all, no one saw the Thunder landing Paul George.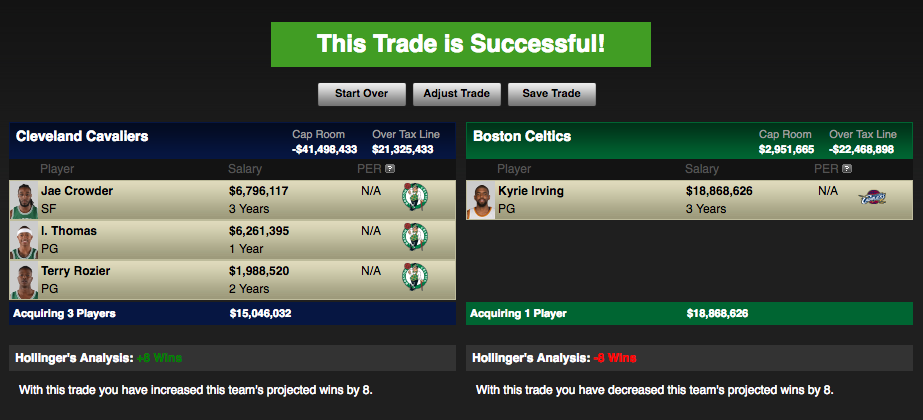 The Celtics are linked to pretty much every major deal, so of course they made the list here. Irving might not want to share the spotlight in Boston and the Cavs might not want to keep him in the East, but this might be the best offer the Cavs can get (if Boston actually makes it). The Celtics get to avoid paying Isaiah Thomas a max deal, free up more wing minutes and get a PG locked in for a longer deal. Marcus Smart can also be included, but the Celtics already "lose" this trade based on projected wins and he can serve as the backup, defensive-minded PG. If the asking price for Irving is even higher, the Celtics also have the option of including one of their many draft picks.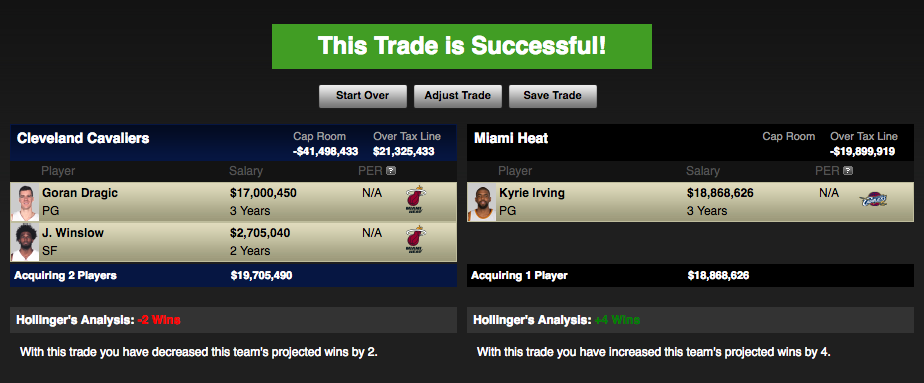 The Heat made Irving's list of four and there's no doubt the Heat would quickly offer Dragic as a main piece. But the Heat would probably need to give up more (especially if Boston steps up with a good offer). Justice Winslow is the logical next piece, given that he's a former lottery pick. It's not a great return for Cleveland, but they do at least get a starting PG and another wing option. Plus, Winslow has really good defensive upside and the Cavs need that. Limited picks for Miami (no first this year), could complicate things. 
Connect With Chat Sports:
Chat Sports Tumblr
Follow Chat Sports on Instagram
Chat Sports Content Jobs on Zip Recruiter
You knew this was on going to be on here. Plus, Irving actually wants to play in New York. Carmelo is the obvious piece going back in a trade, since New York sure as hell isn't giving up Kristaps and their other pieces aren't that great for Cleveland. LeBron also gets his to play with his good friend. Not included in the trade machine offer is rookie PG Frank Ntilikina. He can't be traded yet (thus the trade machine doesn't accept it), but the money works out and once he's tradable the deal can go through. So just pretend his listed in the image above (I'm not good at photoshop, sorry). As an added bonus, the Cavs shed Iman Shumpert to make the salaries work. First round picks from New York could also be on the table.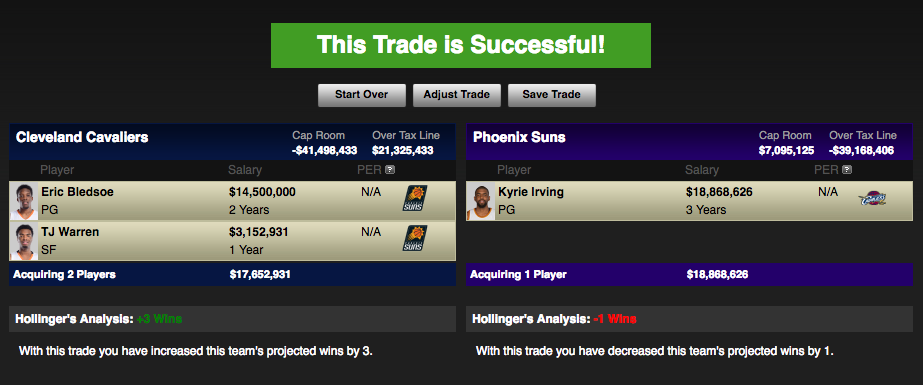 The Cavs reportedly want Eric Bledsoe, Josh Jackson and more, but it'd be a surprise if the Suns did that. But they can offer Eric Bledsoe, another wing option in T.J. Warren and even draft picks. Remember, the Suns have their own picks and the Heat's first rounder this year and in 2021. Bledsoe is a quality replacement for Irving and brings better defense. His agent also happens to be Rich Paul, the long-time friend of LeBron. I actually like this deal a lot for both sides and the win change isn't drastic either. The Suns have be willing to make a big trade all offseason and it doesn't get much splashier than this.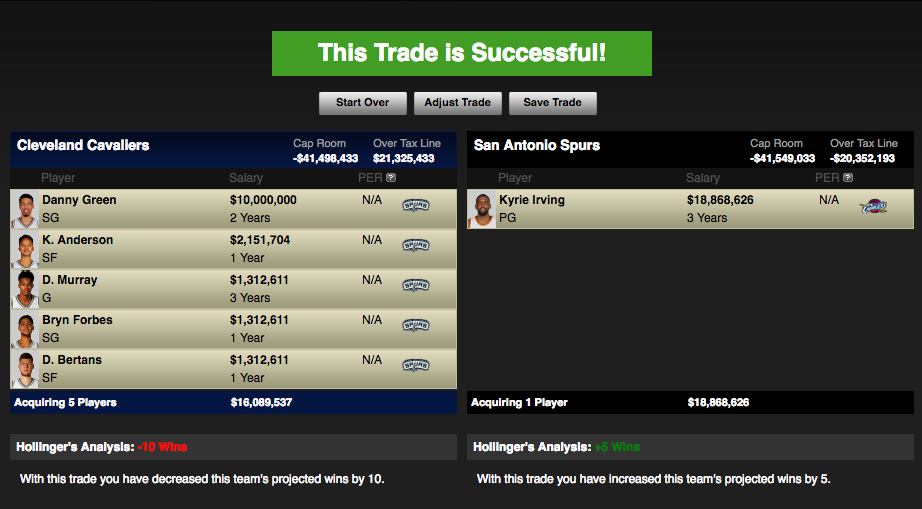 The Spurs are reportedly on Irving's list, but a deal for both sides is not easy. The Spurs could include LaMarcus Aldridge, but with Kevin Love and Tristan Thompson on the roster, he's not a fit. The Cavs like Danny Green and his salary is key to balance out a deal. Then, it's a bunch of lesser younger players to get the money right. This trade would assume the Cavs sign Derrick Rose, with Dejounte Murray getting a chance to grow into the PG role, just like he is in San Antonio. It's not a good deal for the Cavs, but it's worth mentioning more so than deals involving the Nuggets, Timberwolves or others. 
Check out our NBA page for all the latest NBA Rumors or download the Chat Sports App!
Back to the NBA Newsfeed
Related Topics: Cavs Rumors, Kyrie Irving Trade, Spurs Rumors, Heat Rumors, Knicks Rumors, Suns Rumors, Cavs Trade Rumors, Celtics Rumors, Kyrie Irving