NBA Summer League wraps up on Monday, but it's already given us the opportunity to see almost all of the league's top young players on multiple occasions. This year, many of the first-round picks have turned it into a showcase for their talents, but there are also a few players who have used it to solidify their place on an NBA roster.
While you could certainly make the case for the inclusion of several other players on this list (Jayson Tatum comes to mind), I have included players who have exceeded expectations and helped themselves the most. As such, here are the five players who have shined more than the rest this summer:
1) Lonzo Ball, PG, Los Angeles Lakers
Yes, Ball was expected to be one of the best players in Vegas, but he has been more dominant than anyone. After struggling in his first game, he recorded the first two triple-doubles in Vegas Summer League history - with a 36-point, eight-rebound, 11-assist performance sandwiched in between.
"I'm just playing how I always play," Ball said before praising his teammates. "They're running. They're making the plays -- catching and shooting, scoring. So credit to them."
Ball does need to cut down on his turnovers - he has recorded at least five in every game - but he has run LA's offense to perfection and has demonstrated the leadership that everyone at UCLA raved about. In his four appearances so far this summer, he is averaging 17.0 points, 9.8 assists and 8.3 rebounds per game.
2) Donovan Mitchell, PG/SG, Utah Jazz
Mitchell has been a star for the Jazz at both the Vegas Summer League and Utah Summer League. He has been the best defender at both events, locking down opposing stars with his 6-foot-10 wingspan. His lack of a defined position was his biggest criticism throughout the draft process, but he has played both guard positions admirably. Mitchell's 37-point, eight-steal performance against the Grizzlies showcased his skills on both sides of the ball.
"He's able to show more here than he was able at Louisville," said Jazz summer head coach Zach Guthrie. "With maybe NBA-style spacing and the pick-and-roll game, rather than the tighter confines and hand-checking in college. We thought, if the floor opened up for him, his skills and his athleticism would really shine, and he's really showing a lot of things here."
As the Jazz enter into the post-Gordon Hayward era, Mitchell looks like he'll be one of their core players for many, many years - not bad for the No. 13 pick.
3) Bryn Forbes, SG/PG, San Antonio Spurs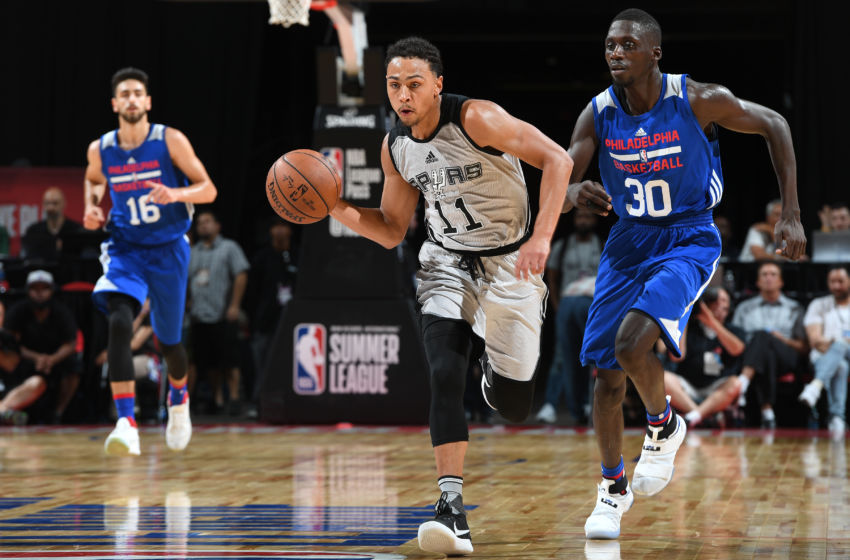 Moving away from the rookies, Forbes has easily been the biggest winner in terms of fringe players who have solidified their spot on an NBA roster. He is the leading scorer in Vegas after accomplishing the feat in Utah, and has demonstrated the ability to play point guard. Previously thought of as a three-point specialist when he signed with San Antonio as an undrafted free agent last year, Forbes has been excellent in the pick-and-roll and has been effective with the ball in his hand.
Expect him to find his way into San Antonio's rotation during the regular season.
4) Bam Adebayo, PF/C, Miami Heat
Adebayo has showcased much more skill and ability than what he was able to demonstrate at Kentucky, where he had more of a defined role. Miami has essentially let him run free in both Orlando and Vegas and it's paid off. He's utilizing his athleticism much more in the wide-open, fast-paced style of the NBA and has been extremely dominant on the glass on both ends of the floor.
Both of those things were somewhat expected - and are a lot of fun to watch - but it's the growth of his game that puts him on this list. Adebayo didn't show good timing as a shot blocker at Kentucky despite his obvious potential, yet has improved on that tremendously this summer. He has even shown flashes of a mid-range jumper and more touch around the rim. 
For a player who was thought of as an extremely raw prospect, the unexpected skill he has shown (with his athleticism) will make him a valued member of Miami's rotation sooner rather than later.
5) Dennis Smith Jr., PG, Dallas Mavericks
Mavs fans were unsure what to make of Smith when Dallas chose him with the No. 9 pick. Safe to say, any notion of doubt has been quelled.
What can't this kid do? #MavsSL17 pic.twitter.com/tUvlFyNAam

— Dallas Mavericks (@dallasmavs) July 9, 2017
Dennis Smith Jr., ladies and gentlemen. pic.twitter.com/ekvGX01BMG

— Dallas Mavericks (@dallasmavs) July 11, 2017
We know he missed it...but incase YOU missed it...@Dennis1SmithJr #MavsSL17 pic.twitter.com/EgR6NPRGq2

— Dallas Mavericks (@dallasmavs) July 14, 2017
Smith hasn't posted overly impressive numbers in Vegas (though they certainly aren't bad), but it's how he's doing it. He is showing that he is fully recovered from the torn ACL that caused him to miss his senior season in high school and his athleticism (and 48-inch vertical) make him a problem with the ball in his hands. It also allows him to get to and finish around the rim with ease.
"Super confident. Super confident," Smith said about his game. "I work hard on my athleticism, explosiveness, attacking. I went through that a lot, that exact scenario. I'm very confident coming off the screen and going at a big."
Dallas has never had a player as explosive as Smith, especially one who is running the show. As athletic point guards continue to dominate the NBA, it looks like the Mavs have a future star.
Follow our NBA page for all the latest NBA Free Agency Rumors or download the Chat Sports App!
Back to the NBA Newsfeed
Related Topics: Spurs News, Heat News, NBA Summer League, Bam Adebayo, Bryn Forbes, Lonzo Ball, Jazz News, Donovan Mitchell, Lakers News, Mavs News, NBA News, Dennis Smith Jr.