Every season in the NBA we see a few previously unheralded role players step up and become major contributors for their repective teams. Here are five players that could develop into stars this year:
5) SF Jabari Parker, Milwaukee Bucks
Parker suffered a torn ACL early last season, but he was on his way to winning Rookie of the Year beforehand. He'll play power forward in Milwaukee's lineup, allowing him to use his athleticism to exploit mismatches on the offensive end and get tot he rim with ease, where he's an outstanding finisher. Parker does need to become a more polised defender, but his expansive offense repertoire could allow him to average around 20 points per game.
4) C Jahlil Okafor, Philadelphia 76ers
A rookie? Yes, a rookie.
Okafor is one of the most NBA-ready prospects we've seen in a long, long time. He will be one of the best low post scorers in the league as soon as he steps on the court, and he's already the focal point of the 76ers offense. While he was a defensive liability at Duke, some thing that has more to do with Coack K trying to keep him out of foul trouble instead of his deficiencies. Expect Okafor to average 17-20 points per game right off the bat.
3) Andrew Wiggins, Minnesota Timberwolves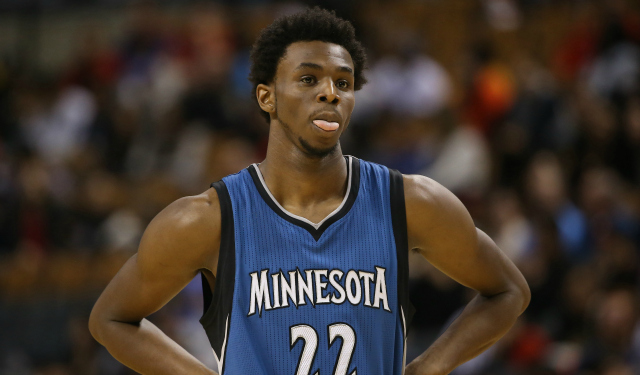 Remember Wiggins?
Last year's No.1 pick was sent to Minnesota in the Kevin Love trade, where he quickly slipped out of the minds of casual NBA fans despite winning the Rookie of the Year award. On top of being an excellent wing defender, Wiggins' offensive production gradually improved last year as well, averaging 19 points per game from Dec. 23 on - including 23 points per game in April, well above his season average of 16.9. Expect him to become a bonafide superstar this year.
2) Meyers Leonard, Portland Trail Blazers
Damian Lillard is the only starter returning for the Blazers, meaning plenty of new guys are going to get a lot of opportunities. Expect Leonard to be the beneficiary of most of those extra shots and touches.
The fourth-year pro has range that extends all the way out to the three-point line (43% last year), a deadly mid-range game, and a few reliable post moves. Leonard is also extremely athletic despite his 7'1" frame, giving him the potential to be a menace on the offensive glass and as a rim protector. Look for there to be a lot of Lillard-Leonard pick-and-roll/pop plays this year.
1) PF Julius Randle, Los Angeles Lakers
All of the offseason talk surrounding the Lakers centered around Kobe Bryant's return and the arrival of D'Angelo Russell, but they're also getting last year's first-round pick, Julius Randle, back from a broken leg he suffered in last season's opener. He'll have plenty of opportunities to shine in LA's new small ball system (which better fits his skills) as their only true inside scoring threat, and he'll capitalize on it.
He shot over 50 percent from the field in college, but he could be on pace to shoot closer to 60 percent with defenses focusing on Bryant and Russell. Look for him to have a HUGE impact for this team early in the season.
Back to the NBA Newsfeed
Related Topics: Jahlil Okafor, Julius Randle, Meyers Leonard, Jabari Parker, 76ers News, Timberwolves News, Andrew Wiggins, Trail Blazers News, Lakers News, Bucks News, NBA News