There are very few surprises in the NBA every season, but there's always a team or two that makes an unexpected rise to the top of the standings like the Atlanta Hawks did last season. Here are four teams that fit the bill for this season:
Miami Heat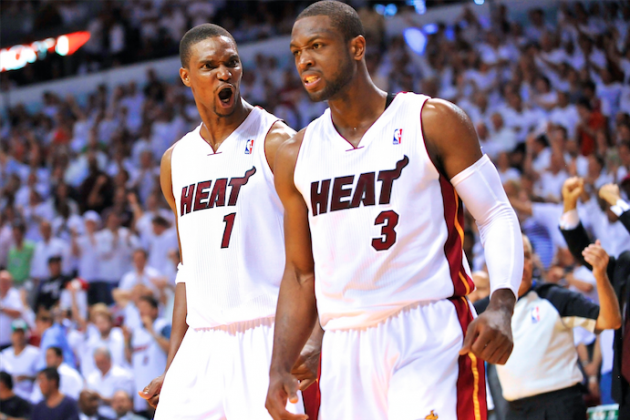 Miami's starting lineup is loaded with Goran Dragic, Dwyane Wade, Luol Deng, a now healthy Chris Bosh, and Hassan Whiteside, but the additions they made to their bench in the offseason is what really sets this team apart.
Gerald Green (11.9 ppg with the Suns last year) and Justise Winslow (No. 10 overall pick) give the Heat two extremely athletic wings who can make an impact on both ends of the floor, while Mario Chalmers (10.2 ppg, 3.8 apg) has plenty of experience being a productive backup point guard. The addition of Amare Stoudemire (11.5 ppg, 5.6 rpg) also gives the Heat a legitimate big man to pair with Josh McRoberts, who only played in 17 games last season.
Few teams can go eight or nine deep without experiencing a huge dropoff, but the Heat can afford to have a legitimate 10-man rotation. That will do wonders when it comes to keeping players fresh and healthy for the postseason - especially in the weak Eastern Conference.
Indiana Pacers
It's easy to count the Pacers out after they struggled last season without Paul George, but now that he's back in the fold, they'll be a much better team. The offseason addition of Monta Ellis will give them another much-needed offensive boost, and their defense will be as good as ever under head caoch Frank Vogel.
New Orleans Pelicans
Would anyone be shocked if Anthony Davis suddenly turned the Pelicans into one of the top teams in the league this year? He's the favorite to win the MVP in his fourth season after putting up historic numbers a year ago, and new head coach Alvin Gentry plans to implement the small ball system the Suns flourished with under his leadership and best fits New Orleans' young, versatile roster. 
This will also be the third straight season that New Orleans' core of Jrue Holiday, Eric Gordon, Tyreke Evans, Ryan Anderson, and Davis will have been playing together, and that increased familiarity with each other will lead to a higher level of play. Year Three of continuity was the breakthough season for the Warriors last year, as well as when Oklahoma City went to the Finals in 2012 and the first of San Antonio's three titles in the mid-2000's. If this group is going to become a contender, this is the year they'll show it.
Minnesota Timberwolves
This is probably a year early, and the Timberwolves' best case scenario is grabbing the seventh- or eighth-seed in the Western Conference playoffs, but Minnesota is poised to make a huge jump in the standings sooner rather than later.
The past two No. 1 overall picks in the NBA Draft, Andrew Wiggins and Karl-Anthony Towns, are in the process of developing into superstars, and could do so quickly. Wiggins, who won Rookie of the Year last year, is already one of the best wing defenders in the league and has an ever expanding offensive game. Towns is expected to have a similar impact on the defensive end as Minnesota's rim-protector while giving them a consistent low-post scorer who is working on expanding his range.
Add in the shooting ability of Kevin Martin, Ricky Rubio's defense and playmaking ability, Kevin Garnett's veteran leadership, and slam dunk champion Zach LaVine's explosiveness as a sixth man, and this team could be the surprise of all surprises.
Back to the NBA Newsfeed
Related Topics: Pelicans News, Pacers News, Heat News, Timberwolves News