The Golden State Warriors stand alone on the top of the heap after the 2015 NBA Playoffs, but it's never too early to start pointing out challengers to the throne that may be slipping through the cracks amongst the Cleveland Cavs of the world. Here's our list of 3 Breakout NBA Teams For 2015-16.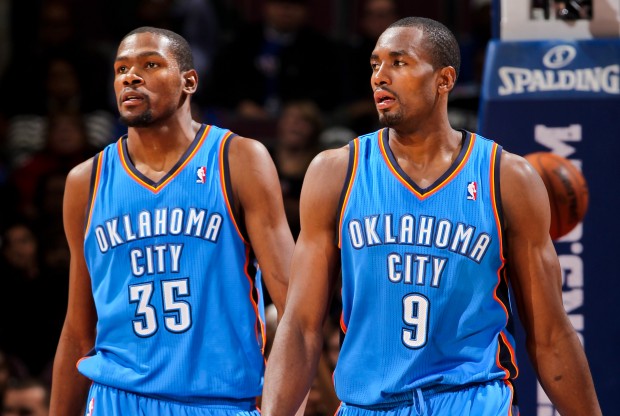 Perhaps the most obvious choice on this list, the OKC Thunder automatically become a title contender once again if both Kevin Durant and Serge Ibaka can return somewhere in the neighborhood of 100% healthy. The team will have to get its sea legs under new head coach Billy Donovan, but a new sense of vision may very well be the best thing for a franchise surrounded by what if's the past few years. Find Durant a legitimate backup option to keep his minutes manageable (*cough* Mike Dunleavy Jr. *cough*), and the Thunder move from outside of the playoffs into the battle for home-court advantage in the West.
Miami is considered by most to be the odds-on favorite to re-sign PG Goran Dragic, especially with Dragic's reported preference to ink a five-year deal instead of a four-year pact. If they get him locked down, the addition of a recuperated Chris Bosh and Josh McRoberts vaults this team from the also-ran pile to a spot in the East's top four. A little bit of luck, regardless of how the Dwyane Wade contract situation plays out, and this team has enough talent to give the Cavs & Hawks a run at the top of the conference.
Call it a hunch, or call it the effects of having EVERY TRADE ASSET under the sun to play with. Boston's cache of 2015 NBA Draft picks seems destined to lead to a major trade (or two), and the team's preexisting young core of talent has a ceiling that was seemingly heightened by an improbable run to the playoffs this past go-around. Brad Stevens is the perfect head coach at the perfect time for this organization, and regardless of what pieces Danny Ainge adds in free agency or otherwise, there's enough here with Marcus Smart, James Young, Tyler Zeller and the rest to be beyond excited about 2015-16 if your a Celtics fan.
MORE NBA AWESOMENESS
5 NBA Players Under The Most Pressure To Win Their 1st Championship
The Only 4 NBA Free Agents Worth A Max Contract This Offseason
Back to the NBA Newsfeed