With the NBA draft lottery now in the rearview mirror, the 2018 NBA Draft order is set with the Phoenix Suns claiming the No. 1 overall pick.
This class may not be as deep as the stacked 2017 class, but there are a number of star players at the top that all look like franchise players. However, the conversation for the No. 1 overall pick centers around three players in Arizona's Deandre Ayton, Duke's Marvin Bagley III, and Real Madrid's Luka Doncic, who is doing things in Europe no player his age has ever done before.
So, without further ado, here is Version 3.0 our 2018 Mock NBA Draft with the full draft order now set:
1) Phoenix Suns - Luka Doncic, SG/PG, Real Madrid (Spain)
6'8", 225 lbs. - 15.2 ppg, 5.2 rpg, 4.5 apg
Ayton may have been the favorite to be the top pick going into the lottery, but the Suns have followed Doncic all year and, as of now, appear to favor him over Ayton. His all-around game made him the youngest player to ever record a triple-double in ACB history and has great size and vision for the position. There are some questions about his athleticism but he's the most skilled player of this group right now. It also helps that his coach for the Slovenian national team, Igor Kokoskov, was hired as Phoenix's new head coach last week.
2) Sacramento Kings - Deandre Ayton, Fr., C, Arizona Wildcats
7'1", 250 lbs. - 20.1 ppg, 11.6 rpg, 1.9 bpg
The Kings would've taken Ayton first so to get him at No. 2 is huge for them. The best true center prospect we've seen in some time, Ayton is a highly skilled big man who still has plenty of upside. He's a physical beast that is dominant in the post and has range stretching out to the three-point line. I rank Bagley as the better player, but given Ayton's physical stature, he may have the highest ceiling of anyone in this class.
Sacramento needs a center and needs a star. Ayton can check both boxes while helping their defense.
3) Atlanta Hawks - Marvin Bagley III, Fr., PF, Duke Blue Devils
6'11", 234 lbs. - 21.0 ppg, 11.1 rpg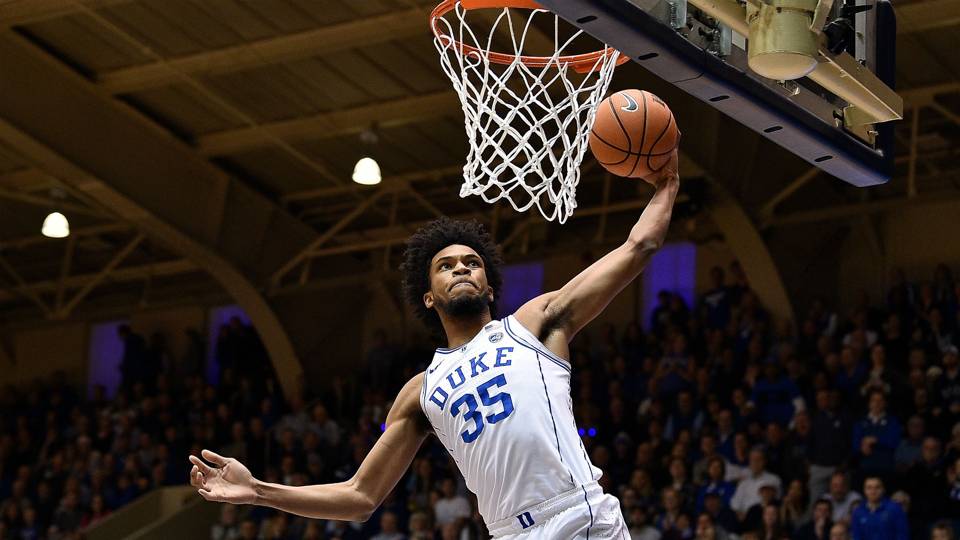 Atlanta is in a position to take the best player available regardless of position and I think they'll go with Bagley's upside. At 6-11, Bagley is a silky smooth athlete who can bring the ball up the court and shoot from the outside, but he's lethal in the post and a terror on the glass thanks to his quick second and third jumps. There are some questions about his skinny frame but he projects to be the perfect four man - or stretch five - in today's NBA.
4) Memphis Grizzlies - Jaren Jackson Jr., Fr. PF/C, Michigan State Spartans
6'11", 242 lbs. - 10.9 ppg, 5.8 rpg, 3.0 bpg
An excellent addition to any NBA team, Jackson has a 7-foot-4 wingspan and is a great athlete, giving him a ton of defensive upside as a shot blocker who can defend every position on the court. He's competitive on the glass, runs the floor well and is a good finisher with a growing offensive skill set, though he needs to improve his shooting. He'll be the perfect pair in the frontcourt with Marc Gasol.
5) Dallas Mavericks - Mohamed Bamba, Fr., C, Texas Longhorns
6'11", 225 lbs. - 12.9 ppg, 10.5 rpg, 3.7 bpg
The Nerlens Noel experience was a disaster in Dallas, but they still want a defensive-minded big man who can be a rim protector and defensive anchor. Enter Bamba, who fits that role to a tee. He has a growing offensive game, but he's the best pure shot-blocker in this class. He'll also catch plenty of lobs from Dennis Smith Jr.
6) Orlando Magic - Trae Young, Fr., PG, Oklahoma Sooners
6'2", 180 lbs. - 27.4 ppg, 8.7 apg, 3.9 rpg
Orlando needs a point guard and, with all of the top-quality big men off the board, they will be led to Young, who has incredible quickness, vision, and ability to create shots for himself. There are some major defensive questions about having him, but his offensive upside is tremendous. The Magic will make him their franchise player and hope he turns into a star.
7) Chicago Bulls - Wendell Carter, Fr. PF/C, Duke Blue Devils
6'10", 259 lbs. - 13.5 ppg, 9.1 rpg, 2.1 bpg
After taking Lauri Markkanen in the first round last year, the Bulls will look to find his long-term frontcourt partner in Carter. He is big and strong enough to play center, yet is also athletic enough and has enough touch on his jumper to play power forward. Fundamentally sound, he can do everything he wants on the court. If he didn't play alongside Bagley at Duke, we'd be talking about Carter as a potential top-five pick.
8) Cleveland Cavaliers (from Boston Celtics via Brooklyn Nets) - - Michael Porter Jr., Fr., SF/PF, Missouri Tigers
6'10", 215 lbs. - 10.0 ppg, 6.7 rpg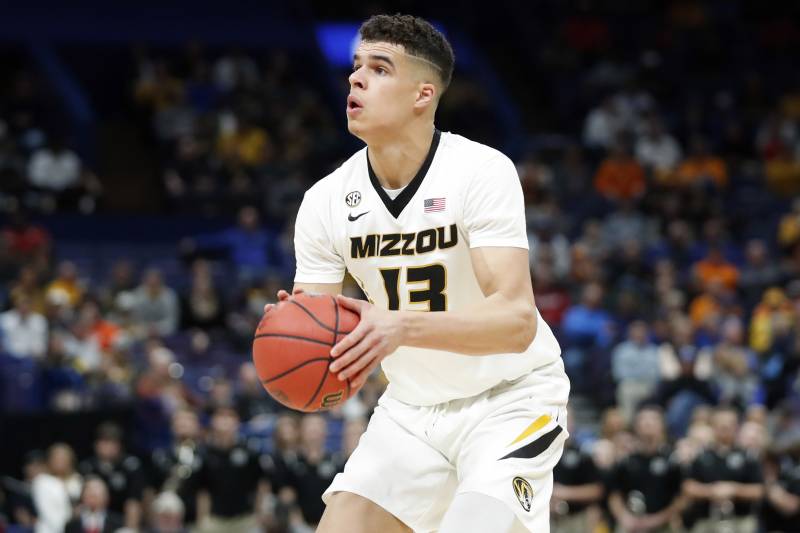 Cleveland will likely look to trade this pick, but if they keep it for what could be the post-LeBron era, they'll want to take someone they can build their future around. Porter was in the running for the No. 1 pick in the draft before he suffered a hip injury that required back surgery and ended his season before it really started. He's a good, fluid athlete who excels on the perimeter and around the basket with his smooth skill set.
9) New York Knicks - Mikal Bridges, Jr., SF, Villanova Wildcats
6'6", 210 lbs. - 17.7 ppg, 5.3 rpg, 1.5 spg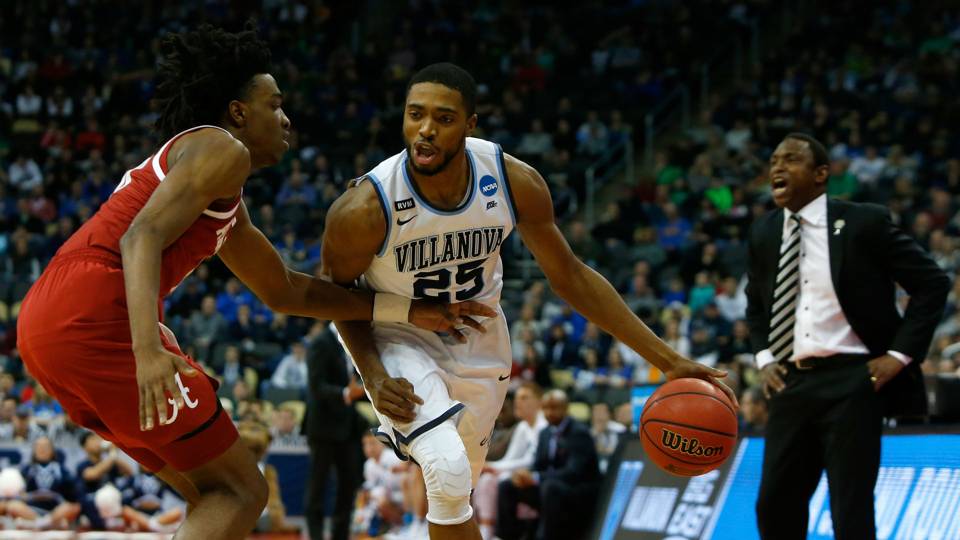 If Bridges is on the board when the Knicks pick, New York is currently leaning towards taking him. Though he played a lot of power forward for the Wildcats, New York views Bridges as a starting-caliber small forward with a ton of NBA upside is as a defender. He's very quick for someone who is 6-foot-7, and with a wingspan over seven feet, he is an impact player on that end of the floor. Bridges is the ultimate 3-and-D prospect.
10) Philadelphia 76ers (via Los Angeles Lakers) -  Collin Sexton, Fr., PG, Alabama Crimson Tide
6'3", 190 lbs. - 19.2 ppg, 3.8 rpg, 3.6 apg
Philadelphia is looking to add a point guard and, while Trae Young is at the top of their board, they could go with Sexton if Young is no longer available. Sexton could easily go higher than this, but I think he'll fall a bit because of his size. Still, he's a dynamic athlete who is exciting to watch because of his quickness, vision, finishing ability and defensive quality. He's also perhaps the most competitive player in this class.
11) Charlotte Hornets - Miles Bridges, So., SF/PF, Michigan State Spartans
6'7", 225 lbs. - 17.1 ppg, 7.0 rpg, 2.7 apg
The Hornets need to figure out which direction they're going with their future, and without one right now (and a seeming unwillingness to trade Kemba Walker), they'll go with the best player available in Bridges. The preseason favorite to win National Player of the Year, Bridges was going to be a lottery pick in the 2017 draft before opting to return to school. He hasn't really helped himself with the gamble, but he is a freak athlete who is excellent finishing around the rim and has shown somewhat of an improved jumper. The Hornets also need another long-term solution on the wing, which Bridges would provide.
12) Los Angeles Clippers (via Detroit Pistons) - Robert Williams, So., PF/C, Texas A&M Aggies
6'10", 241 lbs. - 10.4 ppg, 9.2 rpg, 2.6 bpg
Like Bridges, Williams is a super athlete who may have been a first-round pick if he stayed in the 2017 draft but opted to return to school to work on his consistency. That has also been a failure as he has struggled to find his place in Texas A&M's big lineup, but his game is perfect for the modern NBA. He is an elite athlete, rebounder, and shot blocker who will best utilize those skills in the wide-open NBA game. For a Clippers team that just parted with Blake Griffin and is expected to do so with DeAndre Jordan as well, Williams would be a great replacement.
13) Los Angeles Clippers - Shai Gilgeous-Alexander, Fr., PG, Kentucky Wildcats
6'6", 180 lbs. - 14.4 ppg, 5.1 apg, 4.1 rpg
Gilgeous-Alexander has been the most consistent player for Kentucky this season, and his size and vision give him good upside as an NBA point guard. The Clippers need a long-term answer at point guard, making Gilgeous-Alexander a good fit.
14) Denver Nuggets - Kevin Knox Jr., Fr., SF, Kentucky Wildcats
6'9", 215 lbs. - 15.6 ppg, 5.4 rpg
There's a reason why Knox was one of the top prospects in the country this year. Despite a lack of aggression and the need to get stronger, Knox can fill it up with the best of them. The Nuggets have been trying to find a solution at small forward for years, and they'll take the game here with Knox, who might be the best pure scorer in this class.
15) Washington Wizards - Mitchell Robinson, C
6'11", 215 lbs.
Robinson did not play this past season due to a weird series of events that ultimately led to him leaving Western Kentucky for a third and final time to spend the year preparing for the NBA Draft. A freak athlete and shot-blocker, Robinson is still very raw at this point in his career - but the upside is obvious. For a team that needs a long-term replacement for Marcin Gortat, the Wizards could be the team that gambles on Robinson - even if it is a bit of a reach. His stock will largely be determined by his play at the combine later this week.
16) Phoenix Suns (via Miami Heat) - Zhaire Smith, Fr., SG/SF, Texas Tech Red Raiders
6'5", 195 lbs - 11.3 ppg, 5.0 rpg
Perhaps no one saw their draft stock soar more in the NCAA Tournament than Zhaire Smith. His outstanding athleticism has always been his greatest attribute, yet he showed flashes of his immense potential during Texas Tech's run. Smith is still raw - his shooting and ball-handling need to improve - but that incredible athleticism makes him a very intriguing prospect.
17) Milwaukee Bucks - Lonnie Walker, Fr., SG, Miami Hurricanes
6'4", 192 lbs. - 11.5 ppg, 2.6 rpg
Milwaukee needs backcourt depth and Walker is a terrific combo guard with a lot of upside. Walker could very easily find his way into the back end of the lottery, as he has all of the physical tools and athleticism to be a star in the NBA. However, he needs the ball in hands to be effective and can improve his consistency and shooting. He'd be a quality pick at this point in the draft.
18) San Antonio Spurs - Chandler Hutchison, Sr., SF, Boise State Broncos
6'7", 197 lbs. - 20.0 ppg, 7.7 rpg, 3.5 apg
The Spurs always take smart players and need some insurance at the small forward position with Kawhi Leonard's murky future with the franchise. Hutchison won't replace Leonard (he's much better as his backup) but he's a good player with a quality shooting stroke and excellent passing ability.
19) Atlanta Hawks (via Minnesota Timberwolves) - Anfernee Simons, SG, IMG Academy
6'3", 165 lbs.
Simons was the No. 7 overall prospect in the 2018 recruiting class and but is making the jump straight to the NBA out of prep school. For one of the league's worst teams in Atlanta, they can afford to gamble on a prospect like Simons and hope he delivers on his upside.
20) Minnesota Timberwolves (via Oklahoma City Thunder) - Troy Brown, Fr., SF/SG, Oregon Ducks
6'7", 215 lbs. - 11.3 ppg, 6.2 rpg, 3.2 apg
Brown has great size for a wing player and can do a little bit of everything on the court, especially as a smart passer and defender. However, he's just an average athlete and needs to improve his consistency, yet for a Timberwolves team that needs wing depth, he's a good fit.
21) Utah Jazz - Keita Bates-Diop, Jr., SF, Ohio State Buckeyes
6'7", 235 lbs. - 19.8 ppg, 8.7 rpg
Utah is in a position where they can take the best player available, which happens to be the Big Ten Player of the Year. Bates-Diop's size, length, and versatility give him a lot of defensive upside at the next level, as does his scoring ability. The Jazz will be hoping they can turn him into a 3-and-D guy at the next level.
22) Chicago Bulls (via New Orleans Pelicans) - Dzanan Musa, SF, Cedevita (Croatia)
6'9", 195 lbs. - 10.5 ppg, 3.2 rpg
Another international prospect who needs to get stronger, Muza has a high basketball IQ and is an aggressive scorer who can fill it up from anywhere on the court. Chicago needs more wing scoring and shooting.
23) Indiana Pacers - Aaron Holiday, Jr., PG, UCLA Bruins
6'1", 185 lbs. - 20.3 ppg, 5.8 apg, 3.7 rpg
The Pacers need a point guard and Holiday has the most all-around upside of the multitude of the point-guard prospects that could go late in the first round. He was the unquestioned leader for UCLA this season and shouldn't have a hard time making the adjustment to the NBA because of his high basketball IQ.
24) Portland Trail Blazers - Bruce Brown Jr., So., SG, Miami Hurricanes
6'5", 190 lbs. - 11.4 ppg, 7.1 rpg, 4.0 apg
Brown is small for a shooting guard at 6-foot-3 but makes up for it with a 6-foot-9 wingspan and elite athleticism. He's a very versatile offensive player who would give the Blazers an asset for their bench.
25) Los Angeles Lakers (via Cleveland Cavaliers) - Jalen Brunson, Sr., PG, Villanova Wildcats
6'3", 190 lbs. - 18.9 ppg, 4.6 apg, 3.1 rpg
Brunson isn't a super athlete but is an extremely smart, skilled player with the highest basketball IQ in the class. The Lakers need a backup point guard if they let Isaiah Thomas walk (as expected) and, given the way the Lakers franchise loves Josh Hart, they won't hesitate to take another Villanova player. It helps he's the National Player of the Year, too.
26) Philadelphia 76ers - Khyri Thomas, Jr., PG/SG, Creighton Bluejays
6'3" 210 lbs. - 15.1 ppg, 4.4 rpg, 2.8 apg
Thomas is a great perimeter defender, and that ability alone will likely ensure that he's a first-round pick. Philadelphia would like more guard depth and don't have a lockdown perimeter defender on their roster, meaning they'll likely take Thomas if he's on the board.
27) Boston Celtics - Bruno Fernando, Fr., PF/C, Maryland Terrapins
6'10", 245 lbs. - 10.3 ppg, 6.5 rpg
Fernando will likely be a lottery pick next year should he decide to return to school for his sophomore season. NBA teams are very intrigued by his explosive athleticism and mobility at his size even though his skill set is still raw. Boston has gambled on players like this in the past and has shown they can develop them.
28) Golden State Warriors - Landry Shamet, So., PG, Wichita State Shockers
6'4", 180 lbs. - 14.9 ppg, 5.2 apg, 3.2 rpg
The Warriors signed backup point guard Shaun Livingston to a three-year deal last offseason, but he's a perfect trade candidate for them this summer if they want to save some on the luxury tax. Enter Shamet, who I think is a shorter version of Livingston (and a better shooter). Both are smart, smooth, have good vision, and are effective scorers when they pick their spots.
29) Brooklyn Nets (via Toronto Raptors) - Trevon Duval, Fr., PG, Duke Blue Devils
6'3", 186 lbs. - 10.3 ppg, 5.6 apg
The Nets need to gamble with their pick given their current situation and Duval has the biggest upside of the players available. He is an elite athlete with outstanding quickness, vision, and a good feel for the game, but his skill set is still developing and in its early stages. He has gotten by in his career due to his superior athleticism and needs to improve his shooting and finishing ability.
30) Atlanta Hawks (via Houston Rockets) - Grayson Allen, Sr., SG, Duke Blue Devils
6'5", 205 lbs. - 15.5 ppg, 4.6 apg, 3.3 rpg
If Atlanta gambles on Simons earlier in the draft - or even if they don't - they could use something resembling a sure thing to help their young roster. They also need scoring and shooting, both of which we know Allen (an underrated athlete) will be able to provide.
Back to the NBA Newsfeed
Related Topics: 2018 NBA Draft, NBA News, NBA Draft, 2018 Mock NBA Draft