The NBA Draft Lottery took place on the Tuesday night, and the Boston Celtics walked away with the top pick, marking the third straight year where the team with the best odds won the lottery. And, with the Los Angeles Lakers getting the second pick, it appears that the draft's two biggest stars (Markelle Fultz, Lonzo Ball) are headed to the NBA's two marquee franchises.
That said, this class has plenty of depth to go along with those two stars. In fact, it might be the deepest group of prospects since the fabled 2003 class. Here is Version 6.0 our 2017 Mock NBA Draft now that the full order is finalized:
1) Boston Celtics (via Brooklyn Nets) - Markelle Fultz, Fr., PG, Washington Huskies
6'5", 186 lbs. - 23.2 ppg, 5.9 apg, 5.7 rpg
Fultz is going to be Boston's guy, no matter what. He can do everything on the court and is big enough to play alongside Isaiah Thomas in the off-guard position. In fact, he and Thomas (who also went to Washington) have been texting all season and were/are excited about the proposition of playing together. There are questions about his drive, leadership and passion after Washington's nine-win season, but I think the Boston brass won't be scared away because of his transcendent talent.
2) Los Angeles Lakers - Lonzo Ball, PG, Fr., UCLA Bruins
6'6", 190 lbs. - 14.6 ppg, 7.6 apg, 6.0 rpg
You knew this is what was going to happen, right? Los Angeles wants Ball, and Ball may not even work out for another team. This is a match made in heaven.
At 6-foot-6, he can play either guard position, and while he's at his best with the ball in hands, he doesn't need it to make a huge impact on the game (which is good if he's going to play alongside D'Angelo Russell). His vision and up-tempo style would make him a perfect fit in head coach Luke Walton's system.
3) Philadelphia 76ers (via Sacramento Kings) - Josh Jackson, Fr., SF, Kansas Jayhawks
6'8", 207 lbs. - 16.3 ppg, 7.4 rpg, 3.0 apg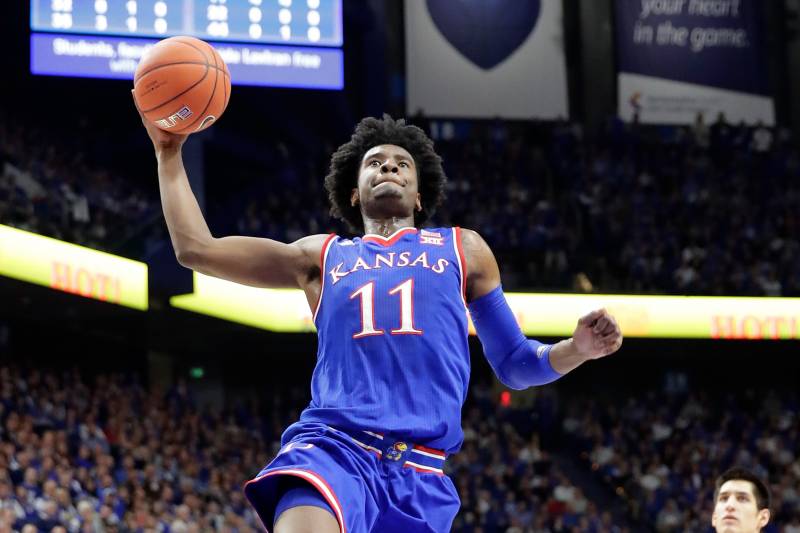 This is a tricky spot for the Sixers, and I think we'll see them trade back a few picks. They need backcourt help, but Jackson is clearly the third best prospect in this class. He's as athletic as anyone, is great at attacking the rim and - most importantly - is an extremely smart player. With Philadelphia planning on playing Ben Simmons at point guard, Jackson would fill a need and start immediately at small forward.
4) Phoenix Suns - Jayson Tatum, Fr., SF, Duke Blue Devils
6'8", 205 lbs. - 16.8 ppg, 7.3 rpg, 2.1 apg
If Phoenix had stayed in the top two in the draft, they would have drafted a point guard and figured out what to do with Brandon Knight and Eric Bledsoe later. Now, do they still go point guard? I don't think so - they'll address their wing need with Tatum, who may just be the most well-rounded offensive threat in this class. He showcased a reliable jump shot (especially from mid-range) and wide array of finishes around the rim during the season. Adding him with Devin Booker would give the Suns two legitimate go-to scorers.
5) Sacramento Kings (via Philadelphia 76ers) - De'Aaron Fox, Fr., PG, Kentucky Wildcats
6'4", 187 lbs. - 16.7 ppg, 4.7 apg, 4.0 rpg
The Kings need everything, but plan to start with a point guard. Enter Fox, who has established himself as the No. 3 point guard prospect in this class. He has the size (6'4") and athleticism that NBA teams love, along with having the scoring ability to take over a game. That being said, he is also a pass-first point guard that would rather get his teammates involved. He's a bit like former Kentucky point guard John Wall in that sense - dangerous scorer, but he's most dangerous with his passing ability.
6) Orlando Magic - Dennis Smith Jr., Fr., PG, NC State Wolfpack
6'3", 195 lbs. - 18.1 ppg, 6.2 apg, 4.6 rpg
Orlando has questions about Elfrid Payton being their point of the future, and I doubt they'd pass on Smith if he's available. Smith is an elite athlete, lightning quick and has the potential to be a true superstar. He can play a little reckless at times and doesn't have the most reliable jumper, but all of the physical tools of a star are there - and the Magic need one in the worst way.
7) Minnesota Timberwolves - Lauri Markkanen, PF, Fr., Arizona Wildcats
7'0", 225 lbs. - 15.6 ppg, 7.2 rpg, 0.9 apg
The Finland-native wanted to play at Arizona instead of entering the 2016 draft, and it benefitted him greatly. He's already polished offensively with a reliable three-point jumper, which would make him a perfect fit as a stretch four in Minnesota next to Karl-Anthony Towns. Jonathan Isaac is another option here, but Minnesota appears to be favoring Markkanen at this time.
8) New York Knicks - Frank Ntilikina, PG, Strasbourg (France)
6'5", 170 lbs. - 5.2 ppg, 2.2 rpg, 1.4 apg
New York is reportedly "enamored" with Ntilikina because of his experience (three years playing professionally for Strasbourg) and upside. Along with his elite size and seven-foot wingspan - where the defensive upside comes into play - he is a very good athlete that is polished in almost every phase of the game. The Knicks seem to be sold on him becoming a star.
9) Dallas Mavericks - Malik Monk, SG, Fr., Kentucky Wildcats
6'3", 200 lbs. - 19.8 ppg, 2.5 rpg, 2.3 apg
I think Monk is the best scoring prospect in this draft, meaning this would be an absolute steal for the Mavs. He's a dynamite shooter, but also attacks the rim with the best of them. There were times this year when he was simply unstoppable, and Dallas needs a perimeter weapon like that.
10) Sacramento Kings (via New Orleans Pelicans) - Jonathan Isaac, SF/PF, Fr., Florida State Seminoles
6'11", 210 lbs. - 12.0 ppg, 7.8 rpg, 1.5 bpg
Long and lanky, Issac obviously needs to add weight to his skinny frame, but he has all the ability in the world. His length and athleticism make him a very capable defender on the perimeter, and with his shooting ability, Isaac can be a matchup nightmare at small forward or as a stretch four. The Kings need versatility and they need offensive weapons. Isaac would provide both.
11) Charlotte Hornets - Harry Giles, Fr., PF, Duke Blue Devils
6'11", 225 lbs. - 3.9 ppg, 3.8 rpg, 0.7 bpg
Giles is rising as fast as any prospect after a good combine, and if he checks out medically, he could potentially creep even higher than this. He was very limited at Duke after tearing both ACLs in high school that resulted in three knee surgeries (and a 14-month layoff before his Duke debut), and he was playing at much less than 100 percent all season for the Blue Devils. But, when healthy, he was the top overall player in this freshman class and looked like a potential franchise player. The Hornets could use one of those.
12) Detroit Pistons - Zach Collins, PF/C, Fr., Gonzaga Bulldogs
7'0", 230 lbs. - 10.0 ppg, 5.9 rpg, 1.8 bpg
Collins' draft stock really rose during the NCAA Tournament as he started to look like the McDonald's All-American he was, showcasing excellent footwork and shooting ability. I'm not as high on him as most, but given the high interest level in him, he's going to be a lottery pick. Detroit needs to take the best player available. 
13) Denver Nuggets - Donovan Mitchell, SG, So., Louisville Cardinals
6'3", 210 lbs. - 15.6 ppg, 4.6 rpg, 2.1 spg
Mitchell is the high-upside prospect who may not have a distinct position, but his 6-foot-10 wingspan has eased doubts about him being able to play shooting guard at the NBA level. He might be the best athlete in this class (which is saying something) and has developed a good jump shot, making an average of two three-pointers per game this past season.
Mitchell is still scratching the surface of how good he can be and was already an elite defender in college basketball. The Nuggets - who also don't have any real pressing need - would love to watch him develop into much more.
14) Miami Heat - Justin Jackson, SF, Jr., North Carolina Tar Heels
6'8", 210 lbs. - 18.3 ppg, 4.7 rpg, 2.8 apg
Jackson showcased his full potential this year at UNC as a lanky shooter/defender, making him a prime "3-and-D" guy in the NBA. As an experienced college player, he should be able to make an immediate impact off the bench at the NBA level.
Check out our NBA news page for more NBA Draft rumors or download the Chat Sports App!
Back to the NBA Newsfeed
Related Topics: 2017 NBA Draft, Clippers News, Nets News, Grizzlies News, Knicks News, Hornets News, Trail Blazers News, Lakers News, Warriors News, Cavs News, Bulls News, Pistons News, Raptors News, Kings News, Timberwolves News, Hawks News, Nuggets News, Pacers News, Pelicans News, Jazz News, Wizards News, Magic News, Celtics News, Suns News, 2017 Mock NBA Draft, NBA Draft, Bucks News, NBA News, Spurs News, 76ers News, Thunder News, Rockets News, Heat News, Mavericks News