The 2017 NBA Draft class is being hyped as the best in over a decade with an abundance of star power at the top and plenty of depth to go along with that. And now that we're now past the halfway point of the NBA season, we are starting to get a sense of which teams will be in great position to land those future superstars. So, without further ado, here is Version 2.0 our 2017 Mock NBA Draft based on the current NBA standings:
1) Boston Celtics (via Brooklyn Nets) - Lonzo Ball, PG, Fr., UCLA Bruins
6'6", 190 lbs. - 14.9 ppg, 8.2 apg, 5.6 rpg
This one is tricky for Boston, should they get the No. 1 overall pick. Washington's Markelle Fultz has been the consensus top pick all year, but as a point guard who needs the ball in his hands all the time, it would be hard to him to play alongside Isaiah Thomas. Enter Ball, who also projects as a future superstar. He just has a natural feel for the game, ranking second in the country in assists. Ball has also flashed good shooting ability (43.6 percent from three), and a 6-foot-6, can play either guard position. He's the better fit for Boston because he doesn't need the ball to be effective.
2) Miami Heat - Markelle Fultz, Fr., PG, Washington Huskies
6'5", 186 lbs. - 23.4 ppg, 6.1 apg, 5.8 rpg
Fultz is the best pure talent in the class, and Miami would be ecstatic to make him the centerpiece of their rebuild. His jumper is inconsistent, but it's nearly impossible to keep him out of paint - and when he gets to the rim, you won't be able to keep him from scoring or from getting to the foul line. Fultz isn't always the most focused player defensively, but has the potential to be a lockdown defender when he wants to be.
3) Dallas Mavericks - De'Aaron Fox, Fr., PG, Kentucky Wildcats
6'4", 181 lbs. - 16.2 ppg, 6.0 apg, 4.8 rpg
Dallas also has a decision to make at No. 3. Do they go with wing in Josh Jackson or Jayson Tatum, or do they go with one of the many great point guards in this class? And if so, which one? I think they'll go with a point guard, and with Fox's ability to dominate both sides of the ball, I think they'd go with him over Dennis Smith Jr.
Fox has the size (6'4") and athleticism that NBA teams love, along with having the scoring ability to take over a game. That being said, he is also a pass-first point guard that would rather get his teammates involved. He's a bit like former Kentucky point guard John Wall in that sense - dangerous scorer, but he's most dangerous with his passing ability. The Mavs need a young star they can build their future around, and Fox has all the makings of one.
4) Phoenix Suns - Josh Jackson, Fr., SF, Kansas Jayhawks
6'7", 205 lbs. - 15.1 ppg, 6.7 rpg, 3.1 apg
Yes, he needs to add strength, but that's about the only negative thing you can say about Jackson's game. He's as athletic as any player in this class, is great at attacking the rim and - most importantly - is an extremely smart player. Jackson also has the passing and ball-handling abilities to play point forward, making him that much more valuable. Phoenix needs players with versatility, and Jackson would provide that.
5) Philadelphia 76ers (via Los Angeles Lakers) - Malik Monk, SG/PG, Fr., Kentucky Wildcats
6'4", 185 lbs. - 21.7 ppg, 2.4 rpg, 2.3 apg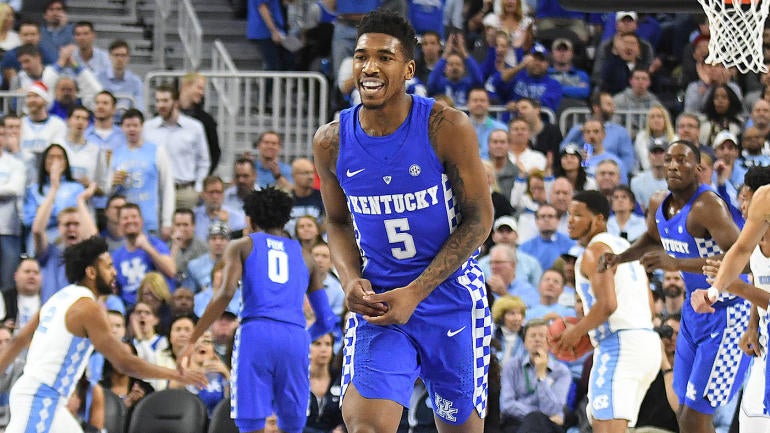 Philly is improving, but the backcourt is the missing piece to building a contender. Enter Monk, who is as unstoppable as anyone in the country. He is that rare prospect who can win both a three-point shootout and a slam dunk contest - and showcased all his skills when he dropped 47 points on North Carolina. He needs to bulk up, but he's a smooth athlete. And his ability to play either guard position is a major plus.
6) Minnesota Timberwolves - Lauri Markkanen, PF, Fr., Arizona Wildcats
7'0", 225 lbs. - 17.1 ppg, 7.4 rpg, 1.1 apg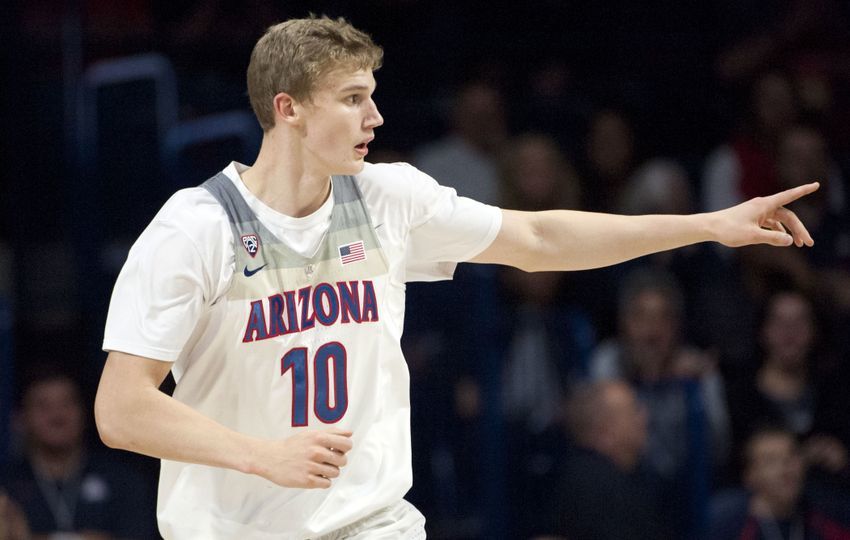 The Finland-native wanted to play at Arizona instead of entering the 2016 draft, and it has benefitted him greatly. He's already polished offensively with a reliable three-point jumper, which would make him a perfect fit as a stretch four in Minnesota next to Karl-Anthony Towns.
7) Philadelphia 76ers - Dennis Smith Jr., Fr., PG, NC State Wolfpack
6'3", 195 lbs. - 18.9 ppg, 6.6 apg, 4.4 rpg
Smith is an elite athlete and lightning quick. Couple that with very good ball handling, and Smith can get to where ever he wants on the court. He can play a little reckless at times and doesn't have the most reliable jumper, but all of the physical tools of a star are there.
8) Sacramento Kings - Jayson Tatum, Fr., SF, Duke Blue Devils
6'8", 204 lbs. - 16.5 ppg, 6.3 rpg, 1.9 spg
Sacramento is going to take the best player available, and here, that's Tatum. He is well-rounded offensively, showcasing a reliable jump shot (especially from mid-range) and wide array of finishes around the rim. He isn't the quickest player in the world, but he knows how to get his shots off by using his size and length. 
9) New Orleans Pelicans - Jonathan Isaac, SF, Fr., Florida State Seminoles
6'11", 210 lbs. - 13.3 ppg, 7.8 rpg, 1.5 bpg
Long and lanky, Issac obviously needs to add weight to his skinny frame, but he has all the ability in the world. His length and athleticism make him a very capable defender on the perimeter, and allow him to get to the rim with ease. And with his three-point range, Isaac can be a matchup nightmare at small forward or as a stretch four. That shooting ability, length and athleticism makes him a perfect fit in New Orleans' up-tempo system, and will provide rim protection next to Anthony Davis.
10) Orlando Magic - Frank Ntilikina, PG, Strasbourg (France)
6'5", 170 lbs. - 4.9 ppg, 1.4 rpg, 1.3 apg
Ntilikina could be the best international guard prospect we've ever seen. Along with his elite size and seven-foot wingspan, he is a very good athlete that is polished in almost all phases of the game. He is a great passer with gifted vision, but his jumper does need some work - the only part of his game that is a serious flaw. Orlando is ready to move on from Elfrid Payton, and Ntilikina would allow them to do so.
11) Portland Trail Blazers - OG Anunoby, SF/PF, So., Indiana Hoosiers
6'8", 215 lbs. - 11.1 ppg, 5.4 rpg, 1.3 spg
Anunoby is the kind of athletic, versatile prospect NBA teams love - and is just starting to scratch the surface of his potential. He is a dynamite defender and a very good rebounder, and while he's still a work in progress offensively, he has the potential to be a very good small ball four. However, his stock is largely contingent upon his recovery from a season-ending knee injury.
12) New York Knicks - Miles Bridges, SF/PF, Fr. Michigan State Spartans
6'8", 230 lbs. - 15.1 ppg, 8.2 rpg, 2.1 apg
If the Knicks really are looking to move on from Carmelo Anthony, here's your replacement. Bridges already has the combination of size, strength and quickness that has NBA scouts drooling about his potential. A freakish athlete, Bridges also has smooth jumper, making him virtually unguardable on the offensive end. He needs to continue to improve defensively, but New York needs a young offensive spark on the perimeter. Bridges provides great value in the middle of the first round.
13) Milwaukee Bucks - Terrance Ferguson, SG, Adelaide (Australia)
6'7", 186 lbs. - 5.4 ppg, 1.3 rpg, 0.7 apg
Ferguson opted to play in Australia instead of going to Arizona, and he has already carved out a niche role as a three-point shooter. Milwaukee needs shooing in the worst way, making this a perfect fit.
14) Detroit Pistons - Ivan Rabb, PF, So., Cal Golden Bears
6'10", 215 lbs. - 15.1 ppg, 10.6 rpg, 1.8 rpg
Rabb still needs to bulk up, but he's the prototype stretch four at the NBA level. He has excellent touch around the rim and on his mid-range jumper, shooting 51.6 percent this season. However, Rabb's biggest problem is his tendency to fade out of games offensively from time to time because of his passiveness.
15) Denver Nuggets - Rodions Kurucs, SF, Barcelona (Spain)
6'8", 190 lbs. - 8.9 ppg, 2.5 rpg, 1.1 apg
He needs to fill out, like most 18 year olds, but Kurucs has good ball-handling ability and is a knockdown shooter that can create shots for himself. Denver needs shooting, and need a young small forward who fits their rebuild. They'll have to move on from Danilo Gallinari and Wilson Chandler eventually, and Kurucs allows them to do so.
16) Chicago Bulls - Bam Adebayo, PF, Fr., Kentucky Wildcats
6'10", 260 lbs. - 13.1 ppg, 6.9 rpg, 1.7 bpg
Simply put, Adebayo is an athletic beast. He's an extremely strong player who loves getting physical on the block on both ends of the court. Adebayo is still developing post moves, but his athleticism is his main calling card right now. He's the perfect big man for an up-tempo NBA team, which is who Chicago wants to be.
17) Indiana Pacers - Robert Williams, PF/C, Texas A&M Aggies
6'9", 237 lbs. - 10.9 ppg, 6.3 rpg, 2.4 bpg
Speaking of athletic freaks, meet Robert Williams. Even though he is just 6-foot-9, his 7-foot-4 wingspan and scary athleticism make him an elite rim protector. Williams is still raw offensively, but his shot-blocking skills and athleticism would make him a good fit next to Myles Turner in Indiana's up-tempo system.
18) Charlotte Hornets - Thomas Bryant, So., C, Indiana Hoosiers
6'10", 241 lbs. - 11.9 ppg, 7.0 rpg, 1.6 bpg
Bryant likely would've been a first-round pick in the 2016 draft had he decided to leave Indiana after his freshman season, but smartly opted to go back to school and work on his game. A surprising athlete, Bryant is already polished in the post and a very good rebounder - and has shown the ability to knock down the three-point shot with regularity. Bryant needs to be more consistent, but when he's at the top of his game, he can be unstoppable.
19) Washington Wizards - Harry Giles, Fr., PF, Duke Blue Devils
6'11", 225 lbs. - 5.1 ppg, 4.8 rpg, 0.4 bpg
At this point, we still don't know what to make of Giles. He was the top-ranked recruit in the class, but has already torn both ACLs in high school and had three knee surgeries. He returned to the court last month for the first time in 14 months, so while he showed all the skill of a franchise player in high school, we don't know if he can still play at that level. For a team like Washington that needs to keep John Wall happy, they could be the ones to gamble on Giles.
20) Denver Nuggets (via Memphis Grizzlies) - Jaron Blossomgame, SF/PF, Sr., Clemson Tigers
6'7", 220 lbs. - 17.9 ppg, 5.8 rpg, 1.6 apg
Blossomgame's NBA stock rocketed up during his breakout year last season, during which he emerged as perhaps the best stretch four in college basketball. Already an excellent defender, he displayed an improved shooting touch (44.6 percent from three) and quickness to attack the basket at a high rate from the perimeter. He is already proving to be more than a one-year wonder, but his three-point shooting has plummeted. Still, he has plenty of potential, and his versatility makes him a fit in Denver.
21) Oklahoma City Thunder - Dwayne Bacon, SF, So., Florida State Seminoles
6'5", 202 lbs. - 17.4 ppg, 3.9 rpg, 1.8 apg
OKC needs scoring help and the wing, and Bacon looks like the guy to provide that. The frontrunner for ACC Player of the Year is a high-upside guy who nearly entered the 2016 draft before returning to school. He's supremely athletic and is great at finishing around the rim (with plenty of spectacular slams from time to time), but also has good ball-handing ability and a reliable three-point shot. He just has to become more consistent and aggressive.
22) Atlanta Hawks - T.J. Leaf, PF, Fr., UCLA Bruins
6'10", 220 lbs - 16.7 ppg, 8.7 ppg, 2.8 apg
Leaf has skyrocketed up draft boards this season as he continues to play well - dominating, at times - against good competition. He will never develop into a go-to guy, but Leaf is a very smart complementary player who will be able to make an immediate impact as a stretch four.
23) Brooklyn Nets (via Boston Celtics) - Donovan Mitchell, SG, So., Louisville Cardinals
6'3", 210 lbs. - 13.4 ppg, 5.0 rpg, 2.1 spg
Without many draft picks for the next few years, Brooklyn needs to gamble with this late pick - and Mitchell is the high-upside prospect who fits the bill. He might be the best athlete in this class (which is saying something) and has developed a good jump shot, making an average of two three-pointers per game this season.
Mitchell is still scratching the surface of how good he can be and is already an elite defender in college basketball. The Nets would love to watch him develop into much more.
24) Toronto Raptors (via Los Angeles Clippers) - Tyler Lydon, SF/PF, So., Syracuse Orange
6'9", 205 lbs. - 14.2 ppg, 7.7 rpg, 1.8 apg
Lydon will be a stretch four at the next level (41.3 percent from three), and that has been his calling card in college. Scouts want to see him add strength and become more consistent, but he is a first-round talent. Toronto has been looking for a stretch four for the past two years, and Lydon could be their answer.
25) Utah Jazz - Isaiah Hartenstein, PF, Zalgiris (Lithuania)
6'11", 225 lbs. - 3.4 ppg, 2.4 rpg, 0.4 apg
Hartenstein has excellent physical tools and athleticism, allowing him to play power forward instead of center, but he still struggles to put it all together at times. He can play with his back to the basket, shoot from the perimeter, create his own offense and attack the basket off the bounce - yet is very inconsistent, often makes bad decisions and is a bit of a ball hog. The potential is there, but he needs a lot of polishing.
26) Toronto Raptors - Jonathan Jeanne, PF/C, Le Mans (France)
7'2", 195 lbs. - 7.3 ppg, 5.5 rpg, 0.7 apg
Because I have the Raptors picking Lydon two picks before this, they can gamble on a high-upside project. Jeanne needs to add strength more than anyone else in this draft and may be a draft-and-stash prospect because of it, but his potential is immense. Picture him as Rudy Gobert who can handle the ball and has a three-point jumper. He's still learning the game, particularly defensively, but the potential is obvious.
27) Portland Trail Blazers (via Cleveland Cavaliers) - Alec Peters, PF, Sr., Valparaiso Crusaders
6'9", 225 lbs. - 23.9 ppg, 10.9 rpg, 2.1 apg
Portland needs to find better production from their frontcourt, and what Peters has done at Valpo makes him a viable option. He has averaged at least two three-pointers per game in each of the last three years and has become a double-double machine. Peters has also produced against great competition, putting up averages of 24.7 points and 6.7 rebounds in Valpo's three games so far against ranked teams (Oregon, Rhode Island, Kentucky).
28) Houston Rockets - Edmond Sumner, PG/SG, So., Xavier Musketeers
6'6", 170 lbs. - 15.4 ppg, 4.7 apg, 4.4 rpg
Sumner is the kind of versatile combo guard who excels in transition, making him an ideal fit for Mike D'Antoni's offensive system. He is an inconsistent three-point shooter, but his quickness at his size make him an excellent slasher. He is also adept at finding teammates, averaging 4.7 assists per game.
29) San Antonio Spurs - Josh Hart, SG, Sr., Villanova Wildcats
6'6", 204 lbs. - 19.2 ppg, 6.5 rpg, 3.6 apg
Stop me if you've heard this before - a really smart and skilled player going to the Spurs! Hart has cemented himself as the National Player of the Year frontrunner while leading the defending national champions and No. 1 team in the country. He's only an average athlete, but is a great shooter, reliable defender and excellent around the rim. 
30) Utah Jazz (via Golden State Warriors) - Justin Jackson, SF, Sr., North Carolina Tar Heels
6'8", 193 lbs. - 18.2 ppg, 5.0 rpg, 2.7 apg
Jackson is finally starting to live up to his potential at UNC as a lanky shooter/defender, making him a prime "3-and-D" guy in the NBA. However, Jackson has also proven in his career to be a terrific rebound and knows how to score around the rim, particularly with his floater.
Back to the NBA Newsfeed
Related Topics: 2017 NBA Draft, Clippers News, Nets News, Grizzlies News, Knicks News, Hornets News, Trail Blazers News, Lakers News, Warriors News, Cavs News, Bulls News, Pistons News, Raptors News, Kings News, Timberwolves News, Hawks News, Mavs News, Nuggets News, Pacers News, Pelicans News, Jazz News, Wizards News, Magic News, Celtics News, Suns News, 2017 Mock NBA Draft, NBA Draft, Bucks News, NBA News, Spurs News, Mock NBA Draft, 76ers News, Thunder News, Rockets News, Heat News