The 2016 NBA Draft is just one day away, and teams around the league are finalizing their draft boards. This draft isn't expected to be full of a lot of future stars, but there are still plenty of intriguing prospects capable of making big impacts at the next level.
LSU's Ben Simmons and Duke's Brandon Ingram have received promises that they will be the top two picks, yet how the rest of the draft will go is still very much a mystery. Here's how we see the draft playing out:
1) Philadelphia 76ers - Ben Simmons, Fr., PF/PG/SF, LSU Tigers
6'10", 240 lbs - 19.2 ppg, 11.9 rpg, 4.8 apg
The 76ers promised Simmons they will take him, creating very little intrigue at the top of the draft.
Simmons is projected to be a franchise centerpiece and perennial All-Star in the NBA. His ball-handing and passing ability are matched by only a few big men at the NBA level, and he's proven to be a capable defensive player both on the perimeter and in the post. His jumper does need work (a LOT of work), but he has excellent touch on his floater and is the best finisher around the rim in this class.
2) Los Angeles Lakers - Brandon Ingram, SF, Duke Blue Devils
6'9", 190 lbs - 17.3 ppg, 7.8 rpg, 1.5 spg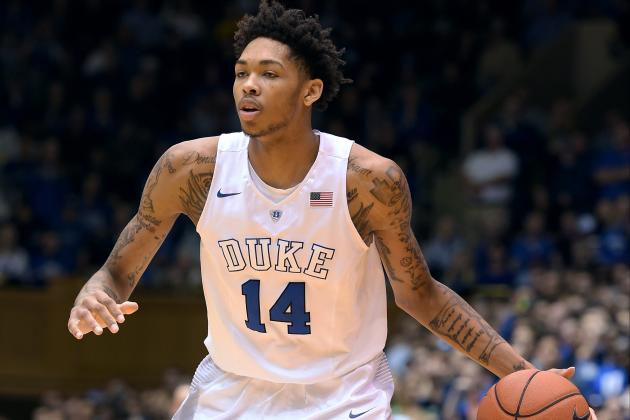 Much like Simmons, the Lakers have already said they will pick Ingram here.
Ingram was inconsistent at the start of this year for the Blue Devils, but found his stride late in the season. A long, lanky wing, Ingram's elite athleticism, coupled with a good jumper, allow him to have a lot of success offensively. He does need to add strength and become more aggressive, but he's oozing with potential.
3) Boston Celtics (via Brooklyn Nets) - Jaylen Brown, Fr., SF, Cal Golden Bears
6'7", 225 lbs - 14.6 ppg, 5.4 rpg, 2.0 apg
Boston is really trying to trade this pick, but if they keep it, Brown is their top target with his upside. He didn't deliver on his hype in college, but he has all of the physical tools to be a dominant force. His jumper needs work, but his strength, athleticism, and finishing ability will translate better to the NBA game.
Another option here is Providence PG Kris Dunn, but with Isaiah Thomas and Marcus Smart already on the roster, they would be drafting him to trade to the 76ers or to another team in the future.
4) Phoenix Suns - Marquese Chriss, Fr., PF, Washington Huskies
6'9", 225 lbs - 13.8 ppg, 5.4 rpg, 1.6 bpg
Potential, potential, potential. Chriss has been the biggest riser in the draft because of that potential, and for a Suns team with a need at the power forward position, Chriss makes perfect sense. He is an athletic freak and one of the best shot blockers in this class, but the rest of his game is still extremely raw. In a draft with only two sure-fire picks, why not gamble on a potential superstar?
5) Minnesota Timberwolves - Jamal Murray, Fr., SG/PG, Kentucky Wildcats
6'5", 207 lbs - 20.0 ppg, 5.2 rpg, 2.0 apg
Minnesota is where Murray reportedly wants to land, and with new Timberwolves head coach Tom Thibodeau saying the team is prioritizing shooting in the draft, it appears that Murray will get his wish. This pick will likely come down to Murray and Buddy Hield, but Minnesota will give the nod to Murray because of his age, potential and ability to play three positions.
6) New Orleans Pelicans - Kris Dunn, Jr., PG, Providence Friars
6'4", 220 lbs - 16.4 ppg, 6.4 apg, 5.3 rpg
This would be a dream come true for the Pelicans, who have been targeting Dunn - and Dunn has reportedly been trying to angle his way to New Orleans. He is easily the top point guard prospect in this draft and, like Simmons, can do everything on the court. Equally good at setting his teammates up as he is at creating shots for himself, Dunn is also the best perimeter defender in this class. He might also be the most NBA-ready prospect.
7) Denver Nuggets - Dragan Bender, PF, Maccabi Tel Aviv (International)
7'1", 216 lbs - 4.4 ppg, 2.4 rpg, 0.6 apg
Denver has built a core of young international prospects, need shooting and depth at power forward, all of which Bender will provide while having the potential to be a long-term starter. There's a lot of unknown surrounding Bender, but he would've been a top 10/15 pick if he would've entered the draft last year. He needs to add strength, but his long-range shooting ability, passing, and potential as a rim protector has scouts drooling. 
8) Sacramento Kings -  Buddy Hield, Sr., SG, Oklahoma Sooners
6'4", 214 lbs - 25.0 ppg, 5.7 rpg, 2.0 apg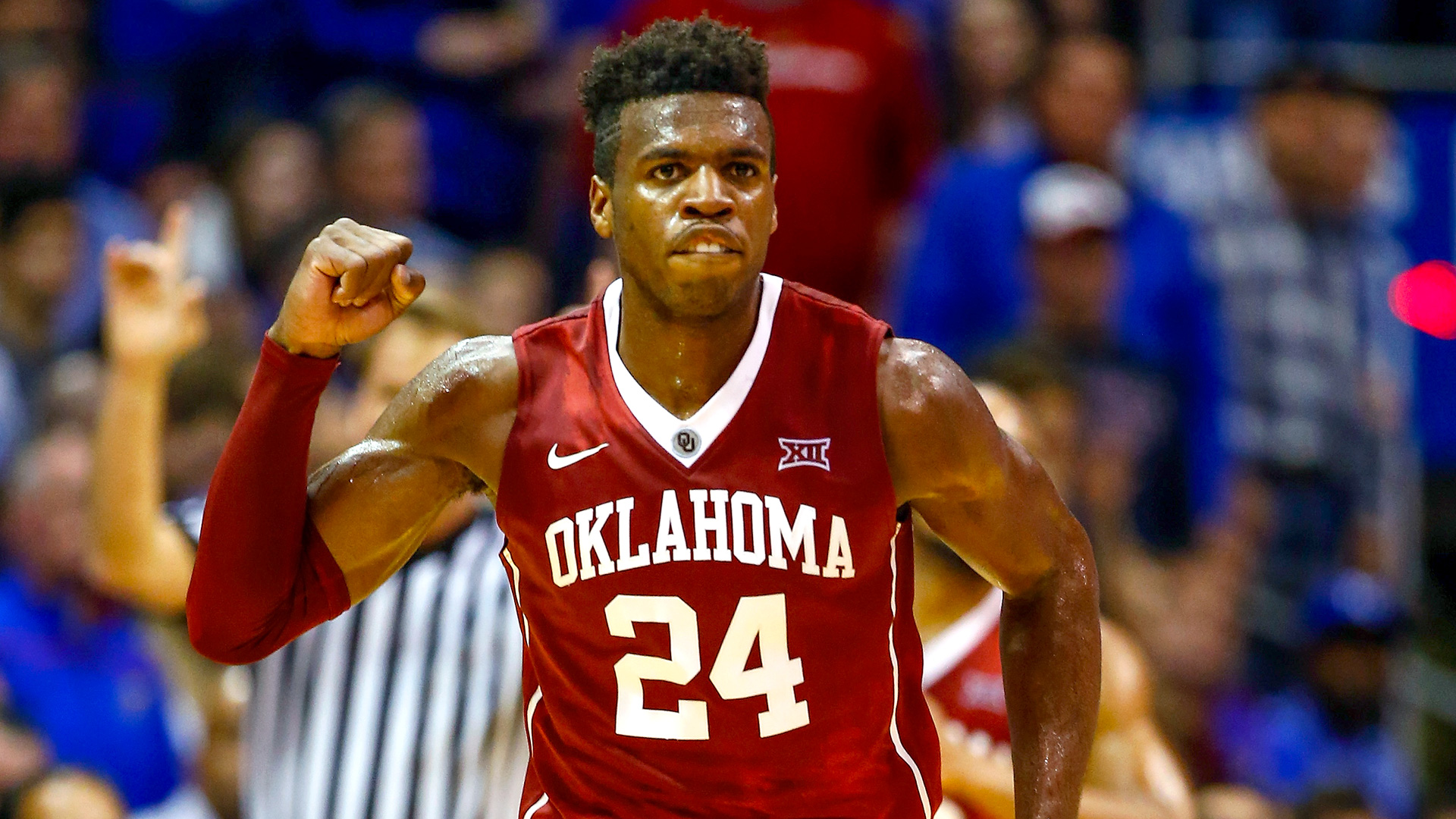 Sacramento has made Hield their top target in the draft, and it looks like they may get their wish. Hield won't turn into a dominant all-around player like he was in college, but could very well turn into an All-Star because of his shot-making ability. He will give the Kings the outside threat they need, and will be a high impact player right away.
9) Toronto Raptors (via New York Knicks) - Skal Labissiere, Fr., PF/C, Kentucky Wildcats
6'11", 225 lbs - 6.6 ppg, 3.1 rpg, 1.6 bpg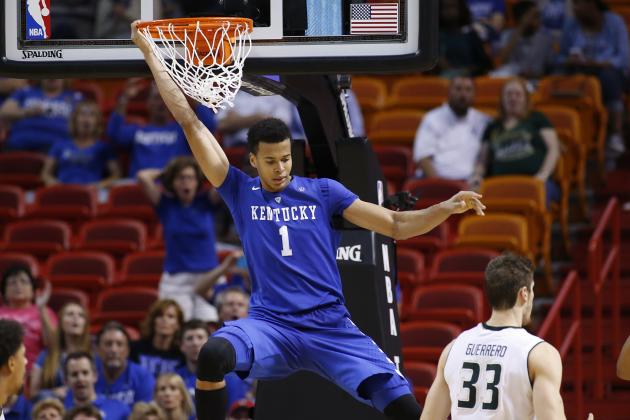 Make no bones about it - Labissiere had a very, very bad year in his lone season with Kentucky. He's not good defensively and is extremely soft down low. That being said, he is already a polished offensive player that clearly shows a lot of potential.
Power forward is Toronto's biggest need, and with Labissiere's upside, they may be willing to take the risk. They also really need his offensive abilities to give them a scoring big man.
10) Milwaukee Bucks - Henry Ellenson, Fr., PF, Marquette Golden Eagles
6'10", 245 lbs - 17.0 ppg, 9.9 rpg, 1.8 apg
A true stretch-four, Ellenson does need to get stronger, but has an NBA-ready pick-and-pop game - making him a good fit on a Milwaukee team looking for shooting at any position.
11) Orlando Magic - Jakob Poeltl, So., C, Utah Utes
7'0", 235 lbs - 17.7 ppg, 9.1 rpg, 1.6 bpg
Poeltl is one of the most sure-bet players in this draft. He's a big shot-blocker with an expanding offensive game, but he doesn't try to do anything outside of what he's capable of. He'll be the rim protector Orlando really needs to pair with Nikola Vucevic down low.
12) Atlanta Hawks (via Utah Jazz) - Deyonta Davis, Fr., PF/C, Michigan State Spartans
6'10", 230 lbs - 7.5 ppg, 5.5 rpg, 1.8 bpg
Atlanta acquired this pick in a three-team trade in which they sent Jeff Teague to the Pacers. With the lack of star power in this draft, why not swing for a guy who could develop into one? He's an elite athlete and shot-blocker, but still needs to develop offensively. Atlanta needs to plan for the potential departure of Al Horford in free agency, and Davis is someone that could fill that role long-term while providing a high-energy guy off the bench right away as a backup big man.
13) Phoenix Suns (via Washington Wizards) - Domantas Sabonis, So., PF, Gonzaga Bulldogs
6'10", 231 lbs - 17.5 ppg, 11.8 rpg, 1.8 apg
It doesn't seem smart to spend two lottery picks on players that play the same position, but Phoenix thinks that Chriss may end up being a small forward at the NBA level. Either way, Sabonis can play either power forward or center and can step in and contribute immediately. He has perhaps the most polished offensive post game in the draft to go along with being an excellent rebounder. 
14) Chicago Bulls - Dejounte Murray, Fr. PG/SG, Washington Huskies
6'5", 170 lbs - 16.1 ppg, 6.0 rpg, 4.4 apg
Murray is another prospect that is absolutely rocketing up draft boards due to his elite size for the position and his athleticism. He really needs to improve his shooting (28.8 percent from three), but the talent and potential for stardom is there. Chicago has a big point guard need after trading Derrick Rose, and Murray is the guy with perhaps the most potential.
15) Denver Nuggets (via Houston Rockets) - Furkan Korkmaz, SG, Anadolu Efes (International)
6'7", 185 lbs - 4.6 ppg, 1.3 rpg, 0.6 apg
Korkmaz is a reliable shooter, though his all-around game is still developing as he grows into his body. He really needs to get stronger, but, as we said before, Denver needs shooting.
16) Boston Celtics (via Dallas Mavericks) - Timothe Luwawu, SG/SF, Mega Leks (International)
6'7", 205 lbs - 14.6 ppg, 4.8 rpg, 2.8 apg
Luwawu's 7'2" wingspan is the major selling point, but he's also a reliable shooter and improving slasher to go along with his defensive upside. 
17) Memphis Grizzlies - Malachi Richardson, Fr., SG/SF, Syracuse Orange
6'6", 195 lbs - 13.4 ppg, 4.3 rpg
The star of Syracuse' Cinderella run to the Final Four, Richardson has vaulted into the first round because of his height and dynamic skill set. He has a smooth jumper (Memphis really needs shooting), a quick first step and a seven-foot wingspan that makes him a nightmare for opponents on defense. 
18) Detroit Pistons - Wade Baldwin IV, So., PG, Vanderbilt Commodores
6'3", 194 lbs - 14.1 ppg, 5.2 apg, 4.0 rpg
Detroit is targeting Baldwin to be their backup point guard behind Reggie Jackson. He has elite size and a 6'10" wingspan, Baldwin has the potential to become a defensive nightmare for opponents in the NBA. He also has a deadly combination of athleticism and three-point shooting ability. However, he often fades out of games due to a lack of aggression.
19) Denver Nuggets (via Portland Trail Blazers) - Juan Hernangomez, SF/PF, Estudiantes (International)
6'9", 220 lbs - 9.7 ppg, 5.7 rpg, 0.6 apg
Hernangomez can stretch the floor with his jumper, and Denver is the kind of team that needs shooting in the worst way at all positions. He has been impressive in workouts and will be able to contribute immediately.
20) Indiana Pacers - Thon Maker, HS Sr., PF/SF
7'1", 219 lbs
Maker is the most intriguing prospect in the draft. He was declared eligible for the NBA Draft after spending an extra year at prep school, allowing him to bypass college. Along with his elite size, Maker has guard-like athleticism, ball-handling and shooting skills, but is still extremely raw. 
Indiana loved what they saw from him in a workout earlier this month, and think he can be a lethal stretch four with the athletic Myles Turner playing center. The Pacers have gone all-in on playing an up-tempo style after acquiring Teague, and Maker is the rare big man prospect with size that can run the floor. I'll be surprised if Indiana passes on him.
21) Atlanta Hawks - Taurean Prince, Sr., SF, Baylor Bears  
6'7", 220 lbs - 16.0 ppg, 6.0 rpg, 2.3 apg
Prince is a versatile defender with a solid jumper and expanding offensive game, but his athleticism is his biggest calling card. The Hawks suffered after losing DeMarre Carroll in free agency last season, and Prince is a Carroll-type player.
22) Charlotte Hornets - Denzel Valentine, Sr., SG/PG, Michigan State Spartans
6'5", 220 lbs - 19.2 ppg, 7.5 rpg, 7.8 apg
Teams do have concerns about Valentine's knees and if they'll be able to hold up long term, but Charlotte would be thrilled if he was still available at this point in the draft. His passing and shooting abilities make him a perfect fit for their offense, and he could be a replacement for Nic Batum if the Hornets lose him in free agency. Another plus - Valentine will contribute right away and should be in the starting lineup sooner rather than later.
23) Boston Celtics -  Cheick Diallo, Fr., PF/C, Kansas Jayhawks
6'9", 220 lbs - 3.0 ppg, 2.5 rpg, 0.9 bpg
Diallo was projected to be a top 10 pick before the season started, but a lengthy NCAA investigation into his eligibility - and then inability to crack Bill Self's rotation - made his freshman season a forgettable one. However, the potential for stardom is there, and the Celtics could swing for the fences in their search for a star.
24) Philadelphia 76ers (via Miami Heat) - Malik Beasley, Fr., SG, Florida State Seminoles
6'4", 185 lbs - 15.6 ppg, 5.3 apg, 1.5 rpg
Shooter! Beasley could step right in and give the Sixers the dynamic, athletic shooter they've been looking for. The rest of his game is still raw, but he has the potential to become a very good player.
25) Los Angeles Clippers - Ivica Zubac, C, Mega Leks (International)
7'1", 265 lbs - 6.8 ppg, 3.0 rpg, 1.2 bpg
A true post player, Zubac is still developing, but he has the size and all of the tools to be reliable defender and good secondary scoring option in the NBA. The Clippers would like to trade up in the draft, but if they can't, they need to draft a big man who can contribute in their rotation right away. Zubac is their best bet at this point while having a good deal of potential.
26) Philadelphia 76ers (via Oklahoma City Thunder) Demetrius Jackson, Jr., PG, Notre Dame Fighting Irish
6'1", 198 lbs - 15.8 ppg, 4.7 apg, 3.5 rpg
Jackson is a surprisingly explosive athlete with a knockdown jumper and extensive range, yet it's his leadership and defensive ability that were on full display during Notre Dame's run to the Elite 8. Philadelphia is looking to upgrade their backcourt - specifically at point guard - and if they can't trade up, they'll draft Jackson or Kentucky's Tyler Ulis here.
27) Toronto Raptors - DeAndre Bembry, Jr., SG/PG, St. Joseph's Hawks 
6'6", 210 lbs - 17.4 ppg, 7.8 rpg, 4.5 apg
Bembry is a smooth playmaker who can do everything on the court. He won't wow you with his athleticism, but he's an excellent (and smart) passer with a reliable mid-range jump shot.
28) Phoenix Suns (via Cleveland Cavaliers) -  Ante Zizic, C, Croatia
6'11", 240 lbs - 14.7 ppg, 9.0 rpg
Several NBA teams love Zizic's upside because of his athleticism at his size along with excellent rebounding skill. Already has an NBA body.
29) San Antonio Spurs - Malcolm Brogdon, Sr., SG, Virginia Cavaliers
6'5", 215 lbs - 18.2 ppg, 4.1 rpg, 3.1 apg
Brogdon is the most Spurs-like prospect since Kawhi Leonard. That's not to say Brogdon has that kind of potential, but his elite basketball IQ and defensive ability, combined with an expansive offensive skill set, make him the perfect fit in San Antonio. The Spurs also need backcourt help with Tony Parker aging and Danny Green coming off a bad season, and Brogdon would provide them with immediate depth.
30) Golden State Warriors - Diamond Stone, Fr., C, Maryland Terrapins
6'11", 255 lbs - 12.4 ppg, 5.5 rpg, 1.6 bpg
A true center, Stone can be a dominant offensive player and reliable rim protector - he just doesn't have the endurance yet to do it all the time. This would be a great value pick for the Warriors, who have time for him to develop.
Back to the NBA Newsfeed
Related Topics: NBA Draft Rumors, Mock NBA Draft, NBA Draft News, NBA Draft, 2016 NBA Draft, NBA News