With the majority of the marquee free agents having made their decisions already, it's time to turn to both the trade markets and the secondary free agent pool for our daily dose of MLB rumors and rumblings.
Nick Markakis Draws Interest 
According to Nick Carfardo of the Boston Globe, Atlanta Braves right fielder Nick Markakis is drawing trade interest from both the Kansas City Royals and his former team, the Baltimore Orioles. 
The Royals may still put the money together to retain Alex Gordon, but Markakis may be a cost-effective replacement with three years and $33 million left on his deal -- a fraction of what they'd have to pay for Gordon, especially if the Braves eat some of Markakis' salary.
As for Baltimore, a reunion with Markakis could easily be in the cards. Manager Buck Showalter is a huge proponent of Markakis, and the O's would know exactly what they're getting in such a deal.
Markakis had a down offensive year in 2015, at least from a power production standpoint. He posted a .296/.370/.376 slash line with just three home runs and 53 RBI in 156 games played. That snapped a streak of ten straight season with 10 HR or more for the 32-year-old lefty swinger.
James Shields Destinations
San Diego Padres veteran starter James Shields has several different teams who could be in on a trade from him -- including the team where his star rose to prominence, the Kansas City Royals.
Other teams who could potentially deal for Shields, per Nick Cafardo, include the Chicago Cubs, New York Yankees, Toronto Blue Jays and San Francisco Giants. No word yet on what the Padres will command for Shields, who has three years and $63 million left on his deal with a $16 million team option for 2019. He can opt out of his deal after the 2016 campaign.
Shields, 33, pitched to a 3.91 ERA and 1.33 WHIP in 2015 -- going 13-7 with 216 strikeouts against 83 walks. His control problems were well documented in 2015, as his 83 free passes almost doubled his total from 2014 (44).
Orioles Looking For Chris Davis Replacements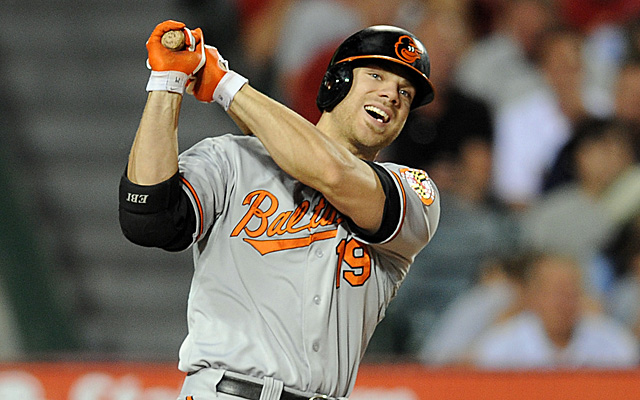 The Baltimore Orioles' on-again, off-again contract talks with slugger Chris Davis may indeed by finished for good. O's president of baseball operations said that the team is "going down different tracks" after pulling a seven-year, $150 million+ deal off the table.
According to FOX Sports' Ken Rosenthal, the Orioles will go free-agent shopping for a lefty bat if Davis heads elsewhere. Gerardo Parra, Pedro Alvarez and Will Venable have all been connected to Baltimore as potential targets.
Davis, 29, led the Majors with 47 home runs in 2015, posting an impressive .923 OPS to go with his 117 runs batted in. His OPS mark is second only to his 53-home run season in 2013 (1.004) when it comes to the best postings of his eight-year MLB career.
The St. Louis Cardinals may be a favorite to land Davis after their Heyward pitch didn't bear fruit. Other teams recently connected to Davis include the Giants, Houston Astros and Colorado Rockies.
Back to the MLB Newsfeed
Related Topics: Yankees Rumors, Royals Rumors, Nick Markakis, Chris Davis, James Shields