The MLB season has roughly a month and a half left, making it a perfect time to take a look at the American League MVP race. It's a fairly tight race for the award between Jose Altuve and Aaron Judge, although much can change between now and the end of the season.
We've narrowed it down to the top five contenders for the AL MVP below that appear to be the only real contenders for the award. Here are our latest AL MVP Power Rankings. 
5) Mike Trout, CF, Los Angeles Angels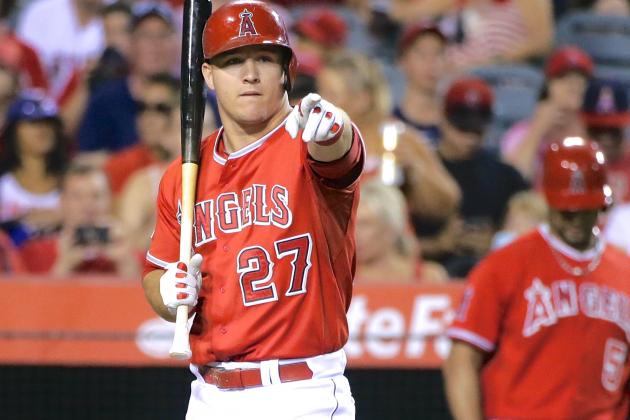 The two-time MVP is still the best player in baseball and will be in contention for this award every year in which he stays healthy. In fact, that's why he's at No. 5 on the list. Trout has only appeared in 72 games this season, meaning he can't really go much higher than this on the list, but his fielding prowess and batting line - .345 average, .469 OBP and .702 slugging - are enough to keep him in the top five.
4) Jose Ramirez, 3B, Cleveland Indians
Ramirez has taken the mantle of best player on the Indians from Francisco Lindor, and being the best player on a division leader is enough for him to at least garner some consideration for this award. The 24-year-old leads the majors in doubles and has a .310 batting average on the year. He'll receive votes but will have to tear it up over the next month for him to threaten to win the award.
3) Chris Sale, SP, Boston Red Sox
Sale is virtually guaranteed to win the Cy Young award as he leads the AL in wins, ERA, innings pitched, strikeouts, ERA+, FIP, WHIP, hit rate, strikeout rate and strikeout-walk ratio. Pitchers who have been that dominant usually get some serious consideration for the MVP, and Sale is no different. Expect Sale to emerge as a dark horse if he keeps up this pace during his next several starts. 
2) Aaron Judge, RF, New York Yankees
The Yankees have the newest and arguably biggest star in the sport in Aaron Judge, but his dip in production since the All-Star break has him at No. 2 on our list. There's no question that Judge will win Rookie of the Year since he's leading the AL in home runs and runs along with on-base percentage and slugging percentage among qualified players (which is why Trout's numbers aren't at the top). However, he needs to break out of his post-All-Star break slump to get back to No. 1.
1) Jose Altuve, 2B, Houston Astros
After finishing third in MVP voting last season, Altuve looks poised to capture his first award. He's arguably the best player on the best team in the American League and has been a steady contributor all year. Altuve leads the AL in hits, total bases and batting average (.363) by a wide margin. Barring a major late-season implosion by him or the Astros, Altuve should win the MVP.
Check out our MLB page for all the latest MLB rumors or download the Chat Sports App!
Back to the MLB Newsfeed
Related Topics: MLB News, AL MVP Power Rankings, AL MVP