Minnesota Timberwolves president of basketball operations and head coach Flip Saunders died on Sunday of Hodgkin's lymphoma at the age of 60. He was diagnosed with the disease back in August and had planned to return to the team this season. Yesterday, it was announced that he would not be able to return.
The Timberwolves released a statement on Saunders' death, which is below: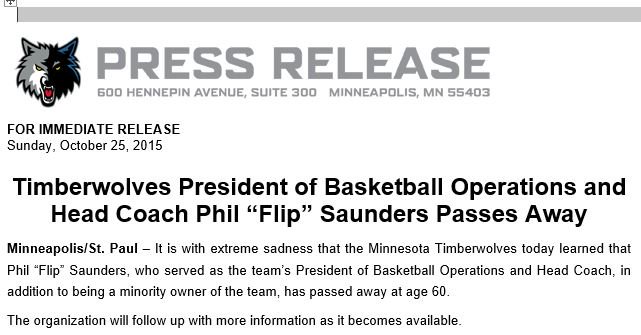 Doctors had initially considered his Hodgkin's lymphoma to be "very treatable and curable." However, after he was hospitalized for a setback in September, the team announced Friday that he would be unable to join the team on the court in 2015-16.
Saunders posted more than 1,000 victories over a 35-year coaching career that included stops with the Minnesota Timberwolves, Detroit Pistons and Washington Wizards.
He had 654 career NBA head coaching wins in 17 seasons. His NBA squads won 50 or more games seven times, including a franchise-record 64 wins with the Detroit Pistons back in 2005-06. He also coached in the All-Star Game two times, led Team USA to the gold medal in the Goodwill Games in 2001 and spent time at ESPN as an in-studio analyst.
Saunders, a Cleveland native, was named Ohio's Player of the Year during his senior year of high school. He averaged 32 points per game that year. He went on to play alongside future NBA stars Kevin McHale, Mychal Thompson and Ray Williams at the University of Minnesota.
His coaching career began at Golden Valley Lutheran College in St. Paul, Minnesota. He eventually moved up the ladder in the CBA, leading the La Crosse Catbirds to two league titles.
Saunders is survived by his wife and four children. His son, Ryan, is a Timberwolves assistant coach.
Back to the Minnesota Timberwolves Newsfeed
Related Topics: Minnesota Timberwolves News, Flip Saunders