Kevin Love is coming to your city.
At least, that's what it might seem like with the seemingly hundreds of trade scenarios and rumors surrounding the three-time NBA All-Star. If you're confused by all of the noise and seemingly random twists and turns, don't fret - Chat Sports is here to help with our Top 7 Kevin Love Trade Questions Answered
Is Kevin Love actually going to be traded before the season?
This is as close to a yes as you can get based solely on hearsay and speculation. Minnesota Timberwolves owner Glen Taylor desperately wants to keep Love in the Twin Cities, but he also knows how dangerous of a game he'd be playing to risk losing the big man to free agency without any form of compensation.
Teams such as the Cleveland Cavs and Golden State Warriors are reportedly upping their offers by the nanosecond, so it seems like only a matter of time before one team finally gives the Timberwolves exactly what they want in exchange for Love.
Why is this trade taking so long?
Several reasons. Firstly, NBA trades are not as simple as they can seem to be from the outside looking in. Any team that has a payroll currently over the salary cap
must exchange equal values of contracts in any trade, thus making the logistics of some deals as complicated as college trigonometry at Harvard.
Secondly, Minnesota isn't budging on what they want for Love in a trade. Unlike normal trade negotiations where teams usually haggle their way to a compromise, Minnesota holds all the cards in the rights to a franchise-changing superstar. They won't deal him unless they're sure they can extract maximum value from his departure.
Thirdly, Minnesota could see this trade as an opportunity to offload another contract or two. That will likely necessitate a third (and perhaps fourth) team in order to get things done - thus extending the entire process.
Who is actually in the running to land Love via trade?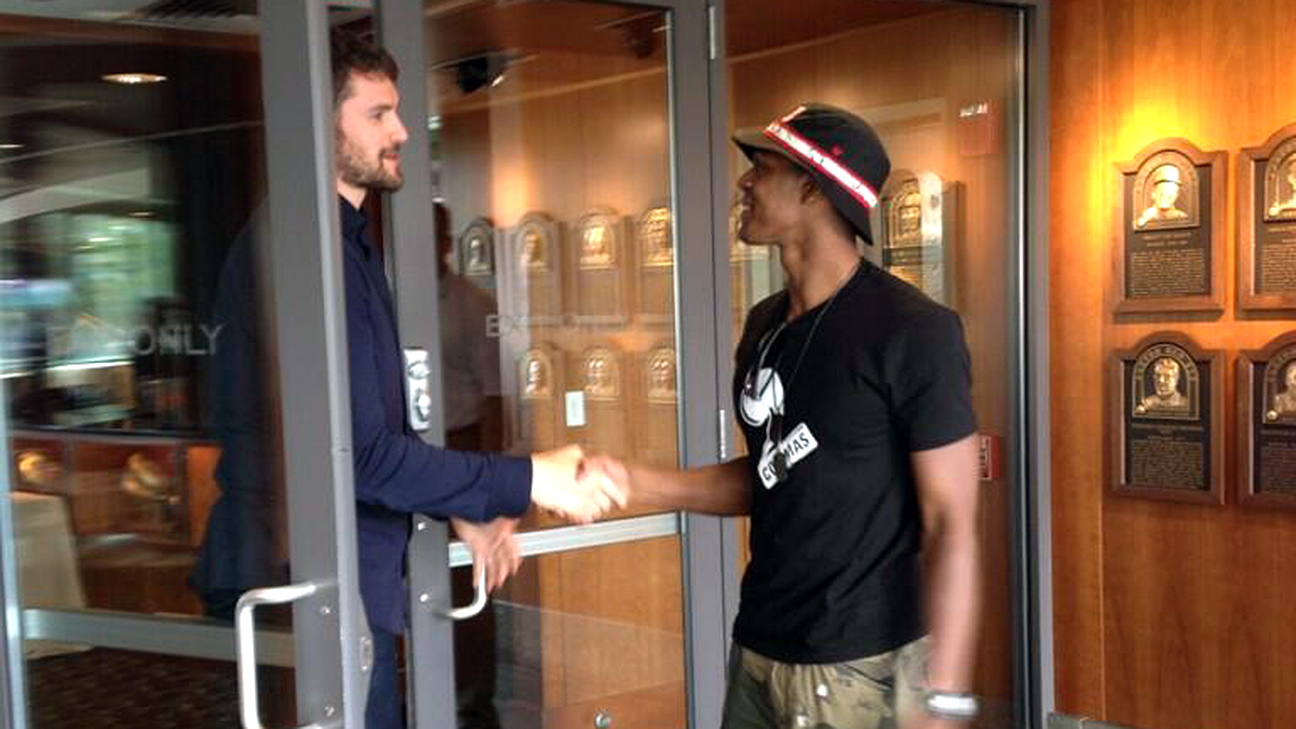 There are four primary contenders for Love's services at this point. The Cleveland Cavs are seemingly all-in until the end with the Golden State Warriors also doing their best to remain at the top of the Timberwolves' contact list.
The Chicago Bulls recently entered the fray with a very tempting (reported) offer, perhaps throwing a monkey wrench into the plans of the Warriors and Cavs. Finally, Boston has been in on Love since what seems like day one.
Don't be surprised if another team sneaks into the picture when all is said and done.
Is Andrew Wiggins actually available for a potential Love trade?
It would seem so. Multiple reports are indicating that, while the Cavs aren't exactly keen on letting a potential superstar go, LeBron's expressed desire to play with Kevin Love could end up sending the 19-year-old Kansas phenom packing.
In truth, the Cavs would love to substitute Tristan Thompson in Wiggins' spot in negotiations. However, the Timberwolves are extremely adamant that Wiggins has to be a part of any trade. Therefore, it could possibly be a very short stay for Andrew Wiggins in Northeast Ohio.
Which team has the best offer on the table for Love?
According to ESPN's Marc Stein, the Cleveland Cavs' current reported offer is tops in the minds of Timberwolves officials:
ESPN sources say that, as things stand, Minnesota likes the Cavs' Wiggins-led offer better than anything else on the table for Kevin Love

— Marc Stein (@ESPNSteinLine) July 24, 2014
However, if the Warriors finally decide that Klay Thompson is fair game, that could change:
Only Cavs, of teams in Love hunt, can offer potential superstar in Wiggins' class. But Flip Saunders, as we know, is a big Klay Thompson fan — Marc Stein (@ESPNSteinLine) July 24, 2014
From a win-now perspective, a Klay Thompson/David Lee/maybe Harrison Barnes trio is hard to beat. The Chicago Bulls' offer of Taj Gibson, Nikola Mirotic, and Doug McDermott comes close, but can't quite trump a Thompson-led offer coming out of Oakland.
But, all in all, Wiggins, Anthony Bennett, and what could end up being two unprotected draft picks has the biggest potential value - something that a rebuilding Minnesota team will likely covet above all else.
Why would the Timberwolves decide to keep Love?
http://youtu.be/xCq81OaBqd0
Two reasons. One would be that none of the teams listed above play ball with the Timberwolves, refusing to give Flip Saunders and company every last asset that they ask for.
The second would be stubbornness on the Minnesota Timberwolves' part. If the Wolves see even the faintest glimmer of hope that Love will extend his run with the team past next season, Minnesota's management could decide to shut down talks for the time being while they reassess the situation.
Where would Love actually sign an extension to play?
Various reports have indicated that Love would be willing to commit to an extension with both Golden State and Cleveland. Love had initially balked at the idea of signing a long-term commitment with the Cavs, but LeBron James' arrival changed matters in a flash.
Chicago and Boston would also have a decent shot at convincing Love to remain long-term, but count the Warriors and Cavaliers as front-runners when it comes to offering the 25-year-old superstar the exact environment he is looking for.
Back to the Minnesota Timberwolves Newsfeed