The Milwaukee Bucks hold the No. 17 overall pick in Thursday's NBA Draft, and there are numerous players they could target with the selection. With the Bucks limited 3-point shooting and depth, a guard seems like the most likely option. With that in mind, here are three players the Bucks could target in the first round 
3. Terrance Ferguson, SG, Australia
The Bucks need more shooting and Ferguson can provide that. The highly-recruited Tulsa, Oklahoma native elected to play overseas last year instead of heading to Arizona and he didn't play a ton for his Australian team. But he's and best as a spot-up 3-point shooter, something the Bucks could use. He'd backup Khris Middleton, providing the bench with some added spacing. Checking it at 6-foot-7 with a nearly 6-foot-9 wingspan, Ferguson has the size and length the Bucks like. 
2. Luke Kennard, SG, Duke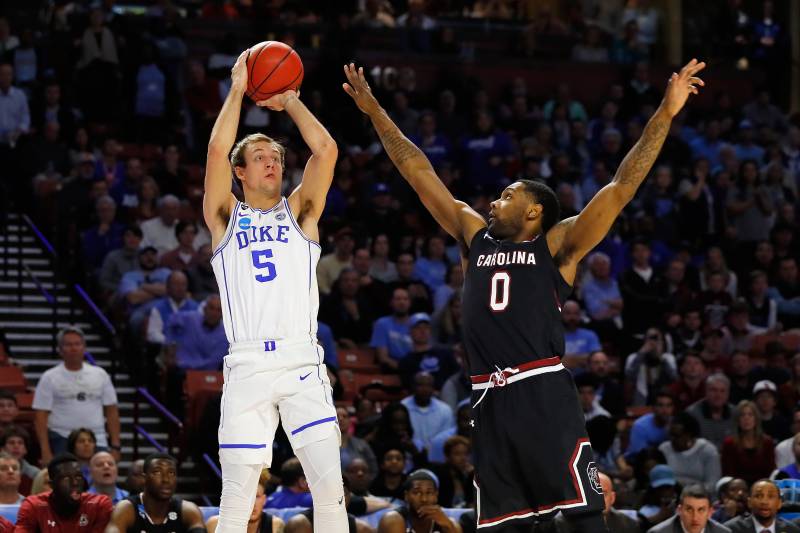 Kennard would be a strong fit for the Bucks. He broke out in his sophomore year for the Blue Devils, averaging 19.5 points per game and shot a blistering 43.8 percent from deep. The Bucks need more shooting and Kennard can provide that. Khris Middleton and the aging Jason Terry were the only Bucks player to shot above 42 percent from 3-point range, so adding Kennard gives the Bucks more 3-point options. However, there's a chance Kennard doesn't last until No. 17. He's received more and more buzz lately, and he could go in the lottery. Kennard lacks the length the Bucks have coveted in recent years. 
Connect With Chat Sports:
Chat Sports on YouTube
Chat Sports on Periscope
Chat Sports on Starters
1. Donovan Mitchell, G, Louisville
Mitchell might be the best fit for the Bucks this year. While he lacks ideal size (he's 6-foot-3), he has a very long 6-foot-10 wingspan. That length will appeal to the Bucks and he has the offensive ability to fit in well with Milwaukee. He's still developing and he could become an ideal option for a team like the Bucks at guard. He played plenty of shooting guard with Louisville and he could still play off-guard thanks to he presence of Giannis Antetokounmpo, who handles much of the point-guard duties on offense. The question is if Mitchell falls to No. 17. If he does, he's a logic pick for the Bucks. 
Check out our Milwaukee Bucks team page for all the latest Bucks Draft Rumors or download the Chat Sports App!
Back to the Milwaukee Bucks Newsfeed
Related Topics: 2017 NBA Draft, Terrance Ferguson, Bucks NBA Draft, 2017 NBA Draft Rumors, Donovan Mitchell, Bucks Rumors, Luke Kennard