Two independent sources - one with ties to Michigan's Athletic Department, and one who has known Jim Harbaugh for over 35 years - have each confirmed to Chat Sports that Harbaugh is indeed set to become Michigan's head football coach, and the move will be announced on December 30th...unless he backs out on a verbal agreement he has authorized his agent David Dunn to make with Michigan AD Jim Hackett.
Here's the latest:
Harbaugh's father Jack and agent Dunn have been in contact with the Michigan athletic department since early November, and both have been telling Michigan that Jim wants to come back and get Michigan back to its winning ways, and, I quote, "beat some Buckeye ass".
The agreement that the parties came to in late November was that Harbaugh couldn't commit to anything as long as the 49ers were still in contention for the NFL playoffs, and that Harbaugh was committed to not only making the playoffs, but winning a Super Bowl and forcing 49ers owner Jed York to fire Harbaugh's least favorite person in the 49ers, Paraag Marathe - - not, as reported, GM Trent Baalke.
Marathe and Harbaugh have deeply disliked each other for several years, and that dislike intensified in January when York promoted Marathe to team President after ousting Gideon Yu, a Harbaugh favorite. Harbaugh's first choice is - and has always been - to stay with the 49ers for the foreseeable future, but as things stand, that's no longer an option. Harbaugh knows he has 10 more days as 49ers head coach remaining, and he's now ready to go back to the one place he loves more than anywhere else, Ann Arbor, and restore his favorite football team to heights they haven't reached in decades.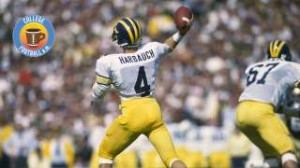 Michigan has been surgical in their recruitment of Harbaugh in the last 10 days: Over 50 former Harbaugh teammates from Michigan have reached out to him asking him to take the Michigan job.
Additionally, Wolverine legends Desmond Howard, Jamies Morris, Charles Woodson and the biggest name of the all, Tom Brady, have each contacted Jim telling him that the fate of the program rests with him and "Mama is calling, it's time to come home".
We were told during one conversation last week with a former teammate that Jim was moved to tears when discussing his passion for the Wolverines and his desire to restore the program to the level his "second father" Bo Schembechler built it up to. He was also reported to have texted former teammate (now Browns offensive line coach) Andy Moeller late last week, telling him to "get ready, we're getting the band back together, on a mission from Bo".
As soon as the 49ers were eliminated from playoff contention on Sunday, things heated up. Hackett, Dunn and Jack Harbaugh took a long phone call on Sunday night, discussing in-depth details on contracts, control, admissions, assistant salaries and budget for recruiting and upgrades.
Dunn and Jack took the deal to Jim late on Monday, and discussed things further on Tuesday when Michigan extended an official offer that would make Harbaugh football's highest-paid coach, with the possibility of earning $10M a year with longevity bonuses and incentives for winning the Big Ten, CFB Playoff games and a National Championship. Wednesday, the media got wind of the offer and widely reported it.
Jim authorized Dunn to accept in principle, but made it clear that he couldn't sign anything until after the 49ers season was over, and informed him he would resign if not fired on Monday, December 29.
ONE BIG HURDLE TO CROSS:
If Harbaugh is not coaching the 49ers next year, someone is owed a $5M buyout. If fired, Harbaugh collects $5M from the team. If he quits, he owes it to them.
Harbaugh does not want to pay the team he's leaving...and the buyout was not a topic of discussion between the Michigan AD and Harbaugh's reps... at least not yet.
CHANGE OF HEART?
Don't celebrate yet, Michigan fans....now that the offer is public, be on the lookout for a NFL team like the Raiders or Jets to come in and offer to trade for Harbaugh, dangling a contract worth more than $10M per year....could that be enough to change his mind at the last minute?
Get more info here: Michigan coaching rumors
Download our iPhone app for the rest of this story: Chat Sports iPhone app
Back to the Michigan Wolverines Newsfeed