The NCAA Tournament picks up on Thursday with the Michigan Wolverines squaring off against the Texas A&M Aggies with the winner advancing to the Elite Eight. Michigan is still riding high following Jordan Poole's buzzer-beater to beat Houston, but Texas A&M is coming off one of the most dominant performances of the tournament in their 86-65 win over North Carolina.
Which of these teams will keep their season going? Here's our full preview and prediction:
Catch up on nightly college basketball scores in the best sports app available - the Chat Sports App!
Game Info:
When: 7:37 p.m. EST
Where: Staples Center, Los Angeles, CA 
TV: TBS
Spread: Michigan (-2.5)
O/U: 136
Projected Starting Lineups
(3) Michigan Wolverines (30-7, 13-5 in Big Ten)
G Zavier Simpson (So.) – 7.3 ppg, 3.6 apg
G Muhammad-Ali Abdur-Rahkman (Sr.) – 12.6 ppg, 3.9 rpg
G Charles Matthews (Jr.) – 12.8 ppg, 5.6 rpg
F Isaiah Livers (Fr.) – 3.7 ppg, 2.3 rpg
F Moritz Wagner (Jr.) – 14.2 ppg, 7.1 rpg
(7) Texas A&M Aggies (22-12, 9-9 in SEC)
G T.J. Starks (Fr.) – 10.1 ppg, 2.3 apg
G Admon Gilder. (Jr.) – 12.4 ppg, 4.1 rpg
F D.J. Hogg (Jr.) – 11.2 ppg, 5.3 rpg
F Robert Williams (So.) – 10.3 ppg, 9.3 rpg, 2.6 bpg
C Tyler Davis (Jr.) – 14.6 ppg, 9.0 rpg
What they're saying about the Michigan Wolverines:
March Madness Highlights: Top 10 Buzzer-Beaters In NCAA Tournament History (Chat Sports)
Michigan basketball: Duncan Robinson's defense put to test in Sweet 16 (Detroit Free Press)​
Michigan has the nicest locker room in Los Angeles for NCAA Tournament (MLive)
What they're saying about the Texas A&M Aggies:
March Madness: Preview & Prediction For Every Sweet 16 Game In The 2018 NCAA Tournament (Chat Sports)​
'He's been focused and locked in': D.J. Hogg's strong play has taken Texas A&M to new heights (Dallas Morning News)
A bandwagon fan's guide to Texas A&M's basketball team (Dallas Morning News)
Keys to the game:
Can Michigan find their offense?
The Wolverines have uncharacteristically struggled offensively to this point in the tournament, but I don't have any reason to believe that will continue. They've been one of the best offensive teams in the country over the past month and simply looked rusty following the long layoff after the Big Ten Tournament.
The 61 points Michigan scored against Monday and the 64 they scored against Houston were their two lowest point totals since their Feb. 6 loss to Northwestern - which is also the last time the Wolverines lost. Michigan has survived thanks to their top five defense but needs to get back to playing the high-level offense we've come to expect from this group if they're going to make the Elite Eight.
Texas A&M needs T.J. Starks to play well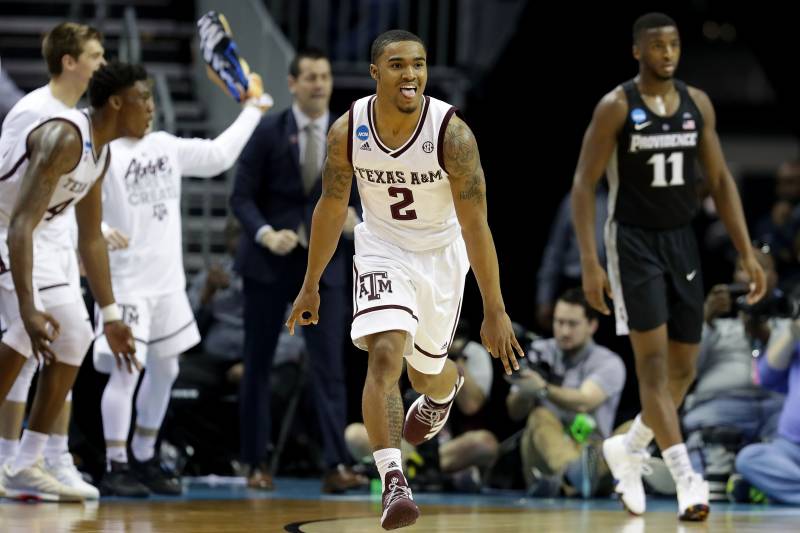 Texas A&M has suddenly started playing like the team that rose to No. 5 in the country in December as opposed to the team that went 9-10 in SEC play. Why? Freshman point guard T.J. Starks has finally given the Aggies some reliable play at the position.
Robert Williams and Tyler Davis provide Texas A&M with one of the better frontcourts in the country, but guard play matters more than anything else in the NCAA Tournament. Starks has provided that, averaging 18.0 points and 6.5 assists per game in the tournament - nearly doubling his averages from the regular season. That needs to continue for the Aggies if they're going to have success against Michigan's defense.
Click here to subscribe to the Michigan Football Report channel on YouTube! 
Prediction: Michigan wins 81-73
I think Jordan Poole's shot injected some life back into this Michigan team and we'll see them play their best offensive game of the tournament as a result. John Beilein is too good of an offensive coach for the Wolverines to score in the low 60's again. Plus, Starks is eventually going to regress back to the mean at some point, and I think that happens tonight against the best defense they've faced this postseason.
Back to the Michigan Wolverines Newsfeed
Related Topics: 2018 NCAA Tournament, March Madness, SEC Basketball, NCAA Basketball, Texas A&M Aggies Basketball, Big Ten Basketball, Michigan Wolverines Basketball