The Michigan State Spartans and Notre Dame Fighting Irish meet Thursday night in the final game of this season's Big Ten/ACC Challenge, a challenge that the ACC has already won by winning 11 of the first 13 games. Both have proven themselves to be elite teams already with Michigan State winning their PK80 bracket and Notre Dame winning the Maui Invitational, but this matchup gives each the opportunity to pick up another marquee win over a top-five team. It's also a showdown between two National Player of the Year favorites in Michigan State's Miles Bridges and Notre Dame's Bonzie Colson.
Who will come out with a major early-season victory in this battle between national championship contenders? Here's our full preview and prediction:
Game Info:
When: 7:00 p.m. EST
Where: Breslin Center, East Lansing, MI 
TV: ESPN
Spread: Michigan State (-6.5)
O/U: 139.5
Projected Starting Lineups
(3) Michigan State Spartans (5-1)
G Cassius Winston (So.) – 12.2 ppg, 7.5 apg
G Joshua Langford (So.) – 13.7 ppg, 2.7 rpg
G/F Miles Bridges (So.) – 15.2 ppg, 6.8 rpg, 2.0 bpg
F Jaren Jackson Jr. (Fr.) – 10.0 ppg, 8.2  rpg
F Nick Ward (So.) – 13.8 ppg, 6.3 rpg
(5) Notre Dame Fighting Irish (6-0)
G Matt Farrell (Sr.) – 15.5 ppg, 4.3 apg
G T.J. Gibbs (So.) – 15.5 ppg, 3.2 apg
G Rex Pflueger (Jr.) – 6.2 ppg, 5.0 rpg
F Bonzie Colson (Sr.) – 20.0 ppg, 10.5 rpg
F Martinas Geben (Sr.) – 8.0 ppg, 4.8 rpg
What they're saying about the Michigan State Spartans:
Key Stats from PK80 and a Notre Dame Preview (The Only Colors)
MSU's Winston makes biggest strides on defense (The Detroit News)
Michigan State Basketball: 5 reasons the Spartans will beat Notre Dame (Fansided)
What they're saying about the Notre Dame Fighting Irish:
GAME THREAD: #5 Notre Dame Fighting Irish vs #3 Michigan State Spartans (One Foot Down)
Winning Plays (ND Nation)
A Look Back at Lahaina -- Before East Lansing! (Go Irish Blog)
Keys to the game:
Can Michigan State limit turnovers?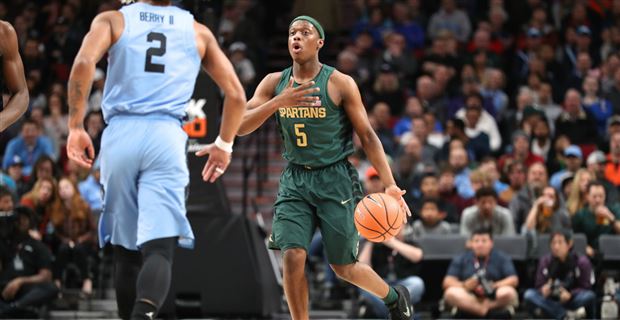 This Michigan State team is extremely talented and plays excellent defense, but their Achilles heel - both this season and last - has been turnovers. They turn the ball over on nearly 23 percent of their offensive percentage (which ranks 304th out of 351 Division I schools), meaning that they don't even get a shot up on roughly a fourth of their possessions. All five of their starters average at least 1.8 turnovers per game and four (Winston, Bridges, Jackson, Ward) average at least 2.2. Not good.
They have enough talent to make up for those lost possessions against most teams, but against an elite team like Notre Dame, they can't afford that luxury. Turnovers (17) were the reason they lost to Duke. This will be the biggest thing to watch not only in this game but all season long for the Spartans.
Who else will score for Notre Dame?
Michigan State is coming off their best defensive performance of the season in which they held North Carolina to just 25 percent shooting (the lowest in UNC history) in a 63-45 win, but head coach Mike Brey and Notre Dame are known for having one of the most efficient offenses in the country (currently third) on a yearly basis. Colson is obviously a big reason for that this year because he's able to create his own offense against anyone, but finding a second and third option capable of producing against MSU's defense will be their biggest challenge in this one.
Farrell has helped shoulder some of the load, but he has shot below 43 percent in four of Notre Dame's six games, showing that he's not always the most efficient. Gibbs' production as the third scorer is needed for this offense to reach their full potential, yet he's also incredibly inconsistent. He has only reached double-digit points in three games, and those all came against much lesser competition. In the Maui title game against Wichita State, another elite defensive team, he was limited to seven points and only took six shots. 
Colson is going to get his points tonight. Notre Dame needs Farrell and Gibbs to get theirs as well if they're going to win.
Prediction: Michigan State wins 73-63
I think that Michigan State's defense is here to stay, and teams usually tend to play better defensively when they're at home and have the crowd behind them. Colson and Notre Dame will keep it close, but the Spartans will go on a run in the second half - fueled by their defense - that will give them the win.
Follow our Michigan State Spartans team page for all the latest Michigan State basketball news!
Back to the Michigan State Spartans Newsfeed
Related Topics: Notre Dame Fighting Irish Basketball, NCAA Basketball, Bonzie Colson, ACC Basketball, Michigan State Spartans Basketball, Big Ten Basketball, Miles Bridges