Michigan and Florida are both expected to have new head coaches after this season, and if Miami fans have their way, their school will be added to the list.
A group of fans is actually so frustrated with Miami's head coach Al Golden that they've used the popular fundraising website 'GoFundMe.com' to raise enough money to create a banner that reads "Fire Al Golden" and fly it over Blacksburg prior to the Hurricanes road game against Virginia Tech on Thursday night.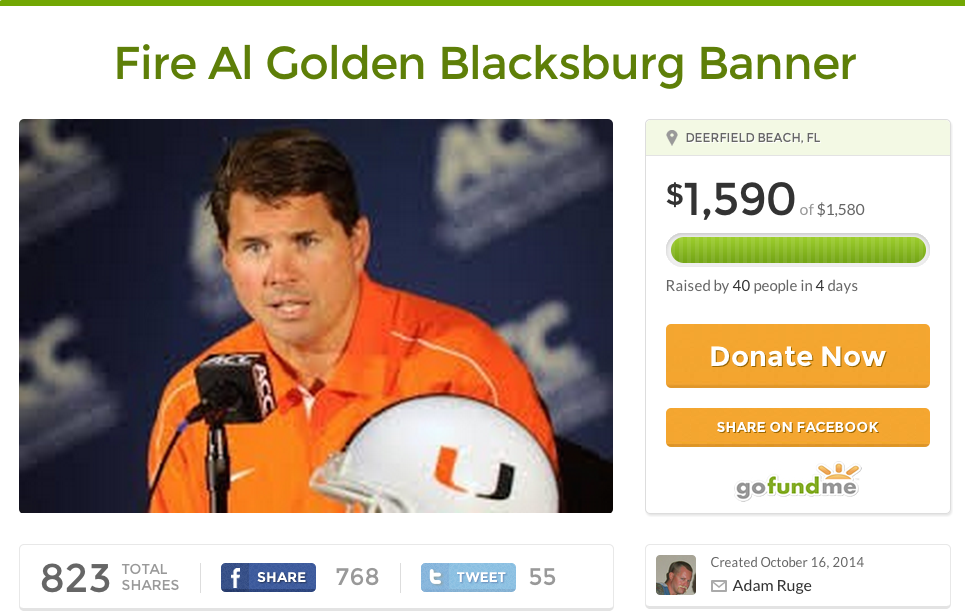 The updated message from the page's creator reads: "We have met our goal, the banner will be in the air from roughly 5:30-6:15. Thanks everyone for all the donations. Our Players deserve better and the fans taking a stand will not be ignored."
Miami has a 4-3 record this season, but is 1-2 in the ACC. Golden is 26-18 in over three years with the Hurricanes.
At the start of his tenure as head coach, Miami was still under investigation by the NCAA, which didn't conclude until October 2013 and hampered recruiting efforts.
Thursday night's game between the Hurricanes and the Hokies will start at 8:00 p.m. ET on ESPN.
Back to the Miami Hurricanes Newsfeed