The LSU Tigers have several key veterans returning on both sides of the ball, and they'll be counted on to lead the Tigers to a SEC title. But LSU will also need a few new recruits to help the team win games. It helps that LSU put together one of the best recruiting classes this season. 
Not every recruit will contribute right away, and most of the players might not make their real impact for another year or two. But each year, a few additions find a way to contribute early. With that in mind, here are 3 LSU recruits who could make a big impact next year.
Notable Omission:
One of LSU's 5-star recruits isn't listed here. There's little doubt that CB Kristian Fulton and is gifted players, but he might not make an impact right away. The Tigers have returning starters at both CB spots and Fulton will face a much tougher battle for playing time than the others on this list. He didn't enroll early, unlike fellow talented CB Saivion Smith. Fulton has the makings of the next great LSU CB, but he might not make his impact next season.
3. WR Stephen Sullivan
Sullivan is a four-star recruit and the No. 122 overall recruit. He enrolled early, which will give him a chance to find his way onto the two deep. At 6-foot-5, 230-pounds, he can be a red zone threat early. Sullivan could take over as the No. 3 WR for the Tigers quickly, giving them the red zone threat the team didn't really have in the passing game last season.  
2. DT Rashard Lawrence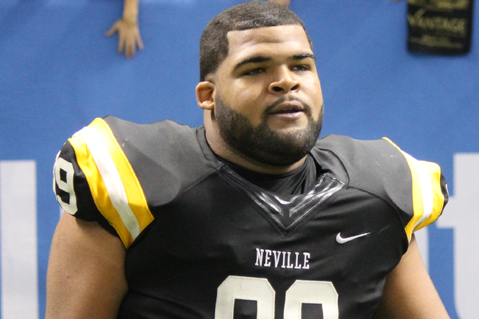 Lawrence is a five-star recruit and the No. 23 overall player. While LSU is deep at defensive tackle, he should be able to carve out a niche at least as a rotational player. He has great size and will eventually work his way up the depth chart. For more on LSU's 2016 recruiting class, download the Chat Sports Android and iPhone app.  
1. OLB Michael Divinity
Divinity didn't quite get the hype that Lawrence or Fulton did, but he might find the field first. A four-star recruit and the No. 63 overall player, Divinity has a chance to earn a starting job right away. LSU is losing both OLBs and are thin at the position. Divinity is athletic and enrolling early will help him learn the new Dave Aranda defense. 
Back to the LSU Tigers Newsfeed
Related Topics: LSU Tigers Football Recruiting News, Stephen Sullivan, Rashard Lawrence, Kristian Fulton, LSU Tigers Football Recruiting Rumors