The LSU Tigers came up short in their College Football Playoff chase last year, but plan on returning to the top of the SEC and college football in 2016. For LSU's College Football Playoff dreams to come true, the Tigers need a few players to have breakout seasons for that to happen. 
Breakout seasons happen every year in college football. Sometimes, the player in question shows flashed the previous season and takes the logical step forward. Sometimes, the player comes out of nowhere to make a massive impact. So who will be the LSU Football breakout players in 2016? We've put together four of the most likely candidates below, although there are a few other players who could end up breaking through this year. 
QB Brandon Harris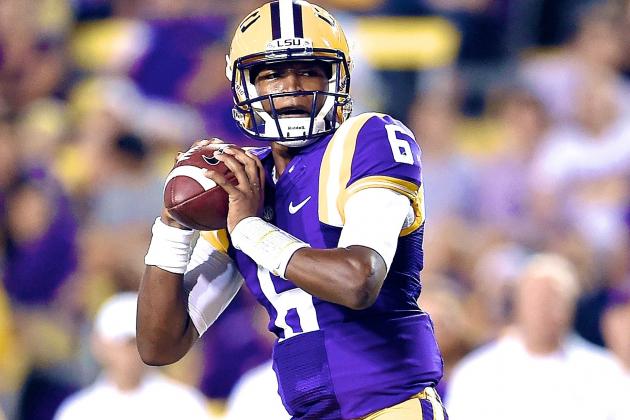 The first player on this list is the one the Tigers need the most. He's also the one least likely to actually start. Harris started last season for the Tigers, but his inability to be a consistently effective passer hurt the Tigers. That was especially true during a three-game losing streak in November. But another year of development for Harris should only help, especially with the presence of Danny Etling. The Purdue transfer will push Harris, and while Etling wants the starting job, it Harris' to lose. If Harris (or Etling) can become even a Jacob Coker-level QB for LSU, they'll be in great position to win a national title 
WR Malachi Dupre
With the (hopeful) improvement of QB play comes better numbers for LSU's WRs. LSU has produced some talented wide outs, even if they've been held back by poor QB play for several years. Dupre is the next gifted LSU and he showed promise last year. Dupre caught 43 passes for 698 and six TDs. The junior has an impressive size-speed combo and could be in for a big season.  
OLB Arden Key
This one is pretty obvious, given that Key was a freshman All-American last year. LSU has a proven background in churning out productive defensive linemen that head to the NFL and Key looks like the next one. The former four-star recruit should have a big season this year for the Tigers. He showed great promise in his freshman year last season and could produce double-digit sacks. A 4-3 DE last year, he should be a 3-4 OLB this season. 
CB/ATH Donte Jackson
If Jackson is turned loose this season, look out. As a true freshman, Jackson played sparingly. He had a pick and a forced fumble to go with 25 tackles, but wasn't a full-time starter. He did help out on returns and even had a 14-yard carry on offense. With Jackson's absurd  speed, LSU might use him in all three phases of the game, much like USC's Adoree Jackson. Now a sophomore, Jackson will be the No. 3 CB at worst. LSU has had several gifted defensive backs in recent years, and Jackson has the makings of the next one. 
Back to the LSU Tigers Newsfeed
Related Topics: LSU Tigers Football Rumors, LSU Tigers Football News, Brandon Harris, Malachi Dupre, Donte Jackson, Arden Key