Saturday night gives us the best college football regular-season matchup of 2015 so far when the #2 LSU Tigers travel to Tuscaloosa to take on the #4 Alabama Crimson Tide. We're here to break things down with the three keys to this MASSIVE prime-time SEC showdown.
3. Brandon Harris vs. Alabama Secondary/Pass Rush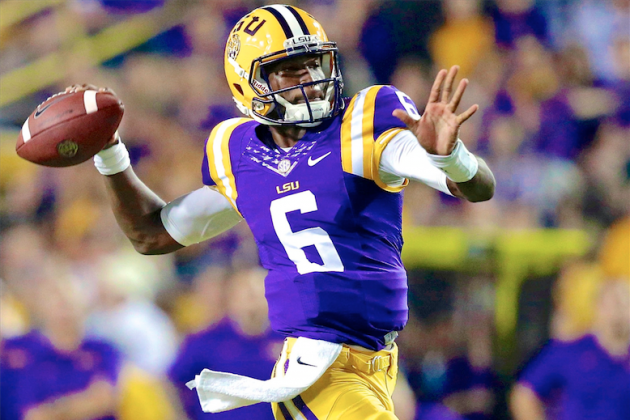 We'll talk about LSU RB Leonard Fournette a bit later, but the fact remains that Alabama won't be able to stack seven or eight in the box with QB Brandon Harris' skills as an over-the-top thrower. The sophomore has yet to throw an interception this season and has amassed 716 yards and seven touchdowns over the team's last three games. Alabama will throw creative rush/blitz schemes at Harris all night long, so it'll be up to him to trust his progression and take advantage of potential one-on-one matchups on the outside.
2. Alabama's Offensive Line
The Crimson Tide's O-line hasn't been the same kind of standout unit as the program has enjoyed in the past. Injuries are mounting up as right tackle Dominick Jackson is limited by an ankle injury and left tackle Cam Robinson has been banged up for weeks. That's only part of the problem for an O-line that has been called out numerous times by head coach Nick Saban for its shaky work in pass protection. The Crimson Tide will need to stiffen up in the trenches to give QB Jacob Coker and RB Derrick Henry time to operate against a solid LSU defense.
1. Leonard Fournette vs. Alabama Run Defense
Leonard Fournette has rushed for 150 yards or more in each of the team's seven games this season. He's the prohibitive Heisman Trophy favorite until proven otherwise. However, that could all change against an Alabama run defense which may very well be the stoutest and most dominant unit in all of the nation. Something's gotta give. Fournette has edge speed to burn, plus a low center of gravity to cut under tackle attempts. However, Bama's run D is so fundamentally sound that they've got a fantastic shot of containing Fournette in a way that hasn't been done this season. Something's gotta give. Whoever wins this high-impact chess match will likely win on Saturday.
Back to the LSU Tigers Newsfeed
Related Topics: Cam Robinson, LSU Tigers Football News, Jake Coker, Brandon Harris, Alabama Crimson Tide Football News, Derrick Henry