The Los Angeles Rams unsurprisingly make Jeff Fisher the first head coach to be fired this season after a blowout loss to the Falcons in Week 14, which was the 165th loss of his career, tying the NFL record. Fisher was hired as head coach in 2012, but put up a record of 31-45-1 in nearly five seasons with the team - yet the franchise signed him to an extension through the 2018 season just a week prior to his firing.
However, they decided they needed to go in another direction as owner Stan Kroenke said Fisher's performance "did not live up to expectations." Special teams coach John Fassel took over as interim head coach, but he is not a candidate for the permanent job. So, who will the Rams go after to replace him? Here are the top 10 candidates:
10) Darrell Bevell, Seahawks offensive coordinator
Bevell knows how to work with multifaceted (and non-traditional) quarterbacks and also has proven capable of putting together a beyond-capable running game in this league. He was also a candidate for seemingly every opening last year, and LA's need for an offensive spark could be what does the trick. The Rams could look at how Bevell developed Russell Wilson, and hope he could do the same with Jared Goff.
9) Mike Smith, Buccaneers defensive coordinator
Smith was run out of Atlanta after the team with 10-22 in the last two years of his tenure with the Falcons, but finished with a 67-50 record during his tenure in Atlanta. With a year off the head coaching circuit, he has re-emerged as Tampa Bay's defensive coordinator. He got a few interviews last year, and the Rams could very well give him a call.
8) Mike Vrabel, Texans linebackers coach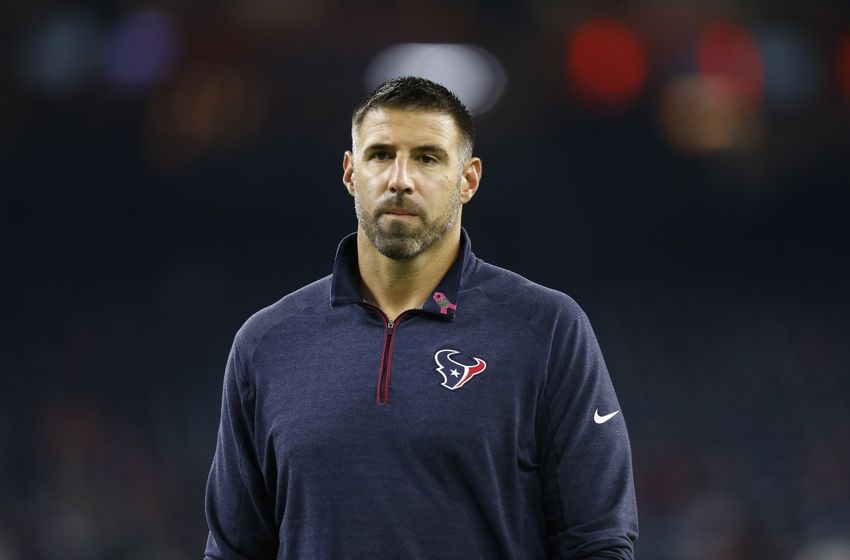 The Rams are scheduled to interview Vrabel next week, the only team that he is scheduled to interview with. The longtime Patriots linebacker, Vrabel only has six years of coaching experience - three years at Ohio State and three years with the Texans. It still seems a little premature for him to be a head coach, but LA is intrigued by his energy, playing experience and coaches he has learned under (Bill Belichick, Urban Meyer, Bill O'Brien).
7) Harold Goodwin, Cardinals offensive coordinator
Yet another offensive mind on the list. Goodwin has had interviews in the past, although those might be at least in part because of the Rooney Rule. The Rams interviewed him as well, but he seems to be a longshot at best. Still, he's a young, rising coach that could get a chance. 
6) Teryl Austin, Lions defensive coordinator
Austin has had a relatively short NFL coaching career to this point, but he's been extremely successful. He gets a lot of the credit for the Lions' breakout season this year, which has been largely credited to the play of their defense. Austin will be a top candidate for every head coach opening this offseason, so the Rams will likely give him a call as well.
5) Matt Patricia, Patriots defensive coordinator
Patricia isn't a well-known name among casual fans, but he's been a coach under Bill Belichick for years. Patricia started on the offensive side of the ball, spending two years there. He then switched to defense and was promoted to defensive coordinator in 2012. Other teams around the league usually love the opportunity to bring someone from the Belichick coaching tree, and the Rams have already interviewed him.
4) Anthony Lynn, Bills offensive coordinator/interim head coach
Lynn was promoted to offensive coordinator in Week 3 after Buffalo fired Greg Roman, and he had so much success in leading the offense that he served as the interim head coach. He already has the respect of players around the league and that's huge. With Buffalo opting to hire Panthers defensive coordinator Sean McDermott over him, Lynn has become a leading candidate for the Rams and Chargers jobs. 
3) Kyle Shanahan, Falcons offensive coordinator
Shanahan has been on the verge of getting a head coaching job for the past few seasons, and this will likely be the year he gets one. He has engineered the best offense in the league, and the Rams would hope he could have success in developing Goff. Remember, Shanahan designed the offense in Washington in which Robert Griffin III led the Redskins to the playoff. 
2) Sean McVay, Redskins offensive coordinator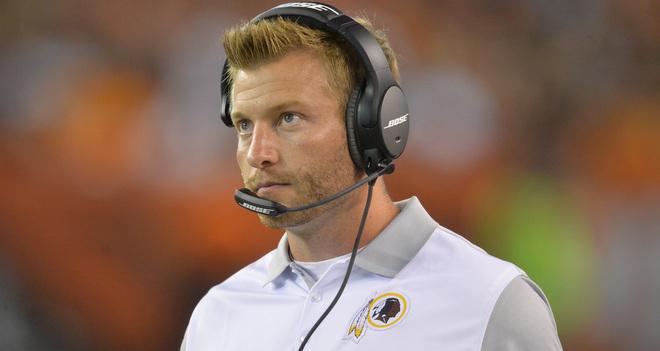 McVay reportedly "crushed" his interview with the Rams, who are now extremely high on McVay. He's been the OC for the Redskins since 2014, and done a damn fine job. Here's the rub though: he's just 30 years old, which would make him the youngest head coach in the NFL. The potential young star should be a head coach sooner than many expect.
1) Josh McDaniels, Patriots offensive coordinator
McDaniels has rebuilt his reputation while leading the Patriots' offense for the past five seasons after a less-than-successful head coaching debut in Denver. He has a strong desire to be an NFL head coach again. Perhaps he can bring some of the "Brady Effect" over to rejuvenate Goff. 
Follow our Los Angeles Rams news page for all the latest Rams news!
Back to the Los Angeles Rams Newsfeed
Related Topics: Jeff Fisher, Sean McDermott, Mike Smith, Josh McDaniels, Jim Harbaugh, Matt Patricia, Teryl Austin, Kyle Shanahan, Darrell Bevell, David Shaw, NFL News, Jon Gruden, Rams News