There are important NFL players and then there are the players who shoulder the fate of their teams based on day-in, day-out performance during the season. These are the latter. Here are the 3 Players Who Will Make Or Break The St. Louis Rams' 2015 Season.
QB Nick Foles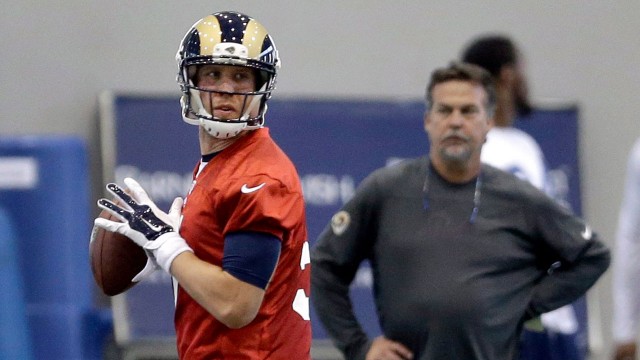 The Rams have made no bones about their desire to lock Foles down on a contract extension sooner rather than later, with the mode of thought being that they can secure him at a bargain now rather than risk a potential premium if he lights it up in 2015. Foles has been saddled with the labels of being both injury-prone and a system quarterback, but he has all the weapons necessary in St. Louis to prove such judgments to be hasty. Regardless, he's been tabbed as the franchise's present and future and the Rams need him to perform as such this season.
LT Greg Robinson
Robinson got off to a suspect start in his first season following the Rams' selection of him with the second overall pick. He allowed seven sacks, nine QB hits and 11 QB hurries and provided negative value in run blocking for an offensive line that finished 20th against the run in 2014. The Rams invested the #2 pick in hopes of securing a franchise left tackle. They NEED him to provide evidence of why he deserves such a designation or both the running and passing games will suffer as a result.
DT Nick Fairley
Fairley is a BEAST of a man at the tackle spot, and the Rams spent the money on him in free agency in hopes that his space-eating tendencies will open up sack opportunities for the rest of the team's elite defensive line. However, Fairley's 2014 season was cut short by a knee injury and Lions fans can tell you just how frustrated they were with him over a perceived lack of effort and discipline at times during his stay in the Motor City. A motivated, healthy Fairley will be the key for a D-line projected by many to be the best in the NFL.
Follow our St. Louis Rams team page for the latest Rams rumors!
Back to the Los Angeles Rams Newsfeed
Related Topics: Greg Robinson, Nick Foles, St. Louis Rams, Rams Rumors, Nick Fairley