The Los Angeles Lakers made a trade to send Svi Mykhailiuk and a second round draft pick to the Detroit Pistons Tuesday night in exchange for Reggie Bullock. However, they also continue to be subject to plenty of trade rumors and speculation surrounding the Anthony Davis trade request. We take a look at the most recent Lakers trade offer and why the Pelicans haven't made a counter-offer.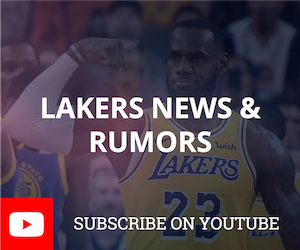 It's clear that the trade speculation is impacting the young Lakers team, as the Pacers pounded LA 136-94 Tuesday in LeBron James' worst loss of his career. James had 18 points to move him to 32,000 career points (5th all-time).
Check out the brand new Lakers News and Rumors YouTube channel - click here to subscribe so you're the first to know everything Lakers:
Today on NBA Now from Chat Sports (IN THE VIDEO ABOVE and below), we take a look at the possible package for Davis and how he could end up on the Lakers by next week. We also talk about Lonzo Ball and LaVar's insistence to send him to Phoenix instead of New Orleans.
Place your bets on which team Anthony Davis will be traded to right now with our sportsbook partner BetDSI by clicking here. We're hooking up our viewers with the best promo in the business - use promo code NBA120, and you'll get an industry best 120% deposit bonus!
With the NBA Trade Deadline right around the corner, we take a look at all the top trade rumors surrounding the Lakers including a possible move for Jabari Parker.
Our full list of 2019 Lakers trade rumors is below:
- Lakers trading the House for Davis?
- Celtics sabotaging Lakers?
- Lonzo to Phoenix?
- Magic never wanted Lonzo anyway?
- Lakers want Jabari Parker?
- KCP on the way out?
Today's clothing was presented by Mizzen+Main, the most comfortable dress shirt you'll ever own. Get yours today at http://www.comfortable.af 
Follow our host Harris Rubenstein on Twitter
For all your NBA content, check out the Chat Sports NBA Facebook page  
Get all of your NBA News and Rumors on the Chat Sports website
Download the Chat Sports app for iPhone or Android to follow NBA news, rumors, and scores  
Follow Chat Sports on social media: 
https://www.facebook.com/chatsports 
https://www.twitter.com/chatsports 
https://www.instagram.com/chatsports
WATCH FULL VIDEO BELOW:
Back to the Los Angeles Lakers Newsfeed
Related Topics: lebron james 2019, Lakers, lakers trade deadline, lonzo ball news, lakers highlights, lonzo ball trade, BBB, anthony davis lakers, lebron highlights, kobe rumors, lonzo ball rumors, lebron anthony davis, Lakers News, Lakers Rumors, Anthony Davis, Lakers Trade Rumors, NBA Trade Deadline, Lonzo Ball, Anthony Davis Trade, NBA Trade Rumors, Kobe Bryant, Big Baller Brand, Lebron James, NBA News, lebron rumors, Magic Johnson