The Los Angeles Lakers announced Sunday night they have fired head coach Byron Scott after they went 38-126 in the two seasons under his leadership. Scott wasn't been able to develop LA's young players, and the Lakers have often looked lost on both ends of the floor. Who will the Lakers target to help develop their young core? Here are the top five candidates:
5) Brian Shaw, former Nuggets coach
Shaw had a tumultuous stint with the Nuggets, going 56-85 in his only two years as a head coach. Denver was starting a rebuild under Shaw, and he admitted that he had trouble communicating to his younger players at times - which is a major problem. That being said, Shaw is a member of the Lakers family, winning three titles as a player from 1999-2003 and serving as an assistant coach with the team from 2005-2011. Expect Shaw to at least get an interview.
4) Ime Udoka, Spurs assistant coach
The latest hot assistant coach from San Antonio, Udoka has the glowing praise from Gregg Popovich and is considered to be one of the rising stars in the coaching world. The 38-year-old has a special talent to relate to players - particulary the younger ones - and played for the Lakers in 2004. If LA wants to gamble on a young star, this is their guy.
3) David Blatt, former Cavs coach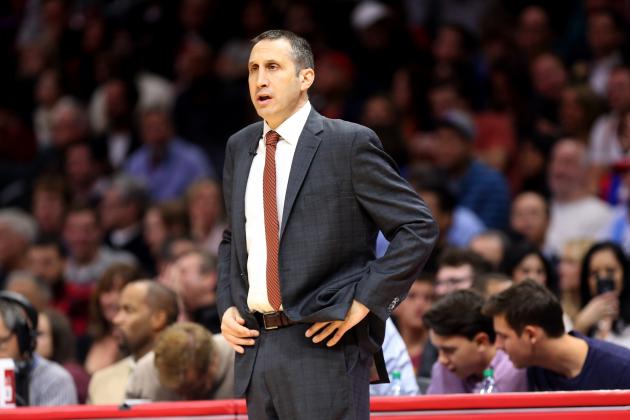 Blatt fell victim to the mid-season firing bug, being let go by Cleveland earlier in the season, which had more to do with his inability to get LeBron James to like him than his ability to coach. A legend in Europe, Blatt had a 83-40 record in his year and half with the Cavs, including a berth in the Finals in his lone full season of NBA coaching experience. It bears mentioning that Cleveland hired Blatt to develop what they thought would be a young core of players (Andrew Wiggins, Kyrie Irving, Tristan Thompson) - could he finally get that chance to build a young team with LA?
2) Mark Jackson, former Warriors coach
Jackson's only three seasons of coaching experience came with the Warriors, who he guided from a 23-43 record in his first year to a 51-31 record in his third year. Though he was fired after that year (2014) and Golden State won the title in 2015, he is credited for building the foundation that has led to the Warriors' success. The Lakers really need a coach that can help build their roster and develop their current players in a similar way, but there are major questions about his ability to get along with members of the front office, which led to his ousting in Golden State.
1) Luke Walton, Warriors assistant coach
The Lakers' search will start with Walton, and if they have their way, it will end with him as well. Walton will be perhaps the most sought-after coach on the market this offseason after leading the Golden State Warriors to the best start in NBA history as their interim head coach. That is the only time Walton has been a head coach in his career, but his outstanding record has made him the top candidate for every opening this offseason.
Walton has heavy ties to the Lakers, playing for them from 2003-2012 while winning two titles before joining the Warriors as an assistant. It would be a shock if he ended up anywhere else.
Back to the Los Angeles Lakers Newsfeed
Related Topics: Ime Udoka, Byron Scott, Luke Walton, Lakers News, NBA News, Mark Jackson, Brian Shaw