Top 5 NBA Free Agents The Los Angeles Lakers Could Sign During 2019 Free Agency is sponsored by BetDSI, the #1 sportsbook out there -- ready to show your sports gambling knowledge and win cash by betting on NBA? Head to http://www.chatsports.com/BET and use promocode NBA120 for a 120% deposit bonus!
All Lakers rumors on YouTube can be found on our newest YouTube channel: Lakers Rumors & News - Subscribe by clicking here: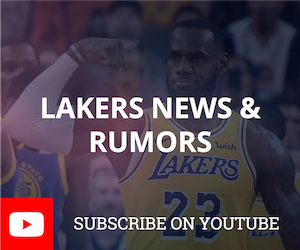 With the NBA trade deadline behind us, we take a look at this offseason and the Lakers 2019 Free Agency outlook. Who could the Lakers sign to play next to LeBron? We talk about options like Kevin Durant, Kyrie Irving and Kawhi Leonard and which one of them has the best chance of joining the Lakers next season! We also go over the like of Klay Thompson and DeMarcus Cousins and whether or not the Lakers could steal away one of the stars from the Warriors.
Our top 5 possible free agent signees for the Lakers in 2019 are listed below:
- Kevin Durant
- Kawhi Leonard
- Kyrie Irving
- Klay Thompson
- DeMarcus Cousins
Check out the brand new Lakers News and Rumors YouTube channel - click here to subscribe so you're the first to know everything Lakers:
WATCH FULL VIDEO BELOW:
Back to the Los Angeles Lakers Newsfeed
Related Topics: Los Angeles Lakers Rumors, Lakers 2019, Kawhi Leonard, Klay Thompson, Kawhi Leonard Lakers, Lakers Free Agency Rumors, DeMarcus Cousins, Lakers Draft News, Lakers News, Lakers Rumors, NBA Rumors, NBA News, Lakers free agent news, Lakers free agent rumors, Kevin Durant Lakers, Kyrie Irving