Los Angeles Lakers rookie point guard D'Angelo Russell has been "isolated" by his teammates after a video emerged of him secretly filming Nick Young talking about being with other women despite being engaged to rapper Iggy Azalea. Russell issued a public apology for the incident last night, saying he was "sick" over what happened.
"I am sorry about recording the video," he said. "I can't repeat myself enough on that: I am sorry I recorded that video. I feel horrible. I wish this never happened."
Russell also gave a personal apology to Young, which Los Angeles Times reporter Mike Bresnahan said Young accepted.
D'Angelo Russell has apologized to Nick Young, I've been told, and Young has accepted it. I wondered if Young would hold a grudge. Guess not

— Mike Bresnahan (@Mike_Bresnahan) March 30, 2016
However, that may not be the case. Just three hours later, Young tweeted "What I accept?" before quickly deleting it, suggesting that he did not accept Russell's apology.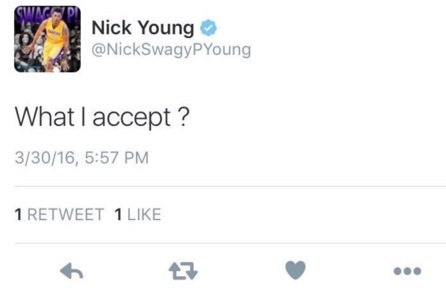 Russell said he understands that Young may not be willing to accept his apology.
"I let him know my apologies," Russell said. "I don't know if they were accepted. I wouldn't blame him."
On the court, Los Angeles snapped a four-game losing streak with a 102-100 overtime win over the Miami Heat on Wednesday night. Russell started and had 16 points, while Young did not play as he is recovering from an illness.
Follow our Los Angeles Lakers news page for all the latest Lakers news!
Back to the Los Angeles Lakers Newsfeed
Related Topics: NBA News, D'Angelo Russell, Lakers News, Nick Young