Amid a forgettable season, the Lakers managed to find a bright spot in Kentucky prospect Julius Randle.
Drafted seventh overall in the 2014 NBA Draft, Randle - a 6-foot-9 forward - is already being projected as a potential rookie of the year candidate, and he has an opportunity to make an immediate impact alongside a healthy Kobe Bryant.
https://www.youtube.com/watch?v=MNKfnWQHTEE
The Learning Curve
Randle's rookie season will be about adjusting to the NBA game and building confidence. There are very good reasons why he was among this year's lottery picks, and for him, succeeding is going to be a matter of validation.
In his last (and only) season with the Wildcats, Randle averaged 15.0 points and 10.4 rebounds while shooting 50 percent from the field as a freshman.
Excluding Joel Embiid, Randle was arguably the second best post player in the draft.
That said, the biggest issue for Randle will be remaining focused and confident behind veteran big man Carlos Boozer, who was recently acquired via waivers. While the Lakers plan to maximize Randle's talents, there is little doubt who will get the nod as a starter.
If Randle can manage to develop in spite of limited playing time, all signs point towards a successful rookie campaign.
Life in the Big Leagues
Randle looked like a rookie in his preseason debut against the Warriors last week. Finishing with 12 points on 4-of-12 shooting, seven rebounds and five assists, Randle did show flashes during his 18 minutes on the court, but it was apparent that he won't be exempt from growing pains.
https://www.youtube.com/watch?v=yv-vL47LOT0
Said Bryon Scott in an ESPN article: "I thought he was lost, in the first half especially," Scott said. "I thought in the second half, especially in the fourth quarter he was better, but I thought in the first half the game was way too fast for him."
Even for Randle, it looks like the transition period is going to take some time.
Making the Best of the Situation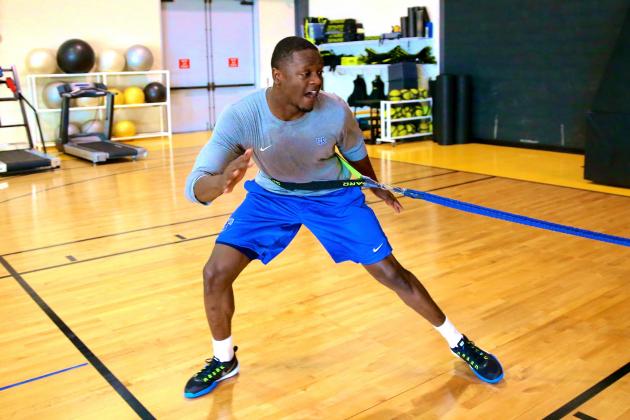 Ideally, Randle will fill a regular role off the bench. Veterans like Steve Nash (assuming Jeremy Lin gets the start) and Nick Young will presumably have the sixth and seventh rotation spot on lock, but there's no reason why Randle can't find his place in the second unit.
Defense is a concern for the rookie, but consistent rebounding and hustle will keep Randle relevant.
In Bryant's eyes, Randle is a reliable mid-range jumper away from securing longevity in the league. Randle was known as one of the best rebounders in the college game, and has the skill set to be productive in multiple capacities at this level...but if he can't round out his offensive game, he'll find it hard to expand his role.
Randle will have to figure out a way to mold himself into a formidable two-way player. Luckily for the Lakers, the mentality and potential is there.
A New Wave
Regardless of whether or not Randle excels in his first year, he will be a part of a new wave of Lakers. Alongside Lin, Randle, who was labeled a "Zach Randolph with hops," will be looked at as a potential centerpiece in the revival plan for the Purple and Gold.
For a fanbase that isn't used to rebuilding, the Lakers are due for a turnaround, and much of that may lie on Randle's shoulders.
Eyes on the prize
This upcoming year will be incredibly important for the Lakers - not because they'll be contenders, or even relevant in the playoff picture, but because it's going to lay the groundwork for an absolutely vital offseason.
In this context, Randle could well be the attractive piece that lures in other superstars, something the Lakers will need sooner rather than later.
Follow @ChatSports @ChatLakers @HayDayKim for more of your favorite sporting news
Recent articles:
Lakers roster presents nothing more than intriguing headlines for the 2014-2015 season
Five games that will distinguish the Denver Broncos as Super Bowl Contenders
Wes Welker suspension opens door for Emmanuel Sanders
The Best and Worst-Case Scenarios for the 2014 Denver Broncos
Kobe Bryant has one last opportunity to refine his legacy in 2014
Back to the Los Angeles Lakers Newsfeed